On course for a world record
10 years, 50,000 kilometres: german extreme athlete Freya Hoffmeister will be circumnavigating North America by kayak from the end of March onwards.
03.03.2017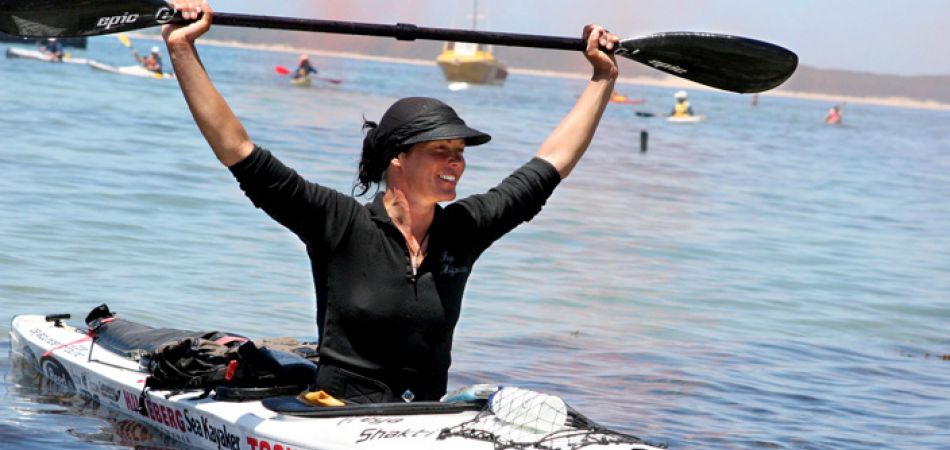 Freya Hoffmeister is in no hurry. She estimates that she will need about ten years to circumnavigate North America, taking it in various stages, traversing the North West passage and also the Panama Canal, from Seattle to New York. "It's fascinating landscape, different climatic zones: North America has so much to offer," she says. Alone in her kayak for about 50,000 kilometres, it will certainly be the extreme sportswoman's longest trip to date. 
She's very experienced in planning long routes, and in setting records. The 52-year-old was the first person to paddle round South America; she got round Australia and New Zealand's South Island in record time and as the first woman to do so. And this time she's set her sights on a world record, too. Freya Hoffmeister is familiar with the coasts of North America from earlier trips. "I've been in the US countless times, have lectured on my various tours and taken part in kayaking symposia," she says. "Thanks to that and the Internet, I have many contacts there." 
"Adventurer of the Year"
Her North American acquaintances are already looking forward to Hoffmeister's arrival in Seattle. With her thirst for adventure and her skills, she has for years been a sports star, and not just in the kayaking world. As part of the World Paddle Awards she was voted "Sportswoman of the Year 2014", and National Geographic nominated her "Adventurer of the Year" in 2016. "I've got an especially large number of fans in North America," Hoffmeister says. "Every two to three weeks I will rely on their hospitality; it's great if now and again I have a point that I am heading for." Whenever there is no village or supermarket anywhere in sight, she provides for herself: On her ocean-going kayak she always has food and water for up to four weeks with her, along with a tent and a camping stove. "Now and then I simply need to eat some fresh food," she comments. "Oats in the morning warmed up with instant milk, nuts and power bars for lunch, and rice or noodles in the evening can get very monotonous after a while."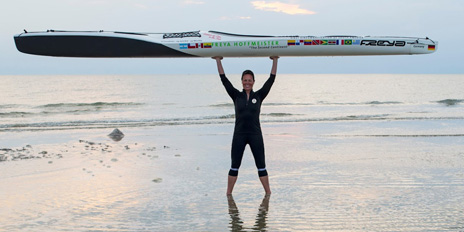 The first stage along the North American coast will be about 5,000 kilometres and in the north. "You can only get through the Arctic in summer," Hoffmeister explains. "In the winter the ice makes the route impassable." That is not the only reason why at Christmas she will return to her home town of Husum in north Germany briefly. "I own two ice-cream parlours there and a Christmas shop, so I need to check up on things occasionally," she says. "My businesses earn my upkeep, which means that unlike other extreme athletes I do not have to rely on sponsors, even if I like working with such patrons and have many of them." Her partner and her son likewise look forward to her brief sojourn with them.
After giving birth over 20 years ago, the now world-famous long-distance kayaker switched from parachuting to her kayak. "I started out paddling up the German and Danish coasts," and I always took my son with me in the baggage compartment," she recalls. "The islands I paddled round grew bigger and bigger, and when my son was no longer along for the ride I switched from calm waters to choppier seas."  
No fear, but respect
The experienced extreme sportswoman is not overly troubled by the challenges of the upcoming mammoth trip. Because she has no fear of bad weather or wild animals – just a healthy respect for them. "There are sharks in all the oceans, I've often been accompanied by them," she reports. Off the coast of Australia a large shark, probably a white shark, got a little too inquisitive and sunk its teeth into the aft of her boat. "It may be improbable, but that can always happen."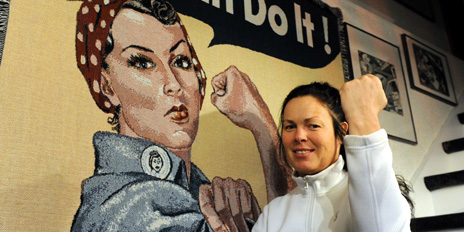 In North America it tends to be bears that pose a threat, be it on land or in the water. "In the case of brown and black bears, you simply need to keep your distance and not have any food in your camp. Polar bears are more aggressive, so I'll probably take a gun with me for emergencies," Hoffmeister concludes. In the Arctic waters she will probably and exceptionally paddle along with others. "Otherwise it could simply be too risky." She'll be on her own for most of the other sections of the route. "And I'm not frightened by solitude, either," says Freya Hoffmeister. "I get along fine on my own with just myself for company."
Extreme sports: EU ambassadors on racing bikes
© www.deutschland.de