17.07.2017
Star at the side of the pitch
First a world-class player in her own right, then World Cup organizer, now manager of the national squad at the UEFA Women's EURO 2017 championships – the latest highpoint in Steffi Jones' career.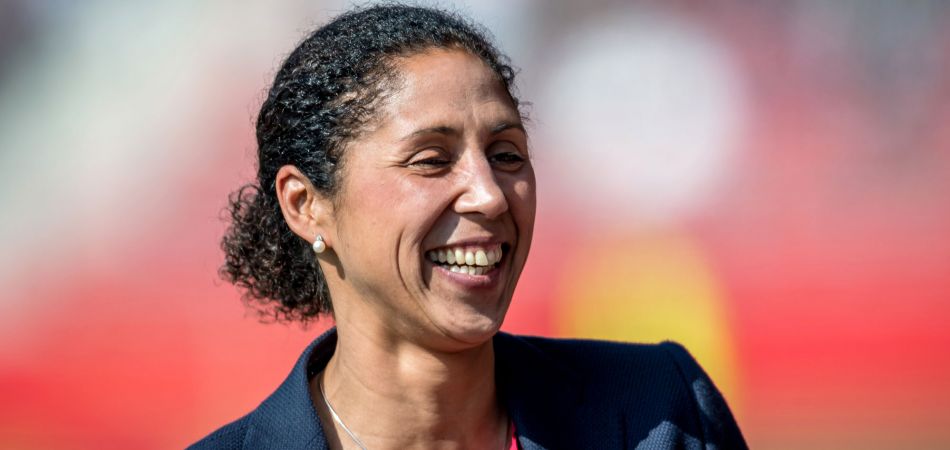 Sport – in other words, football – has always been an important element in the life of Stephanie Ann "Steffi" Jones, but only one of many. She has won almost everything. As part of the national team she triumphed at the World Cup and the European Championships and taken Bronze at the Olympic Games. And with her club side, FFC Frankfurt, she won several league titles as well as the DFB Cup and the UEFA Cup. She has experienced a lot on the football pitches of this world, and even played as a professional in the United States. So there is more than enough material to write a book. The title of her biography fits the bill: Getting A Kick Out Of Life – How I Made It To The Top. Steffi Jones also talks about some of the more negative twists of fate she has experienced and explains how she nevertheless managed a dazzling career as an international player. One reason why the rise of Steffi Jones was so remarkable is because it was such hard work.
Sport has taught me never to give up in life.
Growing up in a flash point
Daughter of a German mother and an Afro-American father, she grew up in Frankfurt's Bonames district, an area that might be described as a social hotspot. Her father left the family early on, returning to America. Her older brother Christian was a drug addict. And her other brother, Frank, lost both legs in Iraq in a mine explosion. The then 22-year-old US soldier was ambushed with his convoy. He was first treated in a military hospital in Lahnstein, where his sister often visited him from Frankfurt, just 120 kilometres away. He then had artificial legs fitted in San Antonio, Texas. Even so, all this has not changed Steffi Jones' cheerful and open nature.
Charm and charisma
Football was a kind of elixir, a constant source of motivation for Steffi Jones. "Without sport," she says, she wouldn't have made it. "I've been through a lot if only because of what life at home was like. But sport taught me never to give up. Football was a kind of safe haven whenever I had problems. It gave me a sense of security and strength." Steffi Jones always had to be strong. She is also energetic, honest, direct. And she has charm and charisma. After hanging up her boots for the last time, in 2011 Steffi Jones organized the FIFA Women's World Cup in Germany, and followed that by becoming the German Football Federation DFB's Director for Women's Football, Girl's Football and School Football. In 2016 she was appointed manager of the national women's squad. The UEFA Women's EURO 2017 championships in the Netherlands from 16 July to 6 August is her first major tournament in that capacity.