St Patrick's Day in Germany
Munich is the venue of one of the biggest parades on the continent celebrating the Irish national holiday.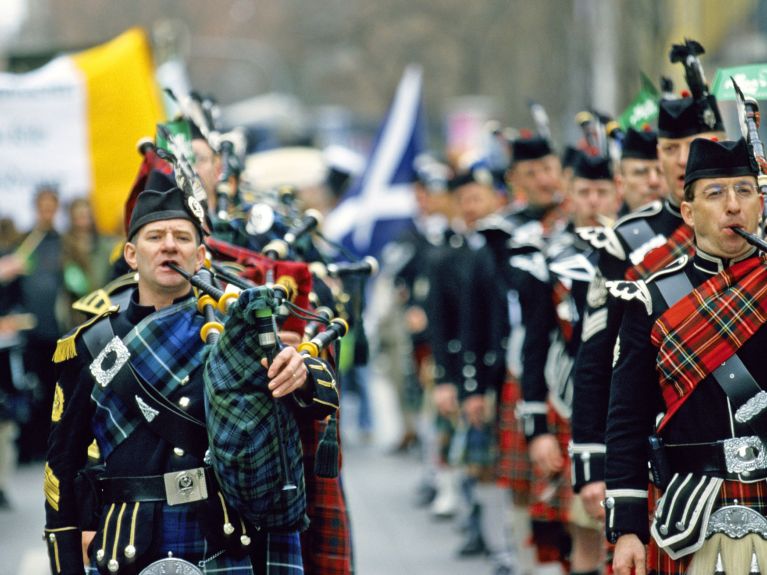 Maybe it's because the Irish are such friendly, open-minded people, and maybe it's because so many of them live abroad. The fact is that when St Patrick's Day arrives, the celebrations are by no means limited to Ireland. Around 17 March, green decorations adorn whole streets in many cities of Europe, the USA and beyond. And Germany is no exception when it comes to celebrating the day of the Emerald Isle's patron saint, fondly known as St Paddy.
However, the religious aspect of the festival honouring St Patrick has long since been eclipsed. The 17 March marks the death of the saint, who reputedly became a Christian in the fifth century and then converted the Irish. According to legend, he used a three-leaf sprig of clover (shamrock) to illustrate the Holy Trinity to the Celts on the island. The shamrock became the national symbol and always plays a leading role in the St Patrick's Day parades and parties.
Green Olympic Tower
This certainly applies to Munich which is the venue of one of the largest St Patrick's Day gatherings on the European continent. Irish people and Ireland fans have been meeting for the festival in the Bavarian capital since the mid-1990s. What first began as a fairly private celebration quickly developed into a kind of folk festival. Then the Allianz Arena and the Olympic Tower are bathed in green light for the Irish national holiday.