"Act quickly and effectively"
Leo Frey talks about the mission in Mozambique following Cyclone Idai. He knows which aid is the most important, and why a new disaster is on its way.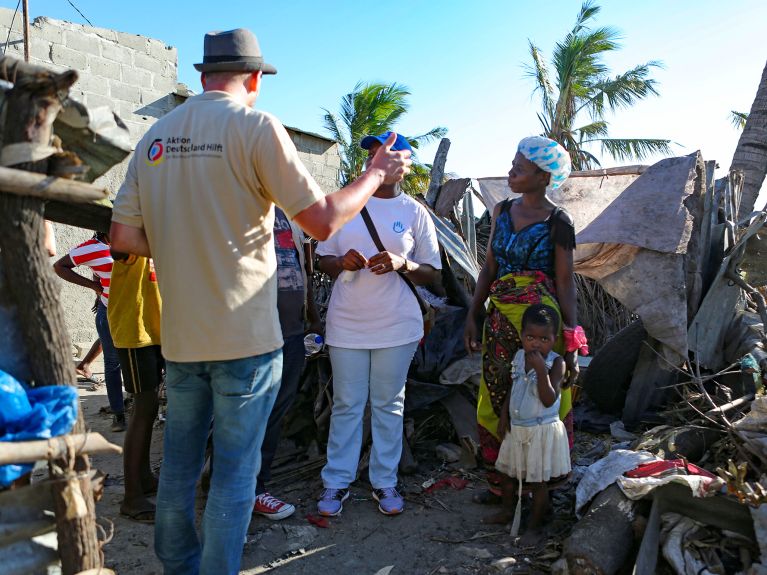 In March 2019 Cyclone Idai devastated and flooded large areas in Mozambique, Malawi and Zimbabwe. Leo Frey, project manager with Aktion Deutschland Hilft, was in Mozambique.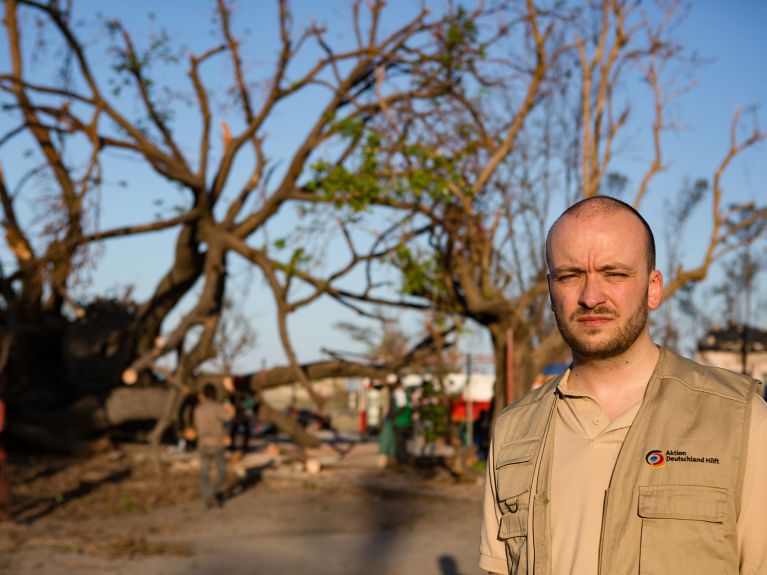 Mr Frey, what was the situation like in Mozambique following the cyclone?
On the one hand it was interesting to see how quickly a well-functioning infrastructure was rebuilt in urban regions. In central city areas of Beira the removal of rubble had already progressed remarkably. It was a different case in the rural areas: when we flew over these areas in a helicopter, we saw many people trying to go about their everyday lives in knee-deep water, hanging up their washing, looking after their children. In terms of public health, these conditions were catastrophic.
Because of the risk of infectious diseases?
That's right. There was a real danger of a cholera epidemic. That's why we had to act quickly and effectively, for instance with vaccinations. Fortunately this was successful. Rapid medical care is one of the most important first aid responses in a disaster area.
How is aid from Germany operating in the disaster area?
There are medical emergency relief teams, such as those provided by the St John's organization (Johanniter). Groups of medical professionals are sent to the disaster area with extensive equipment. The Workers' Samaritan Foundation (ASB) takes a different approach. This organization supports medical stations in the disaster areas by reconstructing sanitary installations and training personnel.
What is the role of the relief coalition Aktion Deutschland Hilft?
This coalition was formed by 23 humanitarian organizations in order to launch effective relief missions by closely co-ordinating their activities during major disasters. We also conduct intense exchanges to ensure that the donations reach the exact areas where they are needed most urgently.
What are the next steps in Mozambique?
Another disaster is brewing. The cyclone pushed huge volumes of saltwater inland. This has destroyed the crops for thousands of people and increased the threat of a drought. This means we will be active in Mozambique on a medium and long-term basis. Our organizations ensured that new seeds could be sown, and they are planning training course for farmers. Although humanitarian aid is often seen simply as acute primary relief, the main objective should always be to help people on the basis of their needs, for as long as these needs continue to exist.
Interview: Klaus Lüber
Information and links to relief organizations from Germany
You would like to receive regular information about Germany? Subscribe here: