Passing on knowledge and 
utilising potential
As part of their efforts towards international development, Germany and Israel are involved in successful three-way collaborations in Africa.
12.01.2016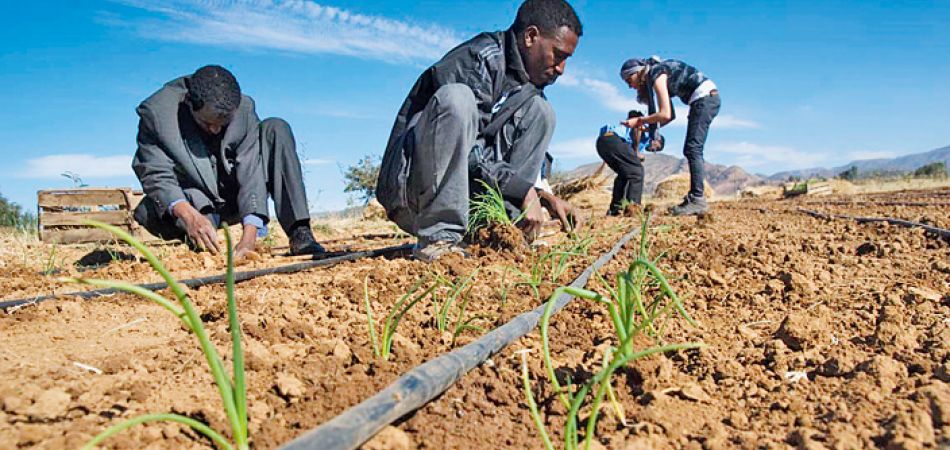 Citrus production and beekeeping" was the theme of the workshop for which 140 Ghanaian farmers were invited to Israel in 2015. The West African guests not only learned the cultivation methods and technologies that have enabled Israel to produce orange yields that are four times higher than those in Ghana, but also how new varieties can tap into gaps in the market and what professional marketing is all about.
"Israel has a comparative advantage when it comes to citrus production. This expertise is something we don't have in Germany, and it's not something we can easily buy in," explains Paul Schütz, who works for GIZ, the German international cooperation agency leading a land management programme supported by Germany's Federal Government in Ghana. For four years, the team under Schütz and Israeli experts have worked together to advise and train thousands of Ghanaian citrus farmers and agricultural trainers. A study visit to Israel is always part of this training.
The German-Israeli project in Ghana is one of the joint development programme's trilateral collaborations. These involve a large donor country, a new industrial or emerging nation, and a country in the Global South working together to implement development programmes. The German-Israeli Africa Initiative has funding of 50 million US dollars for projects in six African countries, with Germany providing 90% of the funding. This makes Germany Israel's largest partner for trilateral cooperation, ahead of Canada and the USA.
"This initiative is very important for Israel," explains Ilan Fluss, Deputy Head of the development organisation MASHAV, which operates under the Israeli Ministry of Foreign Affairs. He cites several reasons why: moral, political and financial. The fact that Germans and Israelis are working together after the Holocaust sends an important signal to the partners in Africa: "A signal that conflicts and genocides can be overcome and a better future created together," says Fluss.
A chequered history links Israel and the African continent. A period of close cooperation from the end of the 1950s was followed by a frosty period when most African states broke off diplomatic relations after the Six-Day War of 1967. Today relations have been repaired to a great extent, and development cooperation is helping to open doors. As a small country with limited financial resources, Israel is not able to fund long-term changes that would have a lasting effect on development in the recipient country, Fluss explains, "which is why we can be much more effective when we cooperate with a long-term German project".
Expressed in absolute figures, the German international development effort seems enormous: according to OECD figures, Germany spent 16 billion US dollars in 2014, which corresponds to 0.41 percent of GDP. Israel spends around 200 million US dollars on development aid each year, around 0.07% of GDP. However both therefore fail to meet the declared goal of industrialised nations to spend 0.7% of GDP.
In Kenya, since 2012, Germans and Israelis have been helping the fishermen at Lake Victoria to switch to fish farming, as the lake has practically been emptied of fish. Kenyan money was used to create over 40,000 fish ponds, and Israeli experts advise on fish food production, fish rearing and monitoring water quality. An Aquaculture Competence Centre is also being set up, where farmers and trainers can be trained. So far, more than 8,000 Kenyans have received training. In the long term, the aim is also to improve the water quality of Lake Victoria, which has been affected by climate change.
The first trilateral project was launched in 2008 in Ethiopia. It was back in the 1960s that Israel discovered drip irrigation, which even made it possible to grow vegetables in the desert. As Ethiopia has similar climatic conditions to Israel, a collaboration as part of the GIZ Sustainable Land Management programme made sense. Five thousand farmers learned how simple hoses with tiny holes supplied with water by hand could irrigate plants in such an efficient way that the yield was several harvests per year.
Three-way collaborations only succeed when there is trust between the partners as well as good coordination, particularly with the developing country. The German Federal Ministry for Economic Cooperation and Development (BMZ) mentions in a strategy paper that the "increased coordination effort" can be a barrier to trilateral projects. A positive note states, though, that the German side can learn "from the flexible and relatively fast processes in countries in the Global South".
Once a year MASHAV representatives and BMZ employees gather for a dialogue on development policy. In September 2015 they agreed on new programmes for Burkina Faso and Cameroon, which are also part of the Africa initiative. The cooperation likewise planned with Burundi is on hold due to the unstable situation in that country at this moment in time.
The 140 Ghanaian citrus farmers who visited Israel in March learned, among other things, how to tackle fruit flies and fungal infestations. Another area they learned about was additional sources of income. One example that has proved successful is beekeeping. Africa currently consumes three times more honey than it produces, and the global trade in bee products, which are also used in cosmetics and the pharmaceutical industry, accounts for over a billion dollars a year. Honey looks like a very sweet prospect for the future.