Transatlantic dialogue, virtual and very down to earth
From analysing the oceans to autonomous flight: The "German Canadian Concourse" symposium format relies on Transatlantic networking.
30.06.2017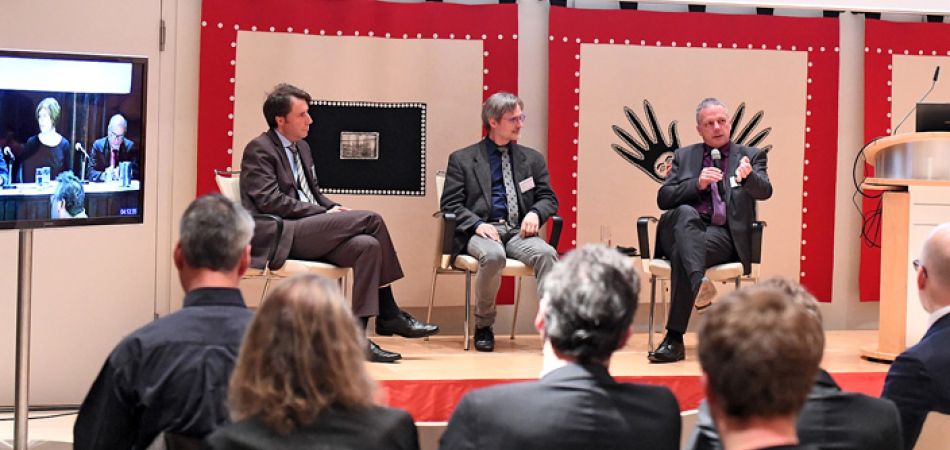 In the "German Canadian Concourse" (GCC) quite a few things combine: thematic diversity, Transatlantic exchange, and the willingness to advance a network in organizational terms, too. The foundation stone for the GCC was laid by an initiative by the Canadian and German embassies in 2002: Each year, six German and six Canadian managers from different fields explored Germany and Canada respectively on study tours, met decision-makers from the worlds of politics, business, culture, science and the media in the host country, and thus established a sustainable Transatlantic network. One of them was Matthias Mück, who was doing a doctorate at the University of Toronto in the field of mathematical physics and took part in the programme in 2007. "After the study travel programme came to an end in 2009 we founded the 'Canada Meets Germany Alumni Forum' for the 70-odd alumni, and this spawned the 'Canada Meets Germany Network e. V.'", comments Mück, who is serving as the network's president. 
"German Canadian Concourse"
Today, the association's main emphasis is on the "German Canadian Concourse", which since 2012 has once a year provided a special forum for bilateral exchange. The symposium comes under the aegis of the embassies of both countries and takes place in Berlin and in changing cities in Canada, debating a variety of current and innovative themes – in real time: "The venues are hooked up virtually by Internet livestream so that the discussions can take place on a truly Transatlantic basis. This format is quite unique in the German-Canadian exchange scene," explains Matthias Mück. Moreover, field trips to the partner organizations at both conference venues offer the up to 120 participants an insight into practices relating to the particular thematic focus. "Our goal is to use the symposia and the excursions to enable discussion between German and Canadian cooperation partners who otherwise would not be able to meet given the great distance between them, and in this way advance new developments in both countries and explore the potential for start-ups," Mück continues. "And we create space for intensive networking."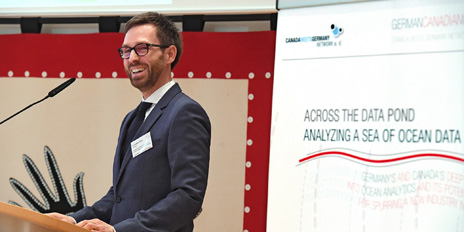 Creative cooperation
The range of thematic fields covered is vast: In 2016, the focus was on "ocean data analysis," and the question addressed was how the data available on the oceans could be more efficiently used for applications in logistics, infrastructure, energy, security and research, and thus spawn new business fields. A successful approach to German-Canadian exchange, as the then Canadian ambassador Marie Gervais-Vidricaire emphasized as patron of the conference: "Canada and Germany have a shared responsibility to contribute to maintaining the integrity of marine ecosystems and researchers on both sides of the Atlantic are making important progress in understanding the complexity of our oceans," she said. "The German Canadian Concourse is an opportunity to learn from each other and to increase transatlantic business, as well as research collaboration and cooperation."
Indeed, the latest German Canadian Concourse has given rise to new German-Canadian cooperation. For example, that between the Center for Ocean Ventures & Entrepreneurship (COVE) in Halifax and the Ocean Technology Center (OTC) in Rostock. "Attending the GCC in Berlin in November 2016 was my starting point for having a closer look on Canada. It became obvious that we share the same vision of sustainable use of our oceans," says Uwe Freiherr von Lukas, Deputy Director of Fraunhofer-Institute for Computer Graphics Research, and who gave a presentation on his institution at the Rostock OTC conference. Sheila Paterson, Chief Operating Officer of COVE, also appreciates the cooperation that has resulted from the German Canadian Concourse. "The virtual format for the TransAtlantic Symposium allows for maximum participation from businesses and innovators in both countries."
Shared future
In 2017, the symposium again offers a platform for Transatlantic innovation projects: In November, the participants will discuss the infrastructure for unmanned air travel, and, as is typical of German Canadian Concourse, will do so from different angles. "We will be focusing on the applications of so-called drones," says Matthias Mück. The agenda will include the necessary changes to the legal regime for autonomous flying machines, the business prospects of the technology and the opportunities for bilateral cooperation. "Given its geographical size, Canada quite literally offers the space for cooperation testing autonomous flying systems," Mück emphasizes. "Germany and Canada share many industrial and scientific interests as regards the unmanned aerospace infrastructure and we want to shed light on them." 
Canadian-German cooperation: "Working to create the cars of tomorrow"