UN operations to be expanded in Bonn
The UN Campaign Office is also moving to the city on the Rhine.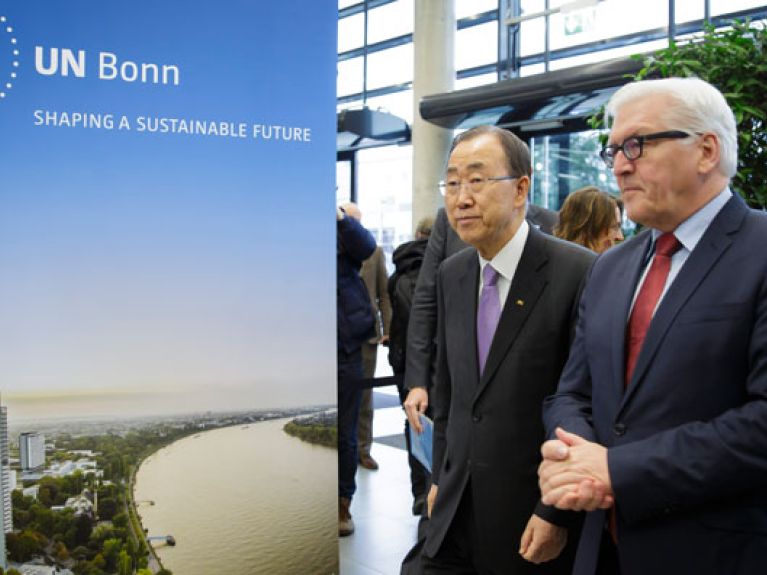 Bonn is becoming increasingly important as Germany's hub for the United Nations: before the end of 2016, the central campaign office for the new worldwide sustainable development goals – the "UN SDG Action Campaign" – will be the 19th UN institution to open in this city on the Rhine. The campaign's goal is to globally publicise the 2030 Agenda for Sustainable Development. To this end, not only will more international employees be moving to a new UN office, but another annual conference will also be staged in Bonn.
Bonn has plenty to celebrate in any case: 20 years ago, the United Nations Volunteers programme was the first UN institution to relocate to the city. Back in March, UN Secretary-General Ban Ki-moon and Federal Foreign Minister Frank-Walter Steinmeier already paid an official anniversary visit to the former German capital. Bonn today is a dynamic global centre, stated Ban Ki-moon.  
Almost 4,000 people working on sustainability, climate change mitigation and development
Germany is home to 26 United Nations institutions in all. So far hosting 18 of these, not to mention around 1,000 UN employees, Bonn is the country's central UN hub. With its UN Campus and numerous research facilities and non-governmental organisations, the city on the Rhine offers optimal working conditions. In total, almost 4,000 people work within a 2.5 kilometre radius of Bonn, focusing on key issues of future relevance: sustainability, climate change mitigation and development.