For Peace and Reconciliation
More than 30 Islamic clerics were travelling on a "March by Muslims against Terrorism" to places in Europe where people have fallen victim to terrorist attacks. At Breitscheidplatz in Berlin, representatives of other religions accompanied the group. 
14.07.2017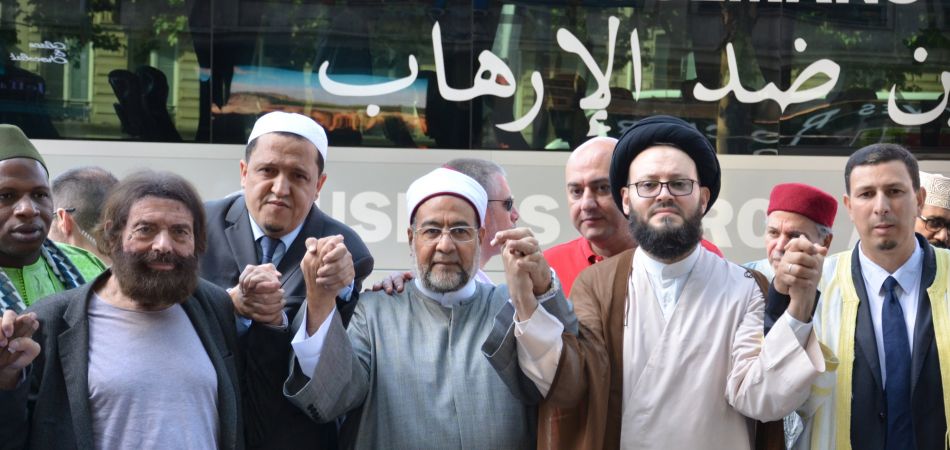 It was less of a march and more of a trans-European coach trip right through Europe on which more than 30 imams embarked in early July 2017. For the "March by Muslims against Terrorism" they were travelling to places that were the scenes of acts of Islamic terrorism and defying the instrumentalization of their religion. The trip ended on 14 July 2017 in Paris.
The imams prayed at the beginning of the trip on the Breitscheidplatz in Berlin – at the place where during the Christmas season in 2016 an Islamic terrorist drove a truck into the Christmas market. They were supported, among others, by Bishop Markus Dröge, the spiritual leader of Evangelische Kirche Berlin-Brandenburg-Silesian Upper Lusatia, and Berlin rabbi Andreas Nachama. The international group of Muslim clerics wished together to present a different picture of Islam and free the religion "from being held hostage by the Islamic State".
After stops in Belgium and North France, the group made certain it was punctually in Paris for the national Bastille Day holiday on 14 July 2017 to be able to sing the French national anthem, the Marseillaise. Likewise in Paris, the imams prayed outside the Jewish supermarket that in January 2015 had been the scene of an Islamic attack where hostages were taken. The "Bataclan" concert hall was also on their itinerary. In November 2015, 90 people were shot and killed there by terrorists. On the streets, the imams met several hundred open-minded citizens – the initial hope had been that far more citizens and members of the Muslim communities would turn out and take part.
The imams come from different countries in Europe, but also from Mauritius, Madagascar, Tunisia and the Comoros. And some imams from Berlin also embarked on the trip. The campaign was initiated by the liberal French Imam Hassen Chalghoumi from the Paris suburb of Drancy and Jewish writer Marek Halter. deutschland.de spoke with some of them. 
Imam Mohamed Taha Sabri, Dar Assalam Mosque, Neukölln, Berlin
"I consider it absolutely necessary that we take part in this march. Terrorists commit deed in the name of Islam – and thus destroy it in public. Silence and simply looking away allows these ghastly acts to continue. We must go out on the street, defend ourselves and show our faces. With the 'March of the Muslims' we have already moved a lot in a short space of time. Relatives of the victims were grateful that we were there and shared their mourning. In Toulouse we visited the father of a girl who fell victim to Islamic terrorism in a Jewish school. He opened his arms to us.
Such examples show me that terrorism has not achieved what it wanted: It has not managed to create trenches between us. Without doubt, within my own faith there are minorities who do not want us imams to take a stand. Either because they are worried we will make Islam responsible for the terrorism or out of scepticism as regards cooperating with other religions. I have received Facebook posts on both counts. But then I see people on the streets who cheer "bravo!" when we arrive and then I feel certain this event is the right thing to do."
Bishop Markus Dröge, spiritual leader of Evangelische Kirche Berlin-Brandenburg-Silesian Upper Lusatia
"No religion in the world justifies killing, discriminating against or terrorizing fellow human beings. The Muslim Peace March was an important sign – it made a public statement that the path of religion is a peaceful one. Violence, hatred and terrorism betray faith and betray God. Because God is a God of peace. Together we stand up peacefully for one another and publicly state that the love of God cannot be separated from the love of our fellow men. Which is why we supported the march in Berlin and gave the imams our travel blessing."
Rabbi Andreas Nachama, Sukkat Shalom Synagogue Berlin/House of One
"Society always expects that Muslims distance themselves from terroristic violence and express their solidarity with the victims. I think that it is a strong sign given by imams from many different communities and countries together champion opposing terrorism at Breitscheidplatz, where such a sad and terrible thing happened. Interreligious dialogue can make an important contribution to encouraging mutual respect and civic courage. Countering violence, hatred and terrorism with a pan-European symbol of peace quite openly and publicly it the right answer in troubled times."
Hassen Chalghoumi, imam at the mosque in Drancy and initiator of the march
"We must get the message out that we wish to work together. At the heart of all our religions lies the idea of living peacefully together. We are a monotheist family and have to protect our shared dialogue and stability. Sadly there are also those who reject such interreligious cooperation. They have not grasped that respect for one another is indispensable for our religions."
Marek Halter, Jewish artist and co-initiator
"There if a great danger of a war between the religions. Now that other major ideologies such as communism are over, some people only have religion as hope. We must make it clear to them that God is one. There is only one God, for us all."
Imam Kamel Omrane from  Tunis, Tunisia
"With this march we are combatting terrorists and championing freedom, friendship and live. I believe that in the final instance every religion has its own terrorists, just as does each political system. With this march we are showing the public the true face of Islam, against terrorists in our religious community."