Together for Europe
Germany assumes the EU Council Presidency for six months on 1 July 2020. Here you can find out what that involves.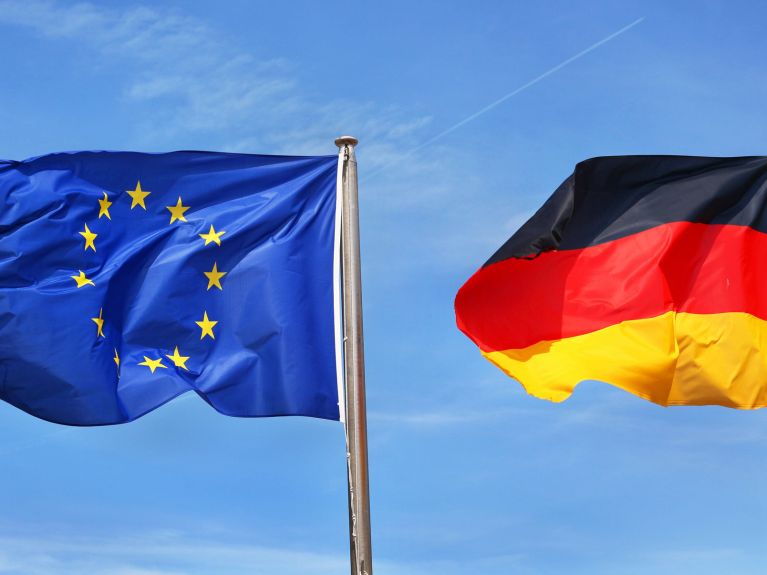 What duties are associated with the Presidency of the Council of the EU? What priorities will Germany set? Discover everything you need to know here:
What is the Council of the European Union?
The Council of the European Union, also known as the Council of Ministers, negotiates the legislation and coordinates the policy of the 27 member states jointly with the European Parliament. Germany assumes the Presidency of the Council of the European Union from Croatia on 1 July 2020 and will hold the Presidency until the end of 2020. Portugal will take the reins from the Federal Government on 1 January 2021. Be careful not to confuse the Council of the European Union with the European Council. The European Council defines the general policy goals and priorities of the EU.
How many times has Germany held the Presidency?
Germany is assuming the EU Council Presidency for the 13th time. The Federal Government last chaired the Council during the first half of 2007.
What are the responsibilities of an EU Council Presidency?
The Council Presidency represents the Council of the European Union vis-à-vis other EU institutions and also, in some cases, on an international level. It organises and chairs all Council meetings. In six months this can add up to over 1,500 meetings. Depending on the respective policy area, the Council meets in one of ten different "configurations" – the policy areas include Foreign Affairs, Environment and Economic and Financial Affairs. The minister for the respective policy area chairs the relevant meetings and Council configurations. During the German Council Presidency, for example, that is Federal Foreign Minister Heiko Maas for Foreign Affairs.
What is the most important goal of a Council Presidency?
A Council Presidency is not about national interests. Instead importance is attached to achieving solidarity and a united stance among the member states in the Council of the EU. That should realise the best results for the EU and its citizens.
What priorities is Germany setting?
The dominant topic of the German EU Council Presidency is overcoming the corona crisis and its health, economic and social consequences. An enormous support programme is to be agreed for that purpose. Federal Chancellor Angela Merkel has announced that the Federal Government will make Africa a key area of foreign policy. Other important goals of the German Presidency are advances in digitalisation, climate protection, social cohesion and common security policy.
How are the meetings organised?
It was originally planned to hold meetings of ministers during the German Presidency in different cities in Germany. Because of the COVID-19 pandemic, however, meetings will initially be postponed or held as videoconferences.
You would like to receive regular information about Germany? Subscribe here: