Efforts on behalf of refugees
Hundreds of thousands of people in the world are having to flee their home countries. Many of them seek asylum in Germany. An increasing number of projects help their integration.
22.09.2015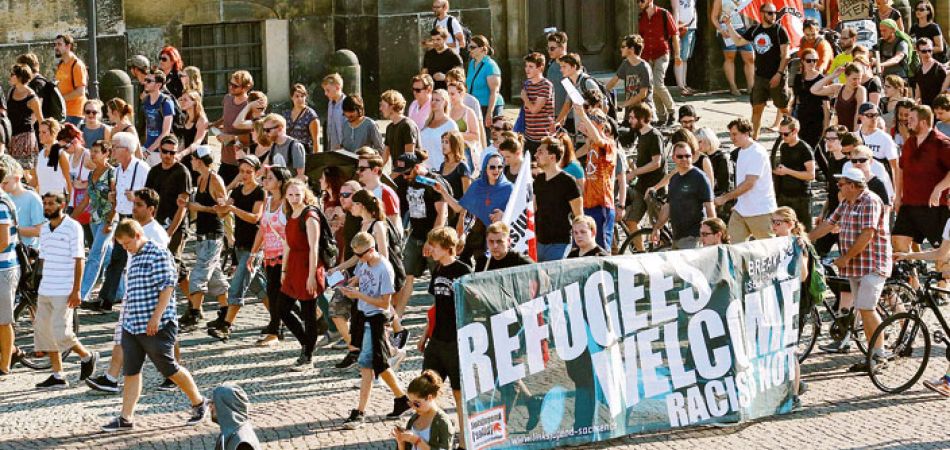 There's a large map of the world on the wall in the changing rooms at Leipzig's SV Lindenau 1848 e.V. sports club. Little flags mark 30 countries on it, namely those from where the 550-odd club members come. In early 2014, a refugee shelter was opened not far from the sports ground, and today about 15 refugees regu­larly play as regular members of the 
SV Lindenau football team.
The club collects football boots and kit for those players who cannot afford 
the equipment. Other club members or volunteers help overcome the language 
barriers; sometimes it's all down to sign language. And somehow that works out, too. "In the final instance," comments Björn Mencfeld, club Board member and for two years now voluntary coach of 
SV Lindenau, "everyone just wants to play football."
SV Lindenau has for some months now been assisted by the new support programme "1:0 für ein Willkommen" launched by the German Football Association, the DFB. By mid-2015 it had approved start-up assistance for 270 pro and amateur clubs that have taken on refugees as players. In this way, trainers can be paid, club membership fees covered, and jerseys bought. In total, 600,000 Euros have been made available for 2015 and 2016, and the federal government is also playing a financial part.
Sports clubs play a small part as regards the broader refugee question being asked ever more frequently in Germany. Because never before have so many asylum seekers arrived in Germany in a 
single year as in 2015. The Federal government expects that 2015 will close with a record of 800,000 new refugees 
in Germany, almost four times as many as in 2014.
All over Germany, constantly new projects are popping up that make life easier for the refugees in their new home. The ideas range from an agency that finds private rooms in shared flats for asylum seekers, or legal counsel from law students for refugees in countless German towns, through to initiatives like Herzli­ches Hamburg, where citizens provide care for the children of refugees, collect clothes for them, help them learn German and find their way through red tape. And art projects such as Hamburg's Silent University (a university where the refugees lecture) create platforms for knowledge transfer.
While at present many people are acting to support refugees in all manner of ways, among some parts of the population irrational fears, reservations and xenophobia are on the rise. Attacks on refugee shelters in Germany have of late increased horribly, by the end of 
August 2015 a total of 340 such criminal acts were recorded since the begin of the year. At the same time, the number of refugees, which has been rising for years now, means the official agencies face ever larger challenges as regards providing accommodation and food – and even handling registration. In first-half 2015 alone, a total of 340,000 applications for asylum were made in the 28 EU member states. All of that intensifies discussions on admissions quotas and stokes the debate on how costs should be divided up between the federal, state and local authority levels. Some German parties have called for an immigration act to facilitate the asylum process. In a speech, German federal Foreign Minister Frank-Walter Steinmeier insisted that "the time is ripe for an immigration act that does justice to German demographic realities: where today every fifth person has foreign roots."
Some researchers suggest that public and political discussions are ill-informed precisely when it comes to human trafficking or 
human rights. "Asylum policies are increasingly formulated on the back of assumptions," says Olaf Kleist at the Refugee Studies Centre in Oxford. Kleist advocates that refugee research be accorded a firm place in German scholarship – and has taken a step in this direction himself: Since April 2015 he has coordinated the Network on the Fundamentals of Refugee Research, which is funded by the Deutsche Forschungsgemeinschaft (DFG); it is an alliance of 14 academics, including political scientists, sociologists, lawyers, historian, ethnologists and psych­ologists.
The multidisciplinary Network on Refu­gee Research Kleist and other scholars set up in mid-2013 also gathers key data on research, projects and publications and now also runs a "refugee research blog". An ever greater number of public agencies and institutions now recognise that all sides benefit from such research, to Kleist's joy: "Recently a local authority commissioned a study on voluntary work with refugees, and we are witnessing a steady rise in collaboration between the admissions agencies and academics." ▪