"Forty out of one million"
The Federal Foreign Office presents an exhibition of photographs depicting the consequences of the war in Syria.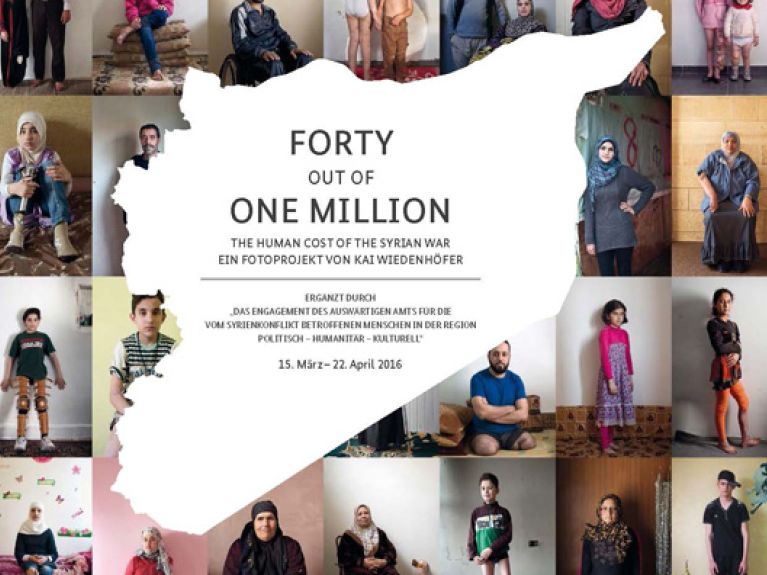 Manal from Syria was ten when a grenade exploded next to where she was sitting in the garden; she lost a leg. Sharif, three years older than her, was injured so severely by a barrel bomb in front of his family's house that he has already undergone seven operations and will have to endure more surgery in the future. Both children once lived in the Syrian city of Daraa and then, having only narrowly escaped death, fled to Jordan. There, Manal was patched up again to the extent that she is now able to attend year four at a primary school. Sharif cannot even think about returning to school as yet; among other things, he will continue to suffer for the foreseeable future from the shrapnel embedded in his head.
The children are two of 40 victims of the civil war in Syria which Kai Wiedenhöfer chose to portray in his moving photography project "Forty out of one million. The human cost of the Syrian war". The exhibition is on display in the atrium of the Federal Foreign Office until 22 April 2016. The photographer, who comes from the southwest German town of Schwenningen and lived in Damascus himself in the 1990s, wants his portraits to give a face to those who are frequently forgotten: the injured and wounded; people who neither die nor flee to Europe. All of the people who posed for his camera in 2014 and 2015 were living at the time in Lebanon and Jordan; though at least one family, who also attended the opening of the exhibition, now lives in Berlin.
As Minister of State for Europe Michael Roth explained at the opening, Wiedenhöfer's portraits of these "seriously injured and forever scarred" people make the horror of the civil war in Syria "visible and tangible for us all". Roth also recalled that the events which "began with such high hopes as an Arab Spring" precisely five years ago have now become a conflict which demands that we "extend a welcome those who come from war zones in search of protection and offer them a safe haven."
Federal Foreign Office projects in Syria and the surrounding region
The exhibition also features a second section that highlights the Federal Foreign Office's "political, humanitarian and cultural" activities on behalf of the people in Syria and the surrounding region. All kinds of different projects are presented; from the emergency relief provided by the German Red Cross to the independent "Syria Radio Network" (Syrnet). The latter is an alliance of nine pro-democracy Syrian radio stations, coordinated by the Berlin-based organization MiCT, which even today are able to continue broadcasting all over the country.
The exhibition "Forty out of one million. The human cost of the Syrian war" continues at the Federal Foreign Office in Berlin until 22 April 2016.