"German strengths and 
India's priorities are aligned"
Germany and India signed a host of accords and agreements at their third intergovernmental consultations.
13.01.2016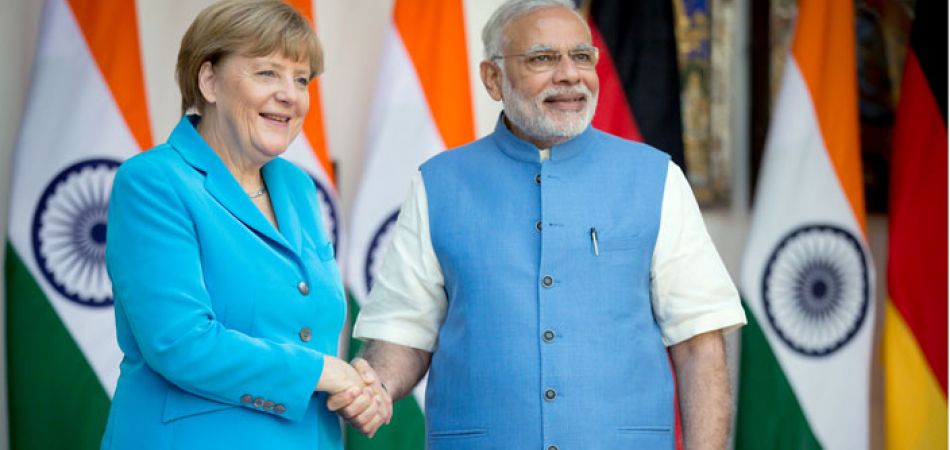 Intergovernmental consultations are a very special form of bilateral co­operation. Germany holds such consultations with nine countries – outside the European Union only with Russia, Israel, China, Brazil and India. In early October 2015, Federal Chancellor Angela Merkel travelled to India to attend the third German-Indian intergovernmental consultations. She was accompanied by four federal ministers: Foreign Minister Frank-Walter Steinmeier, Education and Research Minister Johanna Wanka, Agriculture Minister Christian Schmidt and Minister for Economic Cooperation and Development Gerd Müller. They were­
accompanied by a high-ranking business delegation including Siemens head Joe Kaeser, Airbus CEO Thomas Enders and Deutsche Post chief Frank Appel. In Delhi, Angela Merkel met for talks with Prime Minister Narendra Modi, with whom she subsequently visited Bangalore.
Merkel and Modi signed a host of accords and agreements. Key areas of cooperation are international security and strengthening trade and investment, but also issues such as energy and infrastructure, innov­ation and education. Germany and India reaffirmed the need for a comprehensive reform of the UN Security Council. With regard to pressing migration issues, both governments acknowledged the role of inter­national forums like the Global Forum on Migration and Development, the co-chair of which Germany will assume in 2017. Within the framework of economic co­operation, the Federal Government is providing India with assistance worth a further 1.49 billion euros, including 400 million ­euros in additional funding for climate protection and sustainability to set up Green Energy Corridors. To improve access to clean energy in rural areas, Germany will provide an additional one billion euros in support for the Indian government as part of the solar energy partnership.
Many of the agreements are concerned with strengthening economic and trade cooperation. India's economy is the world's tenth largest and Germany is India's principal trading partner in Europe. In 2014, bilateral trade was worth nearly 16 billion euros. German investment in India stands at just under 10 billion euros and there are some 1,600 German companies operating there. The aim is to considerably increase these numbers. That's why the Federal Chancellor welcomed the Indian government's decision, as part of its policy to promote industry, to introduce a so-called fast-track approvals process for German companies to make it easier for them to do business in India. Both sides also pledged their commitment to a comprehensive trade and investment agreement between the EU and India and called for negotiations to resume as soon as possible. Another goal is to pool Germany's competence in engineering and India's strength in information technology. To this end, the two sides want to promote corporate cooperation in the area of Industry 4.0 and the Internet of Things as part of the Digital India initiative.
At a joint press conference, Prime Minister Modi said: "The mechanism of intergovernmental consultation is certainly unique and it has brought about all-round growth in the relations between both sides. We see Germany as a natural partner for achieving India's vision of economic transformation. German strengths and India's priorities are aligned. And so is our mutual goodwill." Federal Chancellor Merkel emphasised: "The good thing about intergovernmental consultations is that they are intensively prepared, but we have also agreed not to take a two-year break now. Instead, the intensity of co­operation should continue."
Incidentally, much public attention was also given to the fact that an eminent figure with Indian roots – Professor Joybrato Mukherjee, President of Giessen University and Vice President of the German Academic Exchange Service (DAAD) – was a member of the German government delegation. Professor Mukherjee said in an interview: "That was no doubt due in part to the coincidence that President Pranab Mukherjee – the highest-ranking host, so to speak – has the same surname as me. But I don't want to link that to me personally. The perception worldwide is that today's Germany is a cosmopolitan, liberal and culturally rich country – with many minorities whose physiognomies are unlike that of the prototypical German. And that Germans, up to the highest political level, are comfortable with that fact and see it as an enrichment." ▪