Half of 
heaven
A great deal has changed for women in Germany over recent decades. They have never been better trained nor enjoyed greater freedom. Yet the path to equality remains a stony one.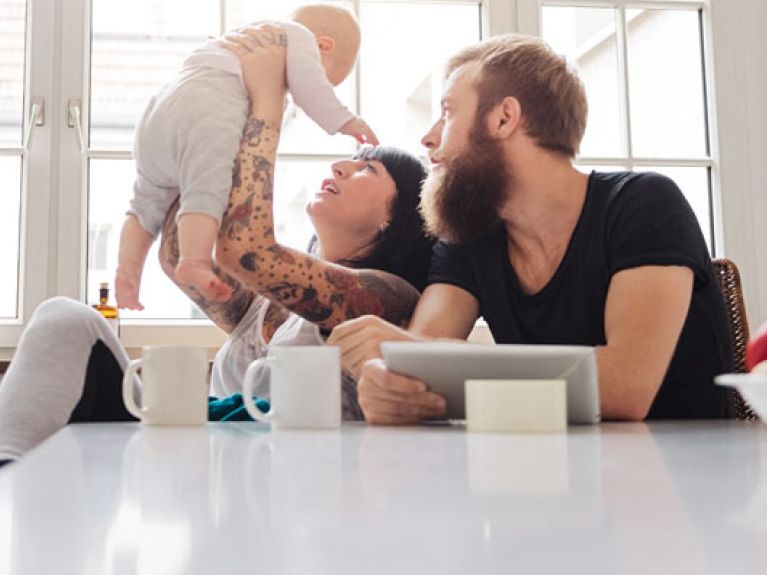 When Aysel Kluth recalls the birth of her second child, she likes to describe an episode that is typical for the entrepreneur from Berlin: even on her way to the delivery room she kept holding her mobile phone and carried on accessing emails and issuing instructions. "As chief executive, I feel responsible for my work and have to pull the strings," says Aysel Kluth, a petite woman with thick dark hair and a broad smile. "I always have a mobile phone in my hand, which annoys my children and my husband sometimes."
Aysel Kluth's biography is still unusual in Germany, even almost 30 years after the setting up of the Federal Ministry for Women and 20 years after the Beijing Declaration and Platform for Action, which laid down the goal of gender equality: Aysel Kluth was born in Turkey and gained her university entrance qua­lification by attending evening classes as a mature student. Just under ten years ago she founded Pünktchen, an agency for domestic help and nannies based in Berlin, and thus became a so-called mompreneur – someone who is both a mother and an entrepreneur. She is 37 years old, has three small children and works full-time for roughly 50 hours a week.
Aysel Kluth is something special because she combines several facets that are relevant to the subject of gender equality: she is young, a career woman and an entrepreneur, but also a mother of three with an immigrant background. Each of these facets reflects one aspect of German pol­itics and networks that support equal opportunity for men and women in their private and professional lives whatever their origin or life story. In 2012, according to the latest figures of the Federal Economics Ministry, over a third of all businesses were founded by women. They are supported by Federal Government initiatives like Perspektive Wiedereinstieg, which helps women return to work, and FRAUEN unternehmen, a network for female entrepreneurs. The right to a childcare place for children from the age of 12 months and the promise of job security for up to three years during parental leave make it easier for mothers to return to work. The proportion of mothers in gainful employment rose by a total of 7.4 percentage points in the years from 2000 to 2012 alone.
It may be the case that childcare is still largely a matter for women in Germany – in 2013, for example, only one third of men took parental leave at all, and only one fifth of those took more than two months off work. Nevertheless, a change is taking place in people's thinking: in a survey by the Allensbach Institute, over two thirds of parents said they would consider it good if both parents worked. According to a microcensus, only one in five families support the "sole earner" model that used to predominate, primarily in West Germany. ElterngeldPlus, the additional parental allowance introduced in 2015, supports couples in which both parents want to return to work part-time after the birth of a child.
Let's take a look back to September 1995. That was when the United Nations Fourth World Conference on Women met in 
Beijing and was attended by 6,000 del­egates from 189 countries. Feminists from Germany later described this conference as a "political turning point". The del­egates agreed a platform for action that included the concept of the sexual self-determin­ation of women, solutions for violence against women and the protection of their rights. It was at around the same time in the Federal Republic that 
"women's policy" was transformed into "equal opportunities policy".
Jutta Allmendinger is a professor and president of the WZB Berlin Social Science Center. She conducts research into gender inequality in the world of work, especially on questions of work organisation, and is an important voice in the debate on gender and quotas. "Today most women in Germany are in charge of their own lives," she says. "They are publicly visible and have influence in politics, 
the media and middle management." In her opinion, however, a great deal still needs to be done before the two sexes will live and work in equality: "Wages and working times differ very considerably. Women in leadership positions are rare. Reconciling work and family life continues to be a women's issue."
In 1995, when the German Federal Ministry for Youth, Family and Health was expanded to include "Women" under the leadership of CDU politician Rita Süssmuth, Jutta Allmendinger was 31 years old and had just completed her PhD at Harvard University in the USA. "I had to decide whether to stay or go," she remembers. Some things would have been easier in the USA. "Many professors took their small children to the university; children were looked after outside the home earlier." A minister for women seemed like a promise to her. "At last," she said to her friends. She then found it easier to return.
Equal opportunities, irrespective of gender, are also relevant in an economic sense. The increased proportion of mothers in employment alone raises German gross national product by 4.7 billion euros and stabilises social security systems. In 2014, Germany achieved the national target set within the framework of the Europe 2020 Strategy by increasing the employment ratio for women to over 73% (73.1). All too often, however, the labour market for women in Germany is a part-time domain: in 2014, according to the Federal Statistical Office, almost half (46%) of the working women between the ages of 15 and 64 were employed less than 32 hours a week. The proportion is even higher among mothers: almost 70% of them did not work full-time in 2014, one fifth even worked less than 15 hours a week. For single parents – in nine out of ten cases they are women – things are even more complicated. There is a lack of flexibility, and childcare services are only slowly adjusting to changed employment biographies. Roughly 40% of all single parents need state support – in the case of families with two parents the figure is only 8%.
Matthias and Judith Göbel from Hesse belong to the 3% of families in Germany where the woman works more hours – and earns more – than the man. After their daughter Alba was born in September 2011, Judith Göbel took parental leave for ten months. Then the primary school teacher went back to work full-time. "Getting to know a school part-time is almost impossible," she says. Furthermore, she and her husband had decided to bring up their daughter together. Matthias Göbel took four months of parental leave, then worked part-time for ten months and has stayed at home one day a week ever since. In the meantime, Judith Göbel has been promoted to school principal.
Never before have women been better qualified in Germany, but they continue to be under-represented in leadership positions. The "leaky pipeline" is very visible in higher education, for example: 54.6% of high school graduates and 50.8% of university graduates were female in 2013, but only 27.4% of the professorial theses were written by women and only one fifth of professors are female. The Federal Government and the German states are supporting equal opportunity measures at universities and positions for female professors with a special programme for women.
The Bundestag has now also been active: in 2015 it passed the Law on the Equal Participation of Women and Men in Leadership Positions in the Private Economy and in Public Service – in other words, legislation on a "women's quota". In future, at least 30% of the members 
of the supervisory boards of 108 stock exchange-listed companies must be women. From 1 January 2016 onwards, if companies cannot find women for these positions, their places will remained unfilled by law. People are talking about "empty chairs".
Claudia Neusüss considers this change in thinking absolutely necessary: "Young men and women in Germany are equal until they enter the world of work, then the gap starts to widen," says the 54-year-old entrepreneur. She advises public and private enterprises on questions of di­versity with her agency compassorange. 
In the 1980s she was a co-founder of 
Europe's largest women's cooperative, the Weiberwirtschaft business incubator for female entrepreneurs in Berlin. It was based on the motto: "By women for 
women." After all, politics can only support changes, while systems have to implement them themselves.
When it comes to the political parties, some already began using quotas to increase their diversity decades ago. In 1979, at the party's founding conference, the Greens decided that at least half of all offices should be filled by women. In the SPD there is a 40% quota. In 2010 the CDU agreed to fill 40% of bodies above local and district level with women. The Bundestag, in which there are no quotas for candidates like in Belgium or France, achieved its highest ever proportion of women in 2014: 36.1%. And finally, of course, a woman has been at the head of Germany for over ten years: Federal Chancellor Angela Merkel. ▪