Liberty Train
The deutschland.de blog is running a social media campaign to accompany the docu-drama Liberty Train.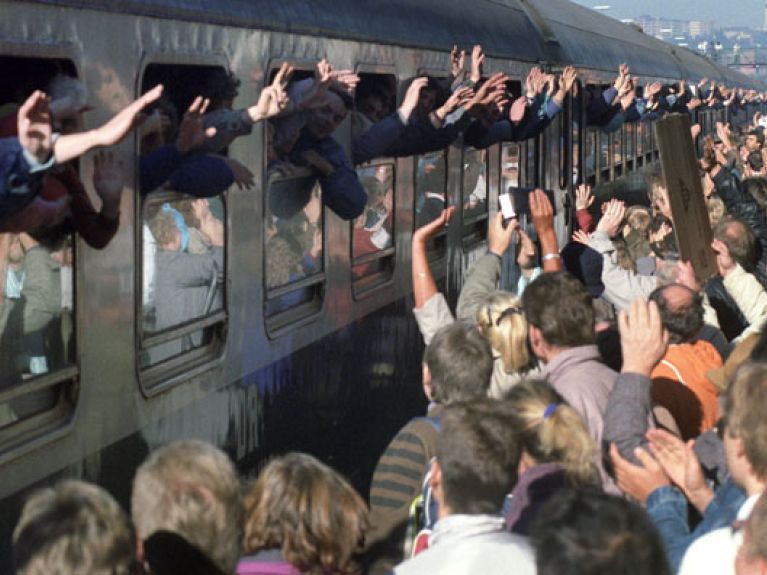 On the evening of 30 September 1989, nearly 4,000 people thronged the garden of the Federal Republic of Germany's embassy in Prague. They had fled the GDR and found refuge in the embassy, where they had been waiting for days to learn whether or not they would be allowed to leave for the Federal Republic. Hans-Dietrich Genscher, the Federal Republic's Foreign Minister at the time, finally announced the good news: they would. But their train had to cross East German territory. A war of nerves began for the embassy refugees. Stasi agents boarded the train and collected their passports; en route, other people tried to climb on the train. Everywhere it stopped there were riots and arrests. But there was ultimately a happy ending to the drama.
To mark the anniversary of the fall of the Wall, the film production company Broadview has produced an exciting 90-minute documentary entitled Train to Freedom, which features interviews with many of those who witnessed the events first-hand. The film tells the story of East German refugee Christian Bürger, whose life was changed forever by the time he spent in the embassy and the dramatic train ride. The docu-drama Liberty Train will be broadcast in Germany on 30 September at 8:15 p.m. on the Arte TV channel and on 3 October at 6.30 p.m. on ARD.
deutschland.de and the deutschland.de blog will accompany the broadcast with background information on a variety of media. From 1 September, an "escape diary" that describes the events will be published in German and English in the Deutschland blog and on social media. Don't miss it!