"We look at what is happening and act"
Germany and its foreign policy in 2023 – an interview with Minister Annalena Baerbock on the year's major issues.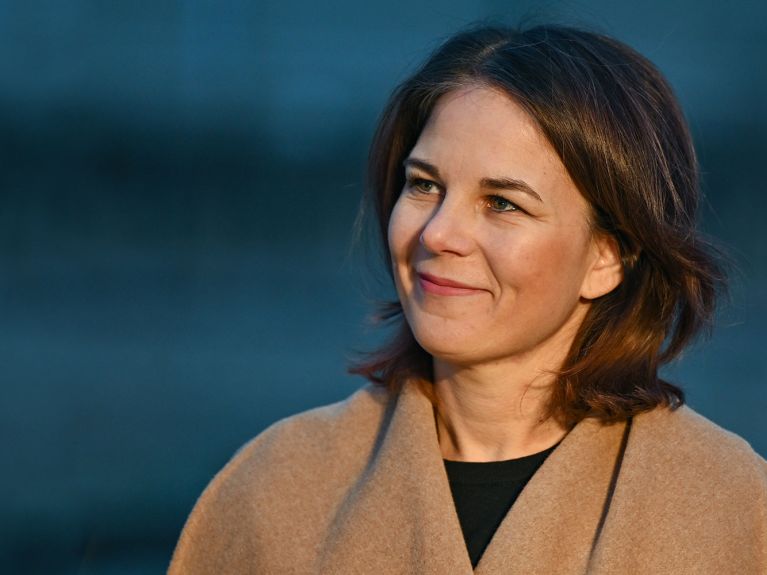 Minister Baerbock, what are the key issues and challenges for German foreign policy?
Each day that Russia wages a brutal and inhuman war in Ukraine is one day full of suffering and violence too many. In 2023 we will continue to stand by the side of the Ukrainians, who want nothing other than their freedom. Russia's war is having devastating consequences, also for people elsewhere. Be it in Moldova or Ethiopia – the war is driving up electricity and food prices everywhere.
Freedom is also what the people in Iran want, where courageous women and men are looking the regime in the face every day, despite all the brutality. There, as elsewhere, we will not take a neutral stance in situations of injustice, but will look at what is happening and act. By clearly naming and sanctioning crimes and by supporting all those who gather evidence with a view to holding those responsible accountable.
Next year we will build on the partial success of COP27 and write a new chapter of climate policy: those countries that emit large amounts of greenhouse gases are to pay into a fund so as to offset damage and loss. States like Chad and Palau are suffering from the climate crisis despite not being to blame for it themselves. That is not fair. However, all the money in the world won't help in a 2.5-degree world. Global emissions urgently need to be reduced in order to keep the 1.5-degree target within reach.
Which agendas need to be set for 2023?
The year 2022 has made it clear to us here in the heart of Europe that security cannot be taken for granted. War has made a brutal return to Europe and has opened our eyes to the fact that a secure supply of electricity and heat does not come out of nowhere. At the same time, last summer was the hottest on record in Europe, and people lost their homes to devastating forest fires.
2023 must therefore be the year in which we show that we have drawn the right conclusions from these crises. That we are setting the right course for the next decade of German foreign policy. This also includes a National Security Strategy that lives up to its name.
And this requires us to establish a broader economic base for ourselves. This will only be possible if we listen more and better – especially to our partners in Africa, Asia, Latin America and the Middle East.
What has to happen in these areas on an international level – and what role can Germany play in this?
Germany is a reliable partner for all those in the world who, like us, are committed to peaceful coexistence. More than 140 states at the United Nations General Assembly said "No" to Russia's brutal violation of international law. 
At times when leading institutions such as the UN Security Council and the OSCE are blocked by Russia's veto, Germany can help bring together coalitions of committed countries to resolve pressing problems, as we did last year with the Moldova Support Platform. 
And especially our partners in Central and Eastern Europe, as well as the Baltic states, can depend on Germany. We are investing in our joint security, in defending our alliance territory.
Annalena Baerbock is Germany's foreign minister.
You would like to receive regular information about Germany? Subscribe here: