30.05.2017
"Resolutely counter"
Donald Trump's attitude at the G7 summit in Taormina, Italy, caused disappointment in Germany. The US positions above all on climate change and migration issues are controversial. Reactions in Germany.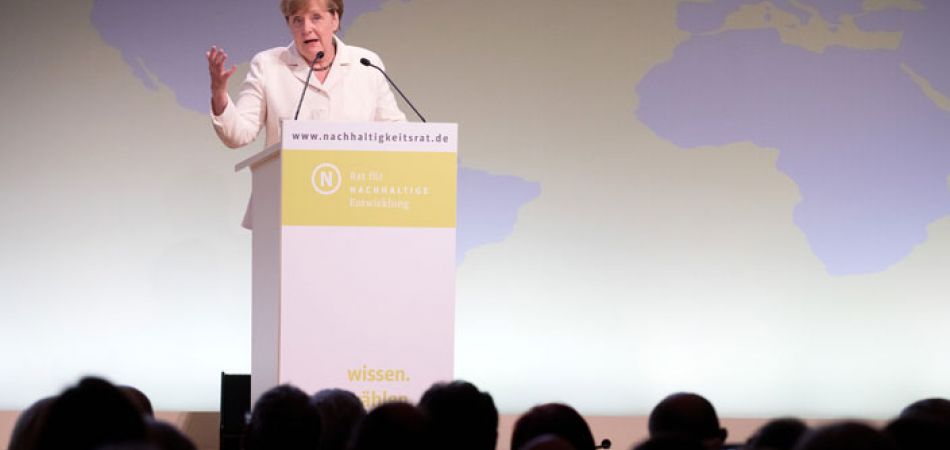 "We are firm Transatlantic advocates"
Federal Chancellor Angela Merkel (CDU)
"It was inevitable that in the form of Canada, France, Germany, Great Britain, Italy, and Japan – and without the United States of America – six of the seven members of the G7 Summit expressed their firm resolve to support and implement the Paris Climate Agreement. And at the summit this included representatives of the European Union. We are firm Transatlantic advocates.
The times in which we could completely depend on others are, to a certain extent, over. I've experienced that in the last few days. We are and remain close partners. Germany is and remains a close partner of the United States of America. (…) But we also know that we Europeans truly have to take our fate into our own hands, that we Europeans have our fate in our own hands, namely together, for Europe, for our values and interests."
"Isolationism makes the problems worse"
German Federal Foreign Minister Sigmar Gabriel (SPD)
"The challenges of migration are only made larger by the new US administration turning its back on the West's political consensus. There are three main factors driving migration: climate change, wars, and political and religious persecution. These problems are just made greater by the new American isolationism. And in fact arms exports make the risk of wars greater and ignoring climate change destroys the living conditions of many peoples.
The Trump administration wants to renege on the climate agreement, to sell more weapons to crisis regions and not allow people from certain religious circles into the country. If Europeans do not resolutely counter this today, the influx of immigrants into Europe will grow further. Anyone who does not counter these US policies is partly to blame if that happens."
"Political blackmail"
Martin Schulz, SPD candidate for the chancellorship
"The G7 Summit failed far more dramatically than one might have imagined only a short time ago. The new US President is not prioritizing international cooperation, but isolationism and the purported right of the stronger. His slogan of "America first" is not only an attack on the principle of free trade, which has hitherto been asserted more powerfully, and on occasion more brutally by the United States than by any other country. "America first" also means in Trump's logic bidding farewell to the Paris Climate Agreement, which was reached with so much effort. It means undermining the United Nations. It means political blackmail instead of international diplomacy.
It is time for Europe to face up to the new situation – realistically and above all self-confidently. We Europeans must not bow down to the rearmament logic of one Donald Trump. We must not relinquish our goal of ensuring globalization has a fair structure."
"No constructive answer"
Jürgen Hardt (CDU), the German Government's Coordinator of Transatlantic Cooperation
"During his trip to Europe the US President failed to provide a constructive answer to the major crises of today. Donald Trump has thus cast into question the decades-long undisputed US claim to leadership, which he could have affirmed on his trip. With his irreconcilable stance, for example, on refugee, climate and trade issues he has to a certain extent isolated himself from his most important partners in the world.
What became clear once more last weekend was that Germany must do more for its own security and Europe's security. Which is why it is important that all NATO partners stand by the commitment they gave three years ago at the NATO Summit in Wales to make certain their defence budgets gradually rise to the target of two percent of their respective gross domestic product. There is no reason to question this resolution simply because it is Trump who is vehemently demanding it be fulfilled."