07.10.2016
"We have many topics 
to discuss together"
The fellows of the Transatlantic Academy will be looking at Germany and its role in contemporary Europe.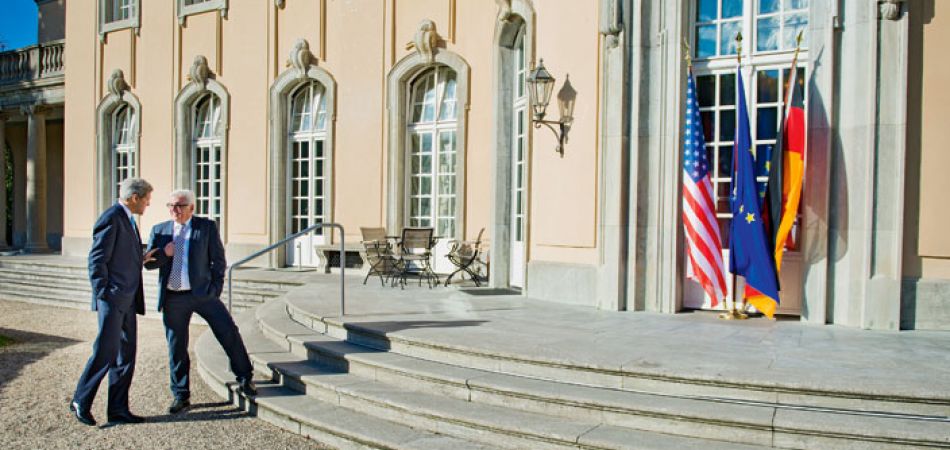 It is a transatlantic dispute that has already been fought out in court. How should we allow search engines – and first and foremost American market leader Google – to handle press articles? Germany found an answer to this question which complies with its ancillary copyright for press publishers and yet remains controversial: publishing houses have been granted the exclusive right to make press products publicly available for commercial purposes only, "except when this concerns individual words or very small gobbets of text". Does this constitute a triumph for copyright law or is it instead an unfortunate interference with the freedom of information 
on the internet? Opinions differ widely, even in Germany itself. However, one thing is certain: intense debate on the topic will continue on both sides of the Atlantic.
"Ancillary copyrights touch on very fundamental questions that have not yet been answered," asserts Heidi Tworek. "Who is a news producer? How should news be protected?" – the Assistant Professor for International History at the University of British Columbia in Vancouver will be addressing these and other ­issues in the coming months in detail – from an explicitly transatlantic perspective. As a fellow of the Transatlantic Academy, whose program for the coming year is entitled "Germany and the United States in the 21st century", Heidi Tworek will be concentrating on the relationship between Google and the EU.
The Transatlantic Academy was founded in the year 2007 as a partnership between the German Marshall Fund of 
the United States (GMF) and Hamburg's ZEIT-Stiftung Ebelin und Gerd Bucerius; the Robert Bosch Stiftung, the Lynde 
and Harry Bradley Foundation and the Fritz Thyssen Stiftung are also partners of the academy, which brings together scientists, writers and experts on politics 
every year. The topic of the new program for the year is far-reaching in every 
respect: "The future of the German-American relationship will be central to the broader trans­atlantic rela­tionship and to the shape of Europe in this cen­tury," suggests Stephen Szabo, Executive Director of the Transatlantic Academy. "The 2016–17 fellows will be an exceptional group of analysts".
The Transatlantic Academy has indeed selected a special group: Outstanding experts on economic questions such as Briton Harold James, who is a professor at Princeton University, and his American colleague Wade Jacoby of Brigham Young University are a part of it, as are the notable historians Mary Elise Sarotte from the University of Southern California and Frédéric Bozo from the Sorbonne Nouvelle 
in Paris and the German political scientist Stefan Fröhlich, Professor at the Uni­versity of Erlangen-Nürnberg and an internationally sought-after guest lecturer, who has taught in London, Moscow and Washington, amongst other places. Alongside these "senior fellows", two younger academics, namely American Heidi Tworek and German Yascha Mounk (who is a lecturer on political theory at Harvard University) will also be analysing current German-American topics.
Yascha Mounk, born to Polish parents 
in Munich in 1982, will be placing the 
focus on questions of liberalism and 
democracy. It was only in August 2016 that the political scientist emphasized in a cover story for "Slate" magazine ("The Week Democracy Died") just how complex he saw current developments to be: From populist movements in Europe and the US to the coup in Turkey and President Erdogan's tough response to it, to the Brexit scenario: "Britain's vote to leave the European Union is a perfect illustration of the tension between illiberal democracy and undemocratic liberalism."
An analysis of this kind fits with the Transatlantic Academy's concept and aspirations. Ted Reinert, who coordinates the academy's program, also highlighted this fact: "Germany is increasingly gaining importance as a leading power, yet 
its future is closely tied to that of the 
European project." Accordingly, the opening conference of the new fellowship year on September 27 held in Washington DC will address what the Brexit 
scenario means for Germany and the 
US – under the heading of "Partners in Leadership?". Ted Reinert also emphasizes the importance of this exchange for German-American relations. In general, he professes, it is safe to say that "we have many topics to discuss together. And we are looking for interesting research relevant to politics."
This would of course include research such as that carried out by Wade Jacoby. He is Professor of Political Science at Brigham Young University, and amongst other things writes for renowned journals such as "World Politics" and "Politics and Society"; he has in the recent years penned much-noted analyses on the Euro crisis. "As a senior fellow at Transatlantic Academy, I intend to continue to keep my eyes on the future of the Eurozone," he says. Jacoby has certainly detected a lack 
of willingness to reform throughout the Eurozone in the recent years; furthermore, he is critical of the prospect of excessive standardization within the European Union: "Europe should not say goodbye to the diversity from which it has profited greatly in the past." Wade Jacoby believes valuing differences is an integral part of the work with the Transatlantic Acad­emy: "The Academy advocates a plurality of viewpoints – and thereby makes a free exchange between us as researchers possible." ▪