Keeping cool in conflict situations
OSCE observers often face danger when trying to build peace: the experiences of Oliver Palkowitsch on his mission to the Ukraine.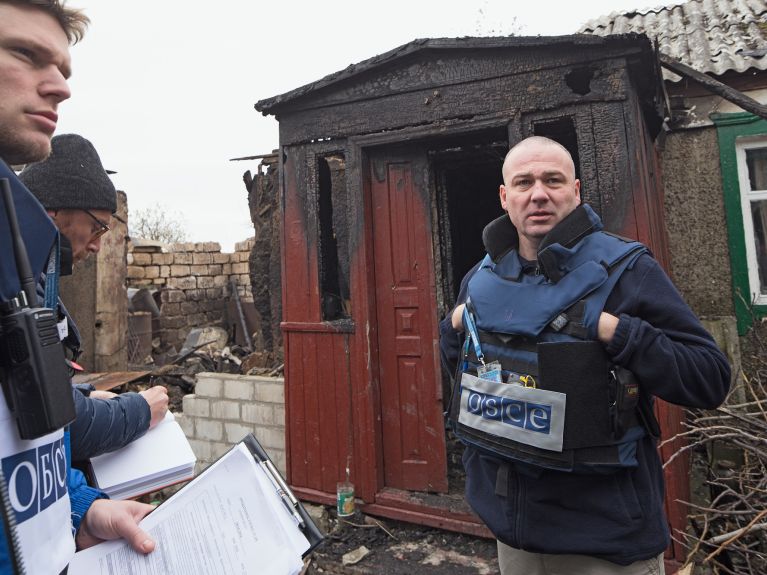 Germany. The Organization for Security and Co-operation in Europe (OSCE) send objective and unarmed civilian observers to crisis areas. At the moment 26 Germans are members of the Special Monitoring Mission in the Ukraine (SMM). The Center for International Peace Operations (ZIF) recruits and trains specialists. One of them is Monitoring Officer Oliver Palkowitsch.
Mr Palkowitsch, what are your tasks as an OSCE observer in the Ukraine?
Observing and reporting. The various patrol reports are combined in a daily report which informs the world about the situation in the Ukraine. We only report what we have personally observed or verified. The objectivity of our reports is also ensured by the international composition of the patrol teams which are made up of colleagues from more than 40 states. The focus is on security. In addition to this, we report on the human rights situation and humanitarian conditions.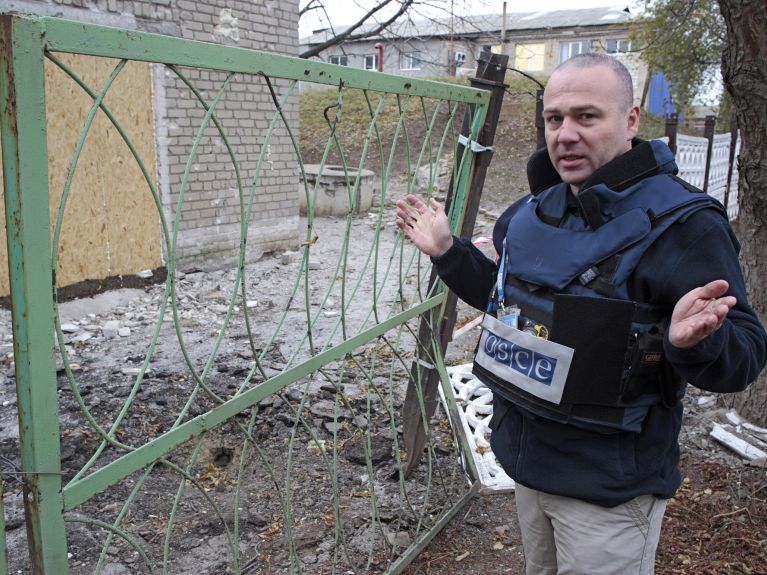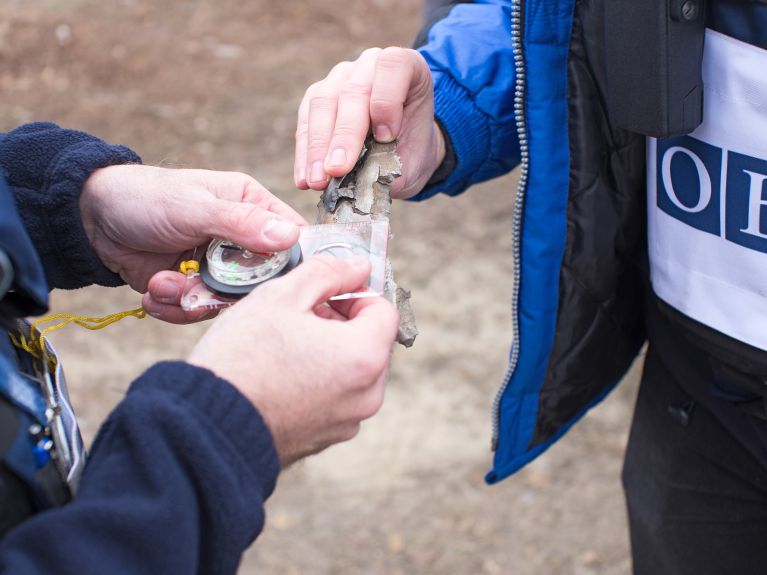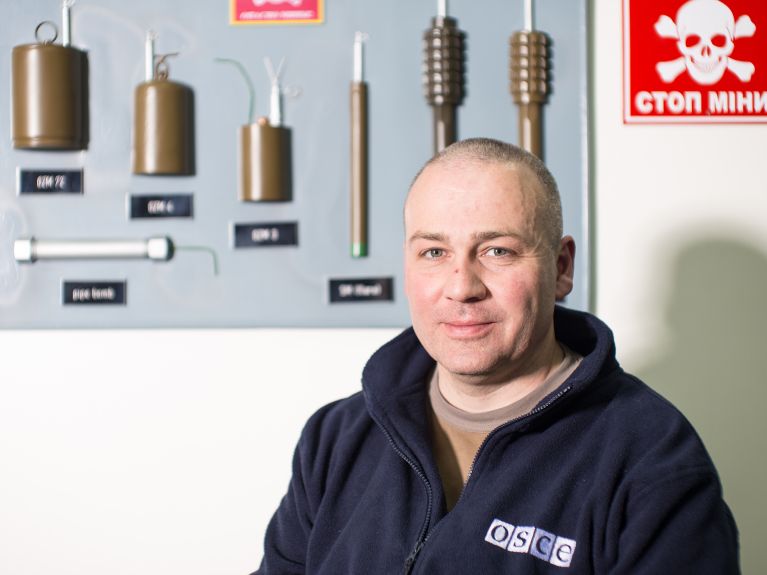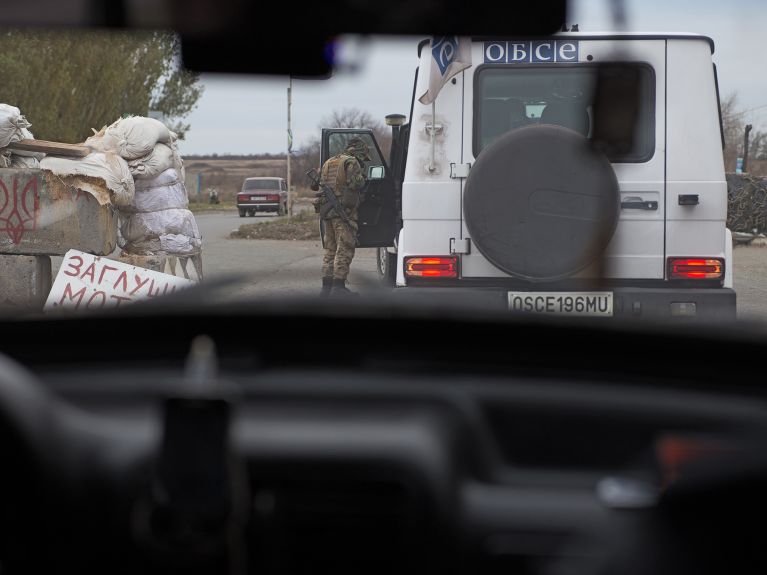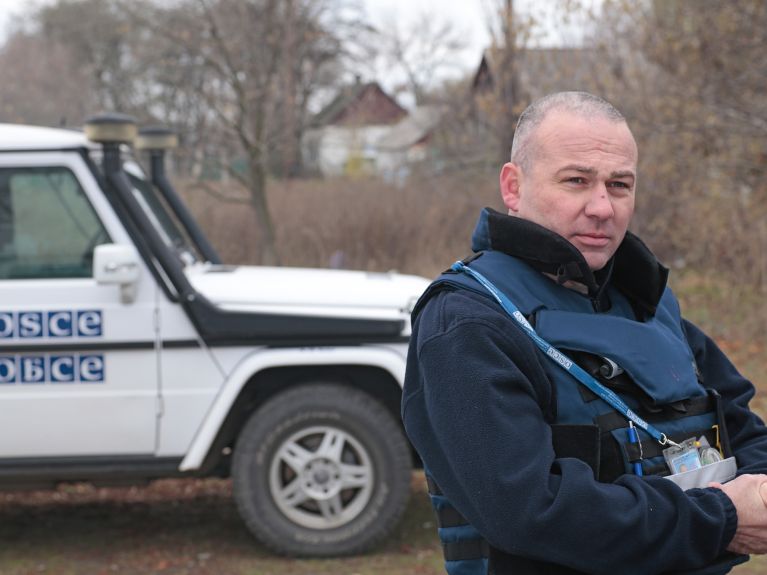 What dangers do you face?
We face the same dangers as the civilian population: mines and the possibility of coming into crossfire. That's why we have armour-plated vehicles for patrols on the line of contact, and we wear bullet-proof vests and helmets. The upside is that as unarmed OSCE observers we are largely respected as neutral observers and are not viewed as targets. The downside is that, despite this, we still have to be constantly on the alert for unpredictable incidents. A sad reminder of this is the landmine incident of April 2017 in which a colleague died and two were slightly injured.
How can the OSCE observers contribute towards a peaceful solution of the conflict in the Ukraine?
Part of the core mission is to support dialogue at the local level in order to reduce tension and to help normalize the situation. For instance, our work helps to create localized ceasefires to make way for repairs to damaged infrastructure, such as water or gas pipelines. Our objective reporting also helps to reduce mutual distrust and, at least partially, to start rebuilding trust. These are the basic necessities for dialogue.
How does the general public react to the OSCE observers?
My experiences with the Ukrainian people in general are almost entirely positive ones, and the same applies to the people in the actual crisis areas. Of course they sometimes get angry about the unresolved conflict and the fact that the living conditions are not improving. In these cases an OSCE patrol can act as a safety valve for people to let off steam and offload their pent-up emotions. But this happens far less now.
In which countries have you already been on OSCE missions and what motivates you?
This is my first OSCE mission. But I have already gathered a wealth of experience from three UN missions in Sudan, or rather South Sudan, in Afghanistan and Iraq. In 2006 I volunteered as a Bundeswehr officer for deployment as a UN military observer. I've been active in crisis areas since 2008. I'm motivated by the fact that I can apply and develop my combined qualifications and experiences: my expertise as an officer, trainer and security adviser plus my knowledge as a political scientist are all very useful and in demand. I feel that I am participating in important contemporary events by working in crisis areas.
Interview: Tanja Zech