International Day of UN Peacekeepers
In the Federal Foreign Office, peacekeepers were honoured for their efforts.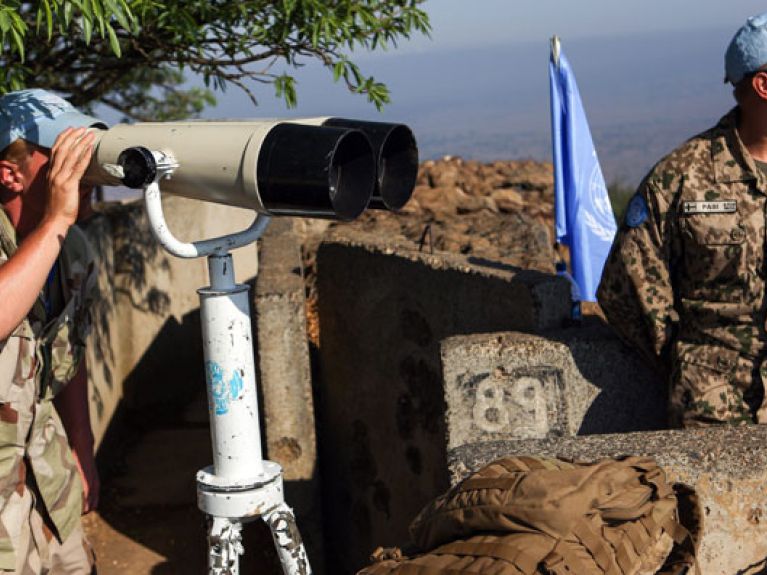 They are military, police and civilian personnel and perform an invaluable service for the Federal Republic of Germany. They work as peacekeepers in the world's crisis and conflict areas. And they were now honoured for their commitment on the "International Day of UN Peacekeepers" for the fourth time. On Wednesday in the "Europasaal" at the Federal Foreign Ministry in Berlin, Federal Foreign Minister Frank-Walter Steinmeier, Federal Minister of the Interior Thomas de Maizière, and Parliamentary State Secretary at the Ministry of Defence Ralf Brauksiepe honoured nine peacekeepers, who represented 3,400 soldiers, 170 police officers, and approximately 200 civilian personnel who are currently deployed on operations across three continents. "Today is an occasion for honouring people who, on a daily basis, under the most difficult conditions and often risking their lives, stand up for peace," Federal Foreign Minister Steinmeier said at the event. He also emphasised Germany's aspiration to assume more responsibility in the world. "We want more Germans to be involved in peace missions in the future," he explained. For that reason the Center for International Peace Operations (ZIF) was currently being upgraded to a fully-fledged sending organisation, he added.
Harrowing experiences
Martin Kobler, UN Special Representative and Head of the United Nations Support Mission in Libya, UNSMIL), spoke in his address of two encounters, which confirmed him in his tireless efforts for peace. During his time as head of the UN peace mission in Eastern Congo (2013–2015) he got to know a boy in a school camp for former child soldiers, whose parents had been slain by rebels before his very eyes. This way the rebels, Kobler said, had made the then ten-year-old boy aware of the fact that for him there was now no way home. They enslaved the boy, drugged him and trained him to murder. In Libya, Kobler said, he had recently met a 70-year old man who was selling his dental gold. With the gold, the once wealthy old man explained, he was intending to give his family a worthy Ramadan celebration. Since the fall of the Gaddafi regime a good five years ago, Libya had been in a state of civil war, large swaths of the population had since become impoverished. "Stories such as these," Martin Kobler said, "are with us peacekeepers day and night." They were an incentive to make the world a more peaceful place, he commented.
Most of the nine honoured peacekeepers were deployed on peacekeeping missions several times, and jointly for several years. Meinolf Schlotmann, a police officer from North Rhine-Westphalia most recently deployed as Chief of Staff of the UN Mission in Mali (MINUSMA) said that for Germany there was no alternative to peacekeeping missions abroad. Crises could only be solved locally, it could not be done from Germany. Christel Liermann, who is currently working for EUPOL in Afghanistan, reported that in many theatres of operations the situation is becoming more difficult and more risky for the peacekeepers. Nonetheless, more civilian commitment in crisis areas and better international concepts for a sustainable solution of crises were necessary, she said. Almut Wieland-Karimi, Director of the Center for International Peace Operations confirmed this opinion. Extremism, trans-national crime, the regionalisation of conflicts and growing opposition to peacekeepers on the part of host governments were making peacekeeping missions more and more difficult, she commented.