Relief organizations from Germany
The portals presented here provide information on the help programs offered by different organizations.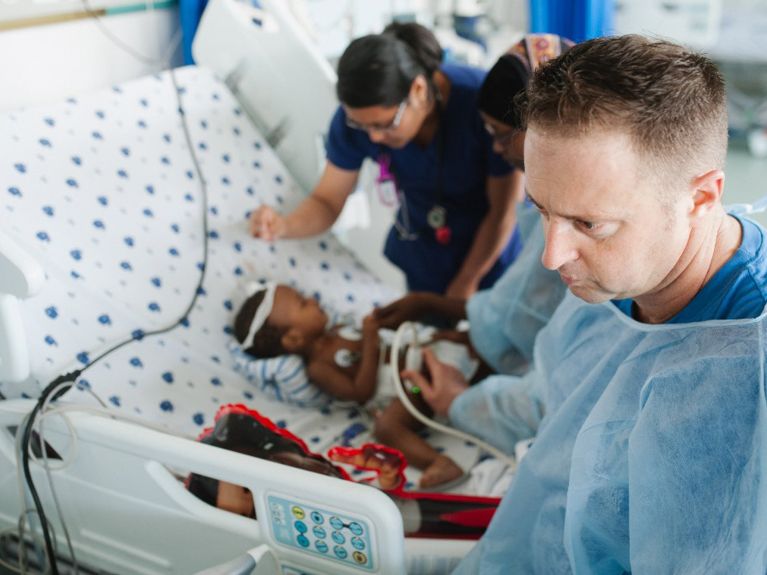 "Germany Helps" Organization
Together we are stronger – and that goes for the large relief organizations as well. In "Germany Helps" (ADH – Aktion Deutschland Hilft e.V.), 22 of these organizations have joined forces to concentrate their expertise and provide humanitarian aid when catastrophe strikes, both in Germany and in crisis regions of foreign countries.
ww.aktion-deutschland-hilft.de
Aktion Mensch
"Everyone is handicapped to some extent" and the website operated by the German Aid for the Handicapped Association (Aktion Mensch e.V.) has something for everybody. This social organization emerged from the earlier campaign known as "Aktion Sorgenkind" (Problem Child Campaign).

www.aktion-mensch.de
DOCTORS WITHOUT BORDERS
The vision of providing professional medical care to the civilian population in war zones and disaster areas first gave rise to MÉDECINS SANS FRONTIÈRES, a private medical emergency organization. This organization was awarded the Nobel Peace Prize in 1999. ÄRZTE OHNE GRENZEN e.V. is the German section of the international network.
German AIDS Society
There is currently no cure for AIDS. The German AIDS Society (DAH - Deutsche Aidshilfe e.V.) has been helping HIV-infected persons to live as good as possible a "positive" life since 1983. The national German umbrella association with its local AIDS chapters provides information and counseling services that focus on HIV, AIDS, as well as on such other sexually transmitted diseases as hepatitis.
German Heart Foundation
Plenty of physical exercise, a low-fat diet and limited alcohol intake – that's the best way to prevent a heart attack! The German Heart Foundation provides even more tips on how to live a healthier lifestyle. This association has been involved in the fight against heart and circulatory diseases since 1979. The Frankfurt-based foundation supports patients as well as medical professionals with awareness campaigns and research projects.

www.herzstiftung.de
German Cancer Aid
Every year, more than 490,000 people in Germany develop cancer, making this disease the No. 2 killer in the country. German Cancer Aid has supported projects to improve diagnosis, therapy, aftercare and self-help since 1974.

www.krebshilfe.de
German Catholic Welfare Association
Advocate and partner of the underprivileged: the German Catholic Welfare Association (Deutscher Caritas Verband) supports people who find no other assistance in their social environments.

www.caritas.de
German Association for the Protection of Children
Working together for the future of all our children: the German Association for the Protection of Children (DKSB - Deutscher Kinderschutzbund e.V.) lobbies and does public relations work for the youngest of us all, offers counseling and organizes such things as child care.
German Red Cross
The German Red Cross (DRK – Deutsches Rotes Kreuz), part of the international red cross and red crescent movement, offers assistance to people in distress. This charitable organization, with close to five million members in Germany, assumes a wide variety of different functions, such as rescue services, nursing care, emergency services and development aid.
Diakonie
As an expression of the life and character of the church, Diakonie (the Diakonisches Werk der Evangelischen Kirche Deutschlands) is a social welfare association of the German protestant church committed to supporting socially disadvantaged families, the unemployed, the elderly, and the sick. Diakonie also works toward achieving social justice in general.