"Today's international agenda"
Poverty, migration, climate change – the Brandt Commission was already demanding answers to these issues 40 years ago. And for a long time it did so in vain. An interview with Germany's Federal Foreign Minister Sigmar Gabriel.
13.09.2017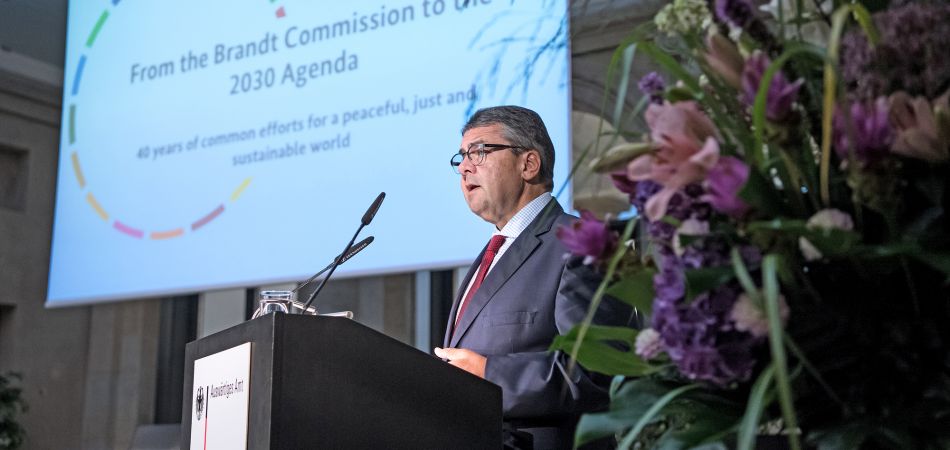 Willy Brandt himself had a suspicion that the report would initially disappear "in a drawer": 40 years ago, the Independent Commission on International Development Issues he was chairing published a report on global development. It took some time before the far-sightedness of these politicians, journalists and scientists from industrialised and developing countries was acknowledged and found its way into concrete policymaking. Just how relevant the report still is today became apparent at the #Brandt2030 conference staged by the Federal Foreign Office and attended by international experts and civil society representatives. An interview with Federal Foreign Minister Sigmar Gabriel.
Mr Gabriel, the Brandt Report is regarded as visionary. To what extent is this the case?
The report deals with issues that we think of as being new today: migration, climate change and environmental protection, dramatic population growth in Africa and Asia. Essentially today's entire international agenda was already evident back then. This becomes clear when we read the report today.
It is often claimed that the report initiated a shift in development policy.
Development policy only became an issue of global and foreign policy relevance thanks to the report. Thanks to the efforts and commitment of high-profile individuals such as Willy Brandt, it became obvious that development is not a purely charitable matter but a key part of international politics, and one in which money and political energy must be invested.
It is not easy to turn good insights into good policymaking.
40 years on, many developing countries still find themselves in a difficult – and in some cases an even more difficult – situation. Why were so many of the report's recommendations not implemented?
It is not easy to turn good insights into good policymaking. Foreign policy is often crisis-driven. In many cases issues first have to hit the headlines before they are tackled. It is true that it has not proven possible to achieve a turnaround in international politics in the 40 years since the report was published. We have made progress nonetheless – there have been intermediate steps such as the 1987 Brundtland Report, which defined sustainability as a development goal. That is now an accepted fact, but one that is not always acted upon.  
The Brandt Report itself named some of the possible reasons for this, citing a lack of political will to face up to reality. Do you believe that is accurate?
Political decisions are based on difficult processes of weighing up pros and cons. Even if one has information about what needs to be done, there are always other conflicting considerations. That was also one of the issues raised at the conference: naturally it would be sensible if workers in Indonesia for example were to stop mining coal or cutting down rainforests. This results in environmental toxins, produces CO2 and erodes soil. On the other hand, the country and its population have a legitimate interest in surviving and achieving economic success. One has to weigh up these two different viewpoints. It is important to be aware of what is at stake, however, and this is something the Brandt Commission worked towards.
Peace is a key prerequisite for development and prosperity.
The conference staged by the Federal Foreign Office was entitled "From the Brandt Commission to the 2030 Agenda 2030". Which messages from the report are reflected in the Sustainable Development Goals of the United Nations?
That sustainable development must be placed at the forefront of nation state activities. That priorities must change because the survival of the planet is of central importance. That peace is a key prerequisite for ensuring development and prosperity for all. These challenges are set out in the 2030 Agenda and are becoming part of government policy in more and more countries, including in Germany.
What did you take away from the conference above all?
The question as to which priorities one sets. Whether one strives only for national prosperity in the here and now, or whether one makes the planet's survival a priority – and perhaps puts one's own interests on hold to achieve this. This is not something that can be imposed from above. People have to be persuaded that it is in their own best interests to do so. This is what we have to try to do each and every day, and engage in a fair and understanding discussion.
Interview: Helen Sibum