The fight against hunger
There have been remarkable successes – and nevertheless a large section of the world population still does not have access to sufficient and good nutrition.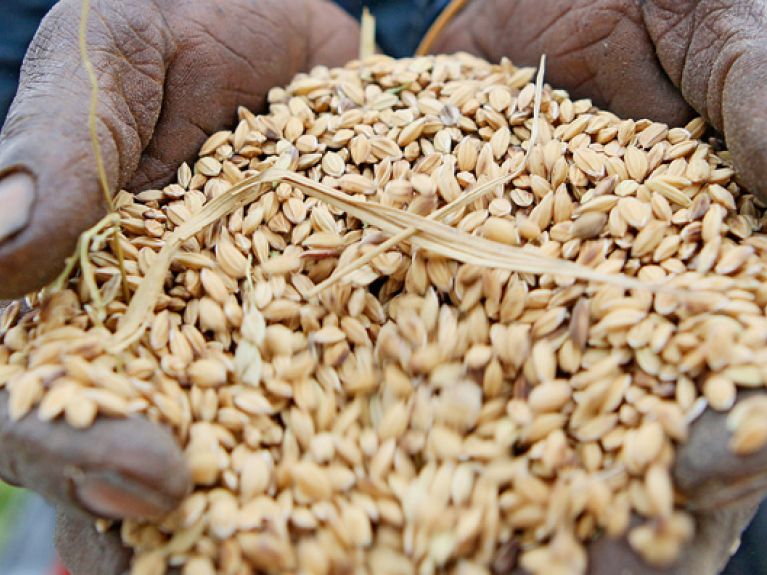 1.
HOW MANY PEOPLE 
SUFFER FROM HUNGER?
One in nine of the world population currently suffer from hunger. A total of 795 million children, women and men do not have enough to eat. Roughly 98% of them live in developing countries. Some 511 
million live in Asia and the Pacific region, 232 million in Africa. At 23%, the proportion of the population suffering from hunger is highest in sub-Saharan Africa. According to the Global Hunger Index published jointly by Welthungerhilfe and the Washington-based International Food Policy Research Institute, five of the eight countries where the hunger situation is "alarming" are located in Africa. The situation is especially dramatic in the Central African Republic, Chad, Madagascar, Sierra Leone and Zambia. All over the world, the situation is worst where food is produced: in rural areas. That is where three quarters of the undernourished live. Half of all the people who do not have enough to eat are farmers. Often their fields are so small that they are not even able to feed their own families.
2.
WHY DOES HUNGER 
(STILL) EXIST?
According to Welthungerhilfe, global food production is sufficient to feed the world population. But wars and disasters constantly force people to leave their homes. They are then no longer in a position to cultivate their crops. In addition to this, agricultural infrastructure is destroyed and trade severely restricted so that food prices rise. Yet even without acute crises, poverty prevents many farmers buying enough seeds, tools and fertilisers. Others have no land or lack agricultural know-how. The overexploitation of the natural environment, the waste of resources and pollution are also leading to developments such as desertification and a resulting loss of agricultural land. Moreover, the fight against hunger is often not a priority of governments in developing countries, and the problem is aggravated further by corruption. However, the reasons have long not only been found in the affected countries themselves: the worldwide increase in meat consumption, above all in the 
industrialised and newly industrialised countries, is often resulting in land that was once used to cultivate food today being used to grow animal feed. Furthermore, the production of biofuels can lead to a fuel versus food dilemma.
3.
HOW MANY PEOPLE DIE OF HUNGER EVERY YEAR?
According to The Lancet, a British med­ical journal, undernourishment contributes to approximately 45% of all deaths among children under five worldwide. As a result, roughly 3.1 million boys and girls die every year before their sixth birthday. "It is estimated that more people die annually from hunger and its effects than from malaria, tuberculosis and HIV/Aids together. Hunger is the world's greatest health risk," says Ralf Südhoff, Head of the UN World Food Programme in Germany, Austria, Liechtenstein and German-speaking Switzerland.
4.
WHAT ROLE DOES CLIMATE CHANGE PLAY?
Floods, storms and droughts destroy not only harvests, but also arable and grazing land. Natural disasters will probably occur more often and have greater impact because of climate change. Experts assume that climate change could lead to harvests being reduced by between 5 and 30% depending on region by 2030. This is likely to lead to a further increase in food prices, which according to calculations by the World Bank could drive up to an additional 100 million people into poverty.
5.
WHAT IS HIDDEN HUNGER?
"One third of the world population live primarily on starchy foods like rice, maize and wheat because they are cheap and fill your stomach. But being full is not enough," says nutritionist Hans Konrad Biesalski, who heads the Hohenheim Research Center for Global Food Security and Ecosystems. Among other things, malnourished people lack vitamins, trace elements and other vital micronutrients, their immune systems are weak, and their life expectancy is low. Malnutrition – especially during the first 1,000 days of life – can have disastrous effects on babies and infants. If they do not receive enough food or enough of the right kinds of food during this 
period, they can remain susceptible to illness for the rest of their lives, suffer from growth disorders or be unable to realise their full mental potential. It is estimated that one third of people in developing countries are affected by malnutrition.
6.
WHAT ADVANCES HAVE BEEN MADE?
The number of people suffering from hunger has decreased by 216 million since 1990. Accordingly, the second Millennium Development Goal, halving hunger worldwide, was nearly achieved. "Fewer people are going hungry today because development is having an impact," says Till Wahnbaeck, Secretary General of Welthungerhilfe. Major social programmes – among others, in Brazil and India – have had positive results. According to figures published by the United Nations Food and 
Agricultural Organization (FAO), econ­omic growth is one of the main factors in a reduction of the number of people going hungry.
7.
WHAT STILL NEEDS 
TO BE DONE?
The international community has learnt from past famines and expanded early warning systems and increased emergency and disaster relief. If a state is un­able to guarantee a sufficient supply of food for its population, the United Nations and governmental and non-governmental organisations attempt to combat hunger with long-term development programmes and short-term emergency relief. FAO studies show that investments in agriculture are five time more effective at reducing poverty and hunger than engagement in any other sector. That is why many aid organisations start with support for small farmers. In addition, armed conflicts that repeatedly negate any advances must be resolved. "Today conflicts are the great drivers of hunger. Diplomatic solutions must be found," says Till Wahnbaeck of Welthungerhilfe.
8.
WHAT ACTION DOES 
GERMANY TAKE?
The fight against hunger is a major focus of German development policy. The Federal Ministry for Economic Cooperation and Development (BMZ) has set up an initiative called ONE WORLD – No Hunger. It aims to overcome hunger and malnutrition and ensure that future generations also have access to good nutrition. "The initiative especially focuses on mothers and infants," says a BMZ spokesperson. "It supports innovations and land rights for small-scale agriculture as well as the protection of natural resources, especially soils." Germany also engages in cooper­ation at the international level and provides significant impetus in this area. In January 2016, at the Global Forum for Food and Agriculture in Berlin, for example, Federal Agriculture Minister Christian Schmidt emphasised the role of cities. "Urbanisation is the megatrend of our age." However, nutrition in megacities can only be secured in interaction with a sustainable form of agriculture. "The city needs the country."
9.
WHERE DOES 
GERMANY HELP?
Germany supports 15 key countries in agri­cultural development and food security. Among others, they include Ethiopia, the Democratic Republic of Congo, South Sudan, Kenya, Cambodia, Laos and Bolivia.
10.
WILL THERE EVER BE A WORLD WITHOUT HUNGER?
UN Secretary General Ban Ki-moon launched the Zero Hunger Challenge in 2012. The Sustainable Development Goals, which superseded the Millennium Development Goals, also aim for a world without hunger by 2030. This is to be achieved by investments in research, among other things. "Progress since 1990 demonstrates that it is possible to triumph over hunger, food insecurity and malnutrition," says the FAO. ▪