Voluntary rescue workers facing criticism
Private initiatives rescue refugees in distress in the Mediterranean Sea. Their work is controversial.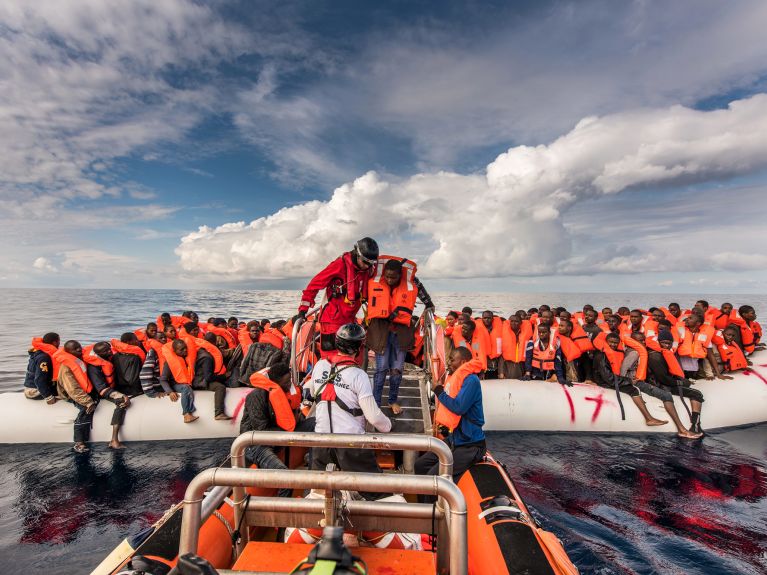 The promise of a better life in Europe – it makes a great many people flee their home country and cross the Mediterranean Sea to Italy. Yet the journey is dangerous: At least 23,000 boat refugees have drowned since 2000. Their boats are often dilapidated and overcrowded, water and provisions are scarce. Often, when such refugees find themselves in distress at sea, they are helped not just by the Italian Coast Guard but by various non-governmental organizations help alongside, including from Germany. Yet their work comes in for criticism. Five questions and answers.
How do civil rescuers justify their work?
The Italian rescue operation "Mare Nostrum" was discontinued in 2014. It had previously rescued at least 130,000 refugees within one year. "Since then thousands have been drowning outside the gates of Europe every year, because they are not receiving enough help there," says Philipp Frisch of Médecins sans Frontières. For this reason the organization, like Save the Children, Sea-Watch, Jugend rettet and Sea-Eye, organizes rescue operations itself.  
How do private rescuers see themselves?
Following the EU agreement with Turkey to send back refugees, Médecins sans Frontières decided to no longer accept money from the EU or its member states, notes Philipp Frisch. In addition to their convictions, many helpers show great personal commitment. The initiatives are primarily funded by donations and most rescue workers take holiday from their actual job to go on rescue missions.
How do they work?
Médecins sans Frontières has two large ships in the Mediterranean Sea. The rescue workers track down people in distress, give them basic emergency supplies and take them to shore in cooperation with the Italian coordination centre. The organization Sea-Watch works in a similar way. At first it just wanted to help find refugee boats, and leave the rescue work to the ships sent out by the EU, according to spokesperson Ruben Neugebauer. "But because they often came too late, we bought two rescue ships ourselves."
What is the criticism of the organizations?
The EU border control agency Frontex, the Italian government and European politicians accuse them of colluding with traffickers. In addition, they claim that rescue work encourages migrants to undertake the dangerous journey. The German Federal Minister of the Interior Thomas de Maizière also voiced criticism with reference to Italian authorities that some organizations do not stick to the rules, which makes it difficult to trust them. In July, the Italian government called on rescuers to sign a code of conduct. This code includes regulations stating, for instance, that ships must not sail in Libyan waters, that they must always have their radar switched on and must cooperate with the Italian authorities in all matters.
How are the NGOs responding to the accusations?
Ruben Neugebauer from Sea-Watch calls the accusations "completely unfounded" and offers assurance that there is no contact with traffickers. "We were forced to undertake our humanitarian mission," he says. Apart from a few exceptions, the organizations are refusing to sign the code of conduct. They feel that the contract criminalizes them, adding that they abide by the laws and regulations in their work.
What is the current position?
In mid-August, following Libya's announcement that it would extend the security zone off the coast to far beyond its territorial waters, several organisations, such as Doctors Without Borders, Sea-Eye and Save the Children, temporarily halted their rescue activities for safety reasons.