Working for the environment in Nigeria
Jubilant in Ilorin: Vicfold Recyclers, winner of the #youforG20 competition, has received a boost to its work thanks to the prize.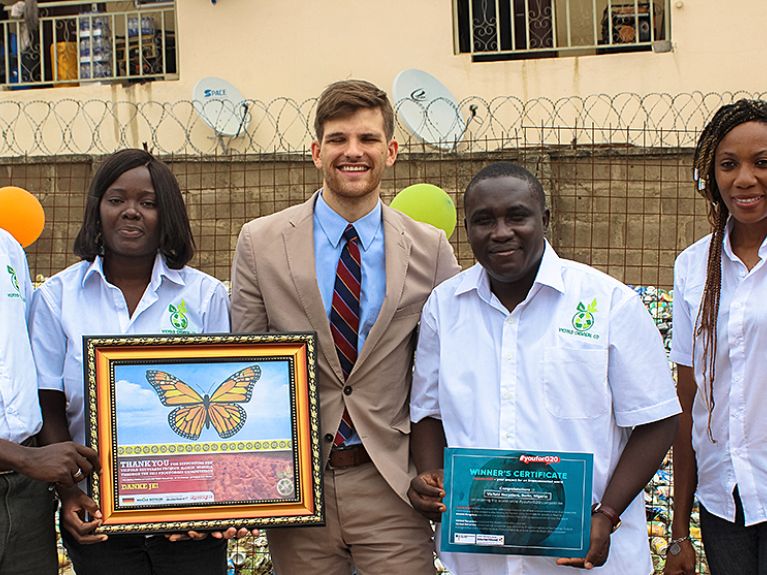 It's an ambitious plan: Amusa Victor would like to recycle over 20 tonnes of plastic waste every month in future. The Nigerian founded the social enterprise Vicfold Recyclers in Ilorin in the western part of the country. In July 2017 the initiative received a major boost to its work: Vicfold Recyclers won the #youforG20 competition that was organised jointly by deutschland.de and the Federal Foreign Office.
Amusa Victor has now been presented with the winner's certificate. "We are very pleased. This is a real motivation for us." His enterprise has already made sure that roughly 12,000 kilograms of plastic waste has not polluted the environment, but been recycled. The employees of Vicfold Recyclers – mainly women and young people – collect empty bottles and other waste from houses in Ilorin. The waste is sorted, shredded and used to manufacture new products. Amusa Victor needs a special machine to recycle larger quantities of plastic, and he can now afford that thanks to funding from the Federal Foreign Office to the tune of 15,000 euros. 
Over 220 initiatives from all over the world submitted applications to the #youforG20 competition. They support environmental and climate protection like Vicfold Recyclers, promote the participation of women and young people in society or develop technological innovations to improve living conditions worldwide. You will find an overview of all the projects here.