How lawyers work in Germany
It involves great responsibility, also for defence lawyers: five facts about being a lawyer in Germany.
Julia Bröder / 29.07.2019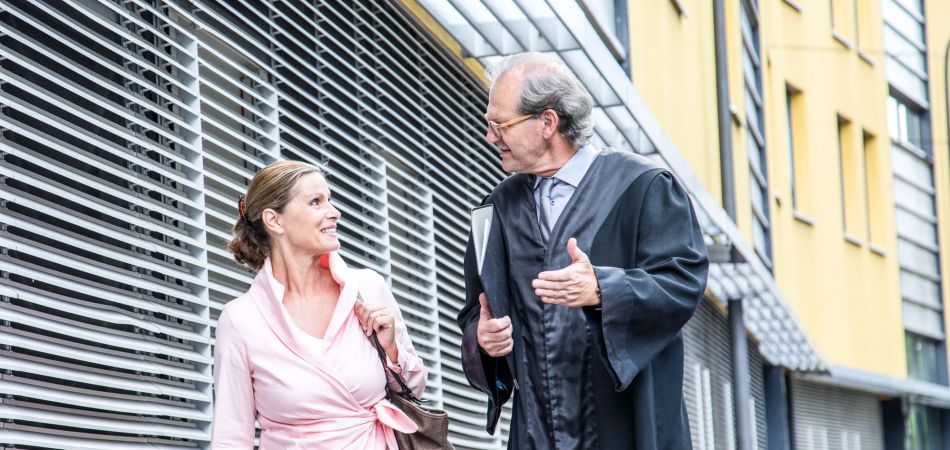 How do you become a lawyer in Germany?
There are several ways of working as a lawyer in Germany: as a self-employed lawyer with your own office, in a partnership with one or more partners or as an employee in a law firm. The academic training takes exactly the same time as preparing for public service as a judge or public prosecutor: the standard study period of nine semesters is followed by the First State Examination, then a two-year internship gaining practical professional experience (Referendariat) and finally the Second State Examination.
In Russia, on the other hand, studying law takes four to six years depending on the qualification involved – Diploma, Bachelor or Master. Before you can take the qualifying examination for the legal profession you must also spend two years engaged in practical legal work – for example, as a lawyer's assistant or at a university.
In the USA, would-be lawyers have to study for roughly three years at Law School. There is no prescribed period of practical training. Instead candidates have to pass a bar exam before they are allowed to practice law.
Which foreign qualifications enable you to work as a lawyer in Germany?
If you have completed a law degree in a member country of the European Union or the European Economic Area or in Switzerland, you can complete a two-year legal internship (Referendariat) in Germany – and then apply to practise as a lawyer after successfully completing the Second State Examination.
If you are registered as a European Lawyer in your country of origin, you can be accepted into a German bar association – and then also work as a lawyer in Germany by this route.
How do lawyers prepare for court cases?
Lawyers are strongly involved in advice and analysis work long before presenting their plea before the court. They have to process and promptly submit numerous documents. Especially in large international law firms, younger lawyers initially perform duties similar to those of clerks before they receive their own cases. Contact with clients begins sooner in smaller law firms.
Which quality is especially important in a lawyer?
Empathy! If you want to advise and defend your clients properly, you must not only have a complete understanding of the case in hand, but also be able to put yourself in their life situation.
What duty does a lawyer have towards his or her clients?
In Germany, every defendant has the right to a defence lawyer. The lawyer has an obligation to represent the interests of his or her client. In a defence case before a criminal court, for example, this means achieving the mildest possible verdict or, at best, an acquittal – even if the lawyer is aware of the client's guilt. The lawyer is not allowed to lie to achieve this, but can remain silent about the facts.