Vicfold Recyclers - Reward for Waste Initiative
Vicfold Recyclers, Nigeria
An incentive-based recycling social enterprise engaged in transforming waste to value through recycling and also empowering unemployed women and youths.
22.06.2017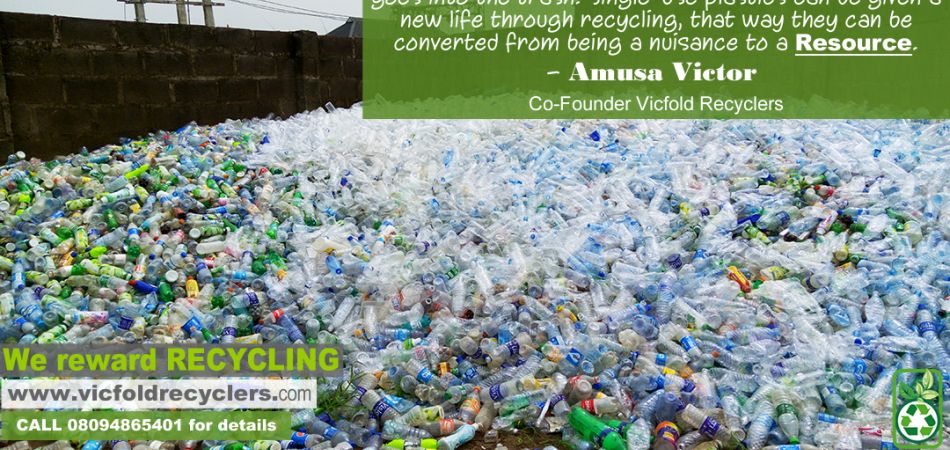 Project description:
Vicfold Recyclers is an incentive-based recycling social enterprise engaged in transforming waste to value through recycling and also empowering unemployed women and youths. We Promote Recycling through Reward For Waste Initiative (a Social Enterprise Module). Our recycling service is adapted to the needs of inhabitants in formal and informal settlements, thereby contributing to a better management of urban waste in Kwara State Nigeria. Our initiative gives the municipal alternate means to landfill, help reduces the rate at which waste is been dumped in drains, on streets and serve as a means of livelihood for the unemployed especially women and youth. We help sensitize the residents on the importance of recycling in combating climate change.
Using an incentive-based approach, vicfold recyclers comes onboard with a model to collect, sort and recycle the waste which evidently has overwhelmed the local authorities and at the same time reward the residents raising their economic and living conditions, since their reward is proportionate to their waste, waste is made wealth. We currently convert Waste Polythene into Polythene Pellets through a contractual agreement with a recycling plant in Akure, Ondo State Nigeria. We seek a scale up of our activities to set up our recycling plant in Ilorin to handle Pelleting of Polythene Waste and Waste Plastic Bottles into Recycled PET Flakes.

#Impact 1. Improving the Environment
The use of door-to-door approach of collection, and drop off center model has successfully reduced proliferation of illegal dumpsite across the state.

#Impact 2. Giving taste to waste!
A subscriber receives on average 5,000 naira a month as earnings from their waste.

#Impact 3. Empowering the people
7 women has been employed as waste sorters, 3 youths as waste interceptors .

#Impact 4. Favoring local economy
Our collection and redemption stream is indigenous, all our reward items are sourced locally from markets and stores in kwara state

#Impact 5. Sensitization
Awareness on how recycling can be of great benefit to the environment, we do advocacy in our communities on the role of recycling in combating global warming.
Goal and purpose of the project:
Our goal is To Activate and Sustain a Three-fold Impact Module that Cuts Across;
The ENVIRONMENT, The PEOPLE andThe ECONOMY. The purpose of the project is to use the instrumentality of an innovation tagged Reward for Waste Initiative to solve the problem of raw material availability and affordability encountered by manufacturers in the plastic manufacturing sector, solve the problem of Unemployment amongst Women and Youth in Nigeria, solve the problem of poor promotion of local content through the Made in Nigeria drive and ultimately seek to solve the problem of indiscriminate waste disposal by providing convenient collection methods .
Motivation of the applicant / applicant team:
A waste audit conducted in our home and the data that confronted us inspired the Vicfold Recyclers Initiative. Every weekend we prepare waste generated over the week to be dumped in the municipal trash cans, on 18th April 2016 while we were battling to compress the trash into five trash bags, there arose a question, why do we have so much plastic waste? and if our household generates this much in a week, how much would over 2 million households in Kwara generate? That lead us into conducting a waste audit which revealed 80% of our waste in a week are recyclables especially plastics, about 20% are organics. These data birthed the Vicfold Recyclers Initiative which seeks to intercept recyclables from going to landfills and seek to provide employment opportunities for women and youth through active participation in waste management, this way we were able to give Taste to Waste.
Use of prize money:
Vicfold Recyclers seek to scale up to achieve a significant market share, the global demand for plastic bags, plastic bottles, and aluminum beverage cans, is so high that the need to recycle these products left on our streets and households as heaps of dirt is highly necessary. The prize money will be used to acquire a double screw plastic extruding machine for conversion of waste plastics into reusable resin pellets, additional 35 jobs will be created for women and youths, 10 more drop-off centers will be established to further provide convenient waste collection services to the residents of Kwara state, Nigeria.