13.02.2018
Dresden remembers bomb victims
Politicians laid a wreath at a memorial for victims of World War II.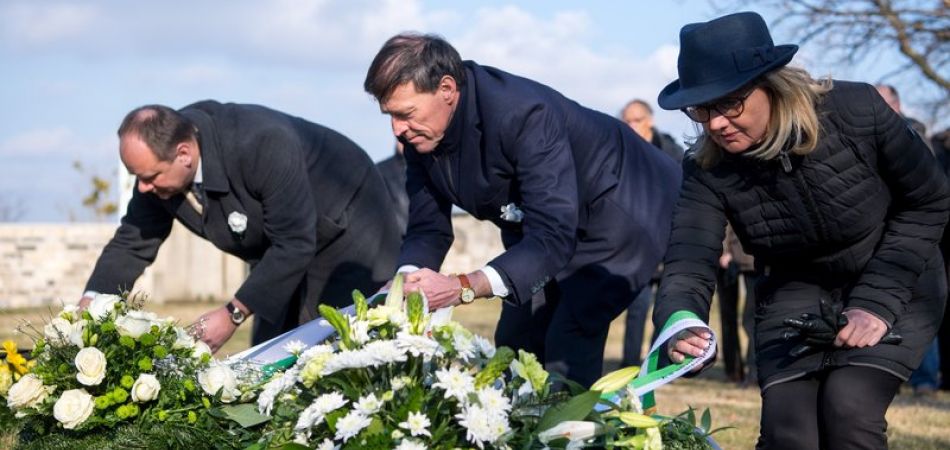 Dresden (dpa) - In memorial ceremonies around the city, Dresden on Tuesday remembered the 73rd anniversary of the devastating bombing raids during World War Two that claimed upwards of 25,000 lives.
Dresden Mayor Dirk Hilbert and State of Saxony Parliamentary Speaker Matthias Roessler laid a wreath at a memorial for the victims in the cemetery Alten Annenfriedhof. Wooden crosses were stuck into the ground to symbolically recall the names of the victims. Similar ceremonies were held in seven further places around the city.
Hilbert said on the periphery of the silent ceremony that on one hand, the date February 13 was there to "put the victims of our city in the focus. On the other hand also to admonish, be watchful and vigilant. To become engaged for peace in our society."
For many years neo-Nazis used the historical date to spread their ideology and to try to cultivate a sense of victimhood while relativising the crimes of Nazi Germany.
Hilbert said that Dresden's people were not all perpetrators. "Nor was everyone who lived in our city innocent," he said. For this reason the city must make this "dichotomy" a topic for discussion.
Later Tuesday evening, a human chain is to be formed to link both sides of the Elbe River as a symbol of peace and reconciliation. Last year, officials said more than 10,000 people took part in the human chain.
On the night of February 13, 1945 and in following days, waves of British and American bombers carried out massive fire-bombing raids on the city, destroying much of the city. A commission of historians concluded that up to 25,000 people were killed.