Merkel's last government statement
The chancellor's last government statement focused on the pandemic and the crises facing Europe and the world. Her three potential successors were there.
24.06.2021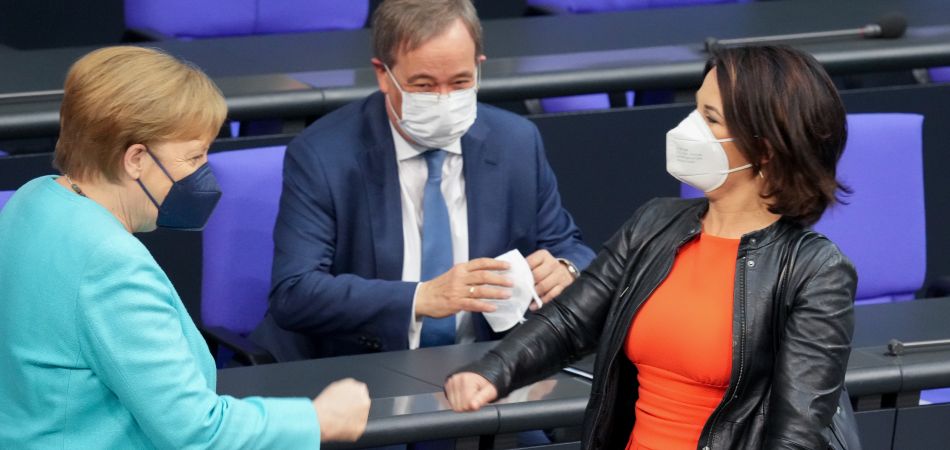 Berlin (dpa) - It is a kind of foreign policy legacy of crises and conflicts that Angela Merkel is laying out in the Bundestag. It almost sounds the same as always on Thursday morning as the chancellor, in what will probably be her last government statement after almost 16 years, goes through the key points of the EU summit on which she will later wrangle with the other heads of state and government to find solutions. However, much is quite different about today: the three candidates who have a chance of succeeding Merkel are attending the plenary session. It is a kind of showcase for the chancellorship candidates in the September election. Armin Laschet (CDU) has taken his seat on the Bundesrat bench as premier of North Rhine-Westphalia; he will later give his first speech in the plenum in 23 years. Green Party candidate Annalena Baerbock is following Merkel's words from her place in the parliamentary ranks, while SPD candidate Olaf Scholz, as vice-chancellor, does the same from the government bench.
The chancellor's face shows no sign of any wistfulness or parting pain as she talks her way through the crises facing Europe and the world. Great displays of public emotion are not Merkel's thing. She spends more than half of her speech talking about the pandemic, calling for carefully considered easing. When the chancellor gets to the other top international issues, it seems like a compendium, a kind of textbook for the three candidates – part of Merkel's foreign policy legacy. Migration: one should not rest in searching for a common solution, however difficult it may be. The tricky relationship with Turkey: it can only be solved through dialogue, also because of the refugee issue. Russia: a common mechanism must finally be found at EU level to deal unitedly with the provocations from Moscow. And, of course, the transatlantic approach to international conflict resolution that has been rediscovered with the new US President Joe Biden and the climate crisis that can only be overcome globally.
More about 2021 Bundestag elections