11.02.2019
February 11th: News from Germany
CDU discusses reform of migration policies + No-deal Brexit could cost 100,000 German jobs + Dresden Peace Prize for "Napalm Girl"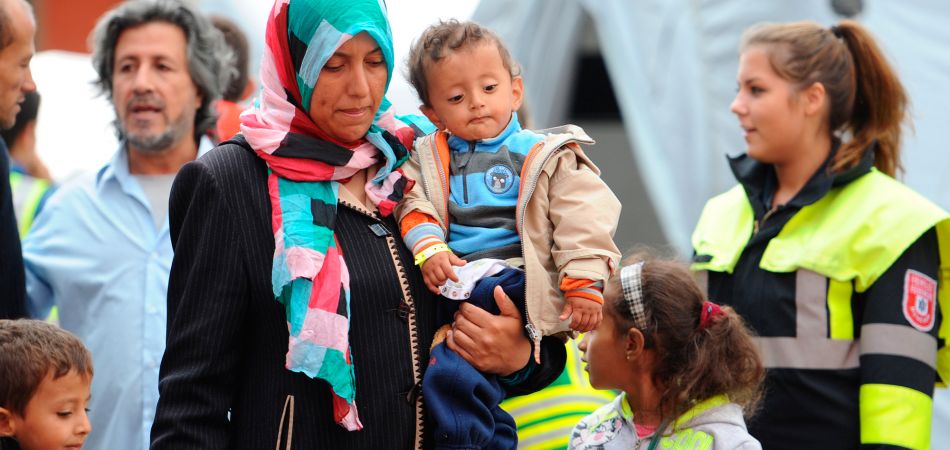 Migration: CDU discusses reforms
Berlin (dpa) - Angela Merkel's successor as head of Germany's conservative CDU party has called for migration policies that do not undermine European unity at the start of a series of meetings to reassess the outgoing chancellor's approach to migration. Annegret Kramp-Karrenbauer, who succeeded Merkel at the helm of the CDU after a knife-edge victory in a party vote in December, is holding the meetings on Monday with representatives of the federal and state governments.
She said that future migration policies would have to perform a balancing act between the national interest and the interests of the European Union because "a strong and functional Europe (provides) a protective cloak that we need." "Everything we do in a national context has immediate repercussions in other European states," she said.
Merkel's decision to open Germany's borders to hundreds of thousands of asylum seekers in 2015 caused a crisis for the CDU's conservative alliance with the Bavarian CSU, bringing the governing coalition to the brink of collapse and contributing to her exit as party leader.
No-deal Brexit could cost 100,000 German jobs
Berlin (dpa) - Some 100,000 jobs could be at risk in Germany if Britain leaves the European Union without a negotiated deal, according to a survey published on Sunday in the Welt am Sonntag newspaper. "In no other country is the effect on total employment as great as in Germany," Oliver Holtemoeller, one of the study's authors, told the newspaper.
The study only takes into account job losses that would be caused by a slump in exports as a result of new customs duties on imports to Britain in the event of an unregulated Brexit, and not further risks to the labour market such a decline in willingness to invest.
In Germany, the car industry is the most likely to be affected by a decline in exports. In terms of the number of employees, the greatest effects would be felt at Volkswagen's Wolfsburg factory and BMW's Dingolfing-Landau plant in Bavaria.
According to the study, 500 employees could be affected in Wolfsburg and 265 in Dingolfing-Landau.
Overall, the researchers from the Halle Institute for Economic Research (IWH) and the Martin Luther University of Halle-Wittenberg saw the biggest risks for the states of Baden-Wuerttemberg, Bavaria and North Rhine-Westphalia, with hardly any jobs at risk in eastern Germany.
After Germany, the study found that France is the EU country most likely to be affected by a no-deal Brexit, with almost 50,000 jobs at risk. In China, it was almost 59,000. Measured against the total population, the effects would be greatest in Malta and Ireland.
According to the study, 612,000 people worldwide could lose their jobs in the event of an unregulated Brexit.
Dresden Peace Prize for "Napalm Girl"
Dresden, Germany (dpa) - Kim Phuc Phan Thi, the woman who for nearly five decades has been known as the "Napalm Girl" from a Pulitzer Prize-winning photograph taken during the Vietnam War, is set to be awarded the Dresden Peace Prize for her activism on Monday.
The well-known photo by Associated Press photographer Nick Ut shows Kim Phuc - who now resides in Canada - at the age of 9 running naked on a road after being severely burned on her back by a South Vietnamese napalm attack in 1972.
The Dresden Peace Prize, awarded annually since 2010 in the city's famed Semperoper opera house, includes 10,000 euros (11,300 dollars), which will flow into Kim Phuc's foundation supporting schools, orphanages and medical facilities in different parts of the world.
"When I am alone, I avoid the image," Kim Phuc told dpa in reference to the photograph that catapulted her into the public eye. "But I know that it allows me to work for peace, and that is my vision."