Refugees from Ukraine can enter Germany anywhere
Information from the Federal Government: Refugees can enter Germany and register anywhere, not only in Berlin.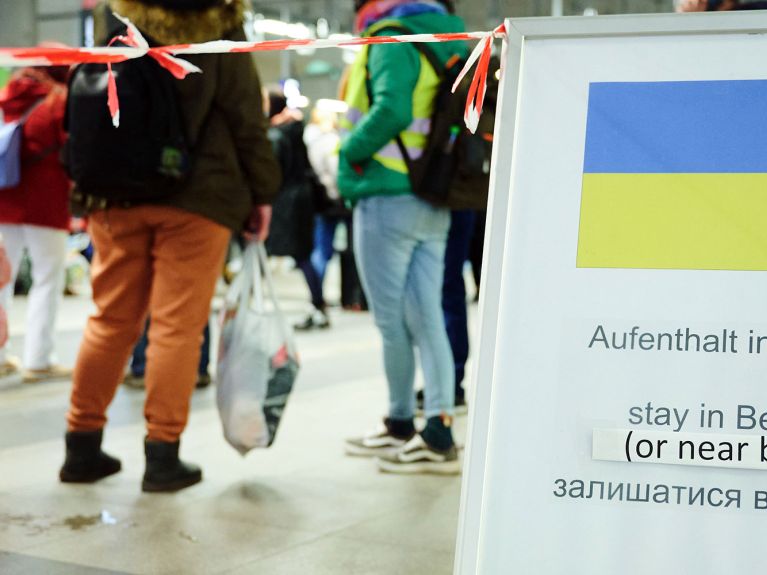 It is particularly important to the Federal Government during these days that the people fleeing to Germany from the war in Ukraine should receive rapid assistance and reliable information about entering and staying in Germany. In this context, the top priority is to ensure that Ukrainian nationals as well as nationals of other countries who have fled Ukraine can obtain information about everyday life and living in Germany quickly and transparently.
The most important information is as follows:
It is not true that refugees from Ukraine can only enter Germany or undergo any necessary registration in Berlin. This can be done anywhere in Germany.
The Federal Ministry of the Interior and Community has issued a legal ordinance according to which persons displaced from Ukraine temporarily do not need a residence permit in Germany. It entered into force on 9 March 2022 and is retroactively applicable from 24 February 2022.
The ordinance makes the entry and residence of refugees throughout Germany legally secure and gives them the necessary time to obtain a residence permit anywhere in Germany.
Refugees who enter Germany on a visa-free basis and do not require state benefits and assistance will only be registered if they apply for a residence permit pursuant to Section 24 of the Residence Act at the respective foreigners authority responsible in Germany.
Otherwise, you will be registered only if you contact an authority because you need help, for example in the form of accommodation or other benefits.
Any other information is incorrect. On the following websites you will find reliable information from the Federal Government, comprehensive FAQs in several languages - including Ukrainian - which provide information about asylum, the current entry and residence regulations, and about support services: deutschland.de, diplo.de (the website of the Federal Foreign Office), the BMI and on the website of the Minister of State for Migration, Refugees and Integration, as well as on bundesregierung.de.
All information about coronavirus vaccinations from the Federal Centre for Health Education is available in Ukrainian here.
The help portal "Germany4Ukraine" for refugees from Ukraine is a first digital contact point for a good start in Germany.