11.10.2018
Steinmeier in Athens
During his visit, the German president praises Athens' efforts to master the country's financial crisis.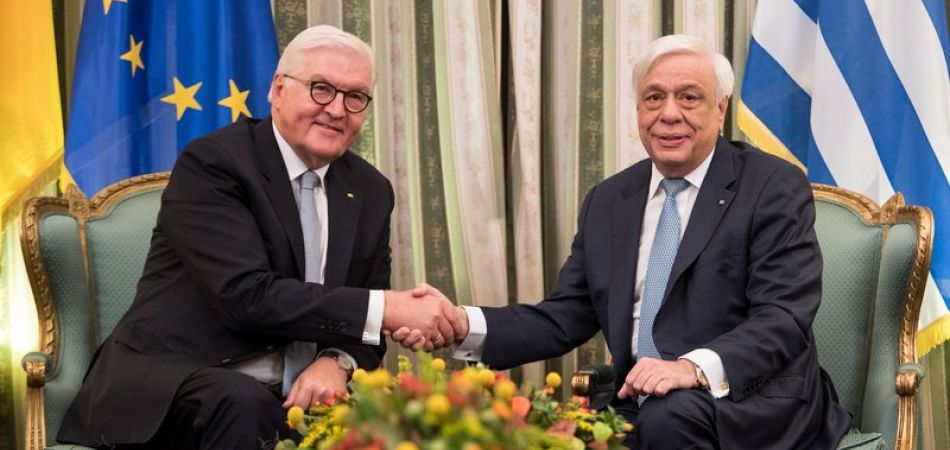 Athens (dpa) – German President Frank-Walter Steinmeier, starting a state visit to Greece, on Thursday praised the efforts of the Greek people to master the country's financial crisis through tough austerity measures. "I have great respect for the Greeks," Steinmeier said after talks in Athens with his Greek counterpart Prokopis Pavlopoulos.
Pavlopoulus thanked Steinmeier for his support in these difficult times in Greece. "You have done it not just to help Greece. You also did it for all of Europe," the Greek president said. He also said that he and Steinmeier were in agreement that the democratic parties in Europe must, with European elections set for May 2019, make efforts "so that no entity emerges that wants bad things for Europe."
At the start of his state visit Steinmeier visited the former German concentration camp of Chaidari, outside Athens, to remember the victims of German crimes in Greece during World War Two. During the German occupation, upwards of 25,000 people were interned in the camp. 
During the visit, Steinmeier was also meeting Premier Alexis Tsipras and opposition leader Kyriakos Mitsotakis.
With the two presidents looking on, German Family Affairs Minister Franziska Giffey and a Greek government official initialled an agreement for a German-Greek youth foundation. On Friday, to close out his visit, Steinmeier is to travel with Pavlopoulus to the Greek president's home city of Kalamata.