Attractive to investors
German high-tech is in demand, not only in China. Foreign direct investment has reached a record level. We explain the advantages and disadvantages.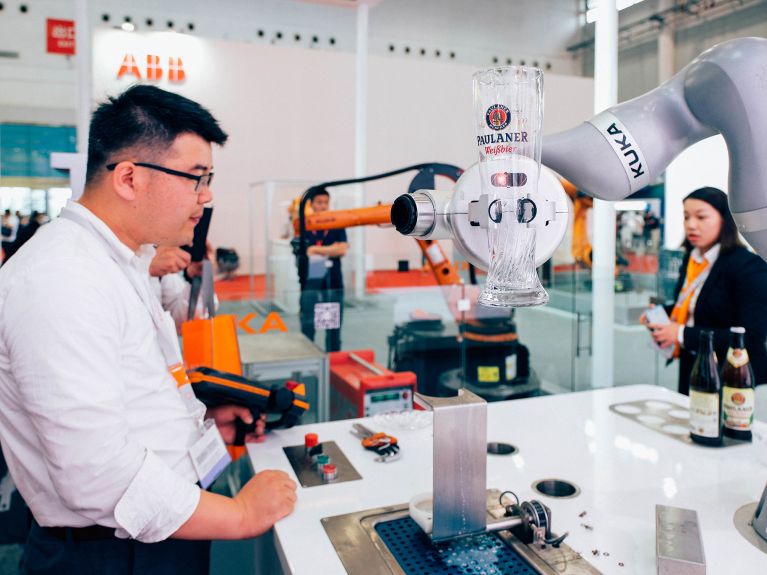 Germany is heavily involved in the global economy and profits from free trade. Foreign direct investment is one reflection of the country's strong international ties. Since 1990, German direct investment abroad has soared five-fold to over a trillion euros. Meanwhile, foreign investors have pumped around 700 billion euros into Germany. This boosts the German economy, creating and safeguarding jobs. It does have some disadvantages, however.
Why there is criticism of foreign direct investment in Germany
Politicians and business representatives warn that German industry is being "sold off", and call for more stringent controls on foreign direct investment. This is because Chinese firms are getting their hands on German high-tech companies. Like Kuka, for instance – a robot manufacturer from Augsburg. German companies have only very limited access to the market in China, on the other hand, which is why leading politicians are demanding greater equality.
What makes Germany attractive for foreign direct investment?
In a 2017 survey of European attractiveness, Germany ranked second behind the United Kingdom, with 1,124 investment projects involving foreign companies. This was the finding of a study conducted by consultancy firm Ernst & Young (E&Y). Germany scores well for its highly skilled workforce, transport infrastructure and political and legal stability. A critical view is taken of its digital infrastructure.
How is Chinese direct investment in Germany developing?
"Chinese investors invested a record sum in German firms in 2017", writes E&Y in an analysis of mergers and acquisitions by Chinese investors. "The M&A volume reached just shy of 13.7 billion US dollars – up from 12.6 billion US dollars a year before."
The largest acquisitions were the takeover of the German energy service provider ista by Cheung Kong Property Holding, the stake in Deutsche Bank acquired by the Chinese conglomerate HNA and Creat Group's purchase of Biotest AG. "The interest in German industrial and high-tech firms remains unabated", says Yi Sun, EY's leader of China Business Services Germany, Austria and Switzerland.
What are the advantages of foreign investment?
Many up-and-coming small and medium-sized enterprises are reaching the limits of their growth. They can benefit from financially strong investors who have access to new markets.
Who heads the direct investment ranking?
China and France rank as the fourth-largest investors in Germany – behind the USA, Switzerland and the United Kingdom.