"A rebooted version of globalisation"
The Indian political scientist Amrita Narlikar talks about the future of globalisation and cooperation between democracies.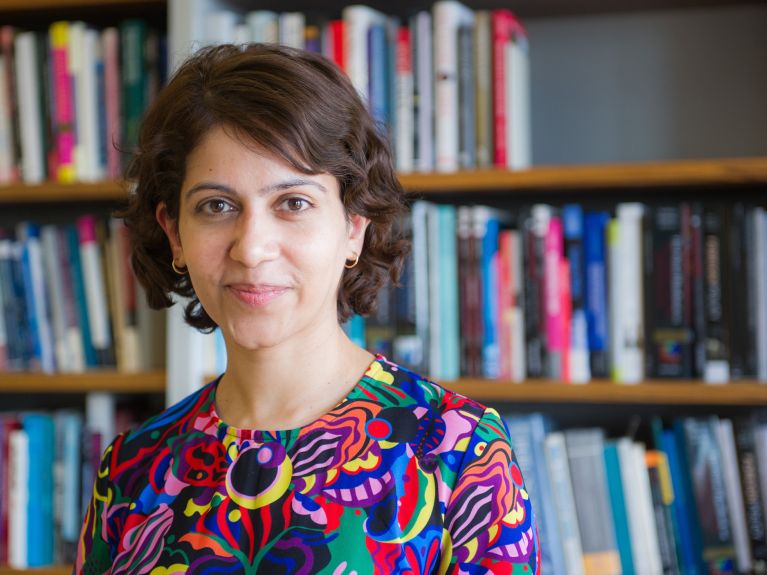 Professor Amrita Narlikar is president of the German Institute for Global and Area Studies (GIGA) in Hamburg. Originally from India, she is also Honorary Fellow of Darwin College, University of Cambridge, and non-resident Distinguished Fellow of the Australia India Institute, University of Melbourne. We asked Amrita Narlikar three questions about the war against Ukraine and its consequences for globalisation.
Professor Narlikar, the attack on Ukraine initiated by Russia's President Vladimir Putin has made global economic interdependencies very visible. Are we seeing the insidious end of globalisation?
Perhaps, if the current challenges are effectively managed, we will not see an end to globalisation, but a rebooted version of it. Globalisation has been a force for the good, for instance, in helping raise millions out of abject poverty. But too many scholars and policy-makers have underestimated its dark side. Adding to concerns about inequality and marginalisation of weaker actors, we are now seeing the emergence of a world where the ties of economic interdependence are getting "weaponised". In this world of geoeconomic competition, there are unprecedented trade-offs between prosperity and security. To address these effectively, we need a realignment of supply chains, especially in strategically important sectors, and also a fundamental reform of the rules of multilateralism.
Will the global economy once again fall apart into individual blocs: the seven leading industrial nations and democracies including the EU, a sphere of influence dominated by China, an isolating Russia and an increasingly emancipated India?
If the security risks posed by economic exchange are addressed in an effective manner, we need not get the division of the world into blocs. A good-case scenario would be a carefully-managed diversification of supply chains, with higher levels of integration among like-minded partners and allies. This diversification will not be cost-free. But if we refuse to recognize the dangers posed by the old model of globalisation, we will run into even bigger problems. The difficulties that Germany has encountered in disentangling itself from its dependence on Russia for energy supplies is a case in point; India's dependence on Russia for military supplies is another. These are tough lessons; the same mistakes should not be repeated with respect to China. Realignment of supply chains needs to be happening now, and the EU and India should be working closely together on a variety of shared concerns.
The China-Taiwan conflict is simmering in the background, and the West has even closer economic ties to China than to Russia. What is in store for us?
This is an urgent moment for us to be working closely with the US, and also like-minded democracies in the Global South that are equally concerned about authoritarian advance on their borders. India's refusal to take a strong stance against Russia disappointed many; while the disappointment is understandable, India's behaviour should not have come as a surprise given its huge dependence (50-80%) on military supplies from Russia. There is a tragic irony to this – by not standing up to Russia, India is inadvertently also strengthening authoritarian China's hand. By deepening our cooperation with democracies like India – on the green transition, the digital transformation, and also on sensitive (dual-use) technology – we will be acting in not only our interests but also supporting our shared values. The invitation by Olaf Scholz to Narendra Modi for the G7 Summit was a signal in the right direction. But much more needs to be done.
You would like to receive regular information about Germany? Subscribe here: