Cape of Green Hope
A VW plant in South Africa is setting new environmental standards and is important for the country's economy.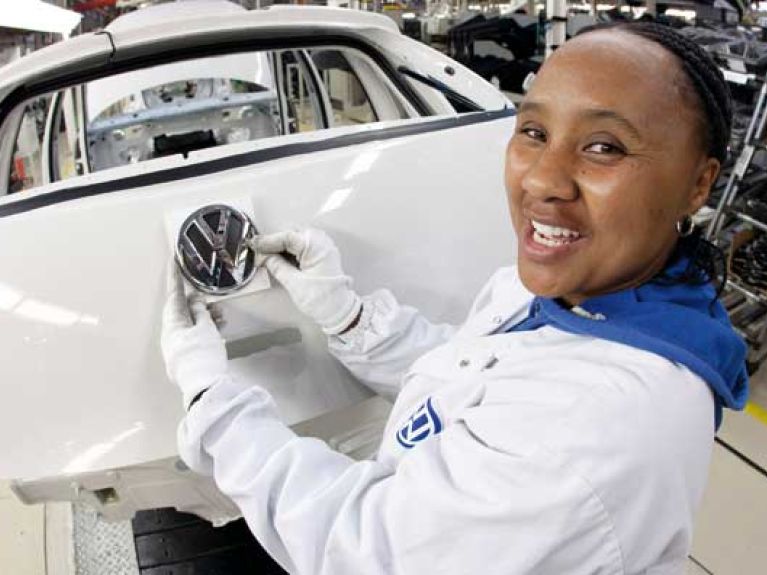 Any search for the roots of the black resistance movement in South Africa will inevitably lead one to the Eastern Cape, the province in which South Africa's first black president Nelson Mandela was born. From 1778 to 1878, nine border wars were fought in this region between advancing white settlers and the resident black Xhosa people. At the same time, the first major educational centres for blacks in Africa were established here by Scottish missionaries.
While this meant that the Eastern Cape became Europeanized more quickly than other regions in South Africa, the combination of education, high unemployment and poverty gave rise to an explosive social mix. This makes it all the more amazing that it was in this politically so turbulent region of all places that the centre of the South African automotive industry was established in the 1920s: investment incentives and the seaport at Port Elizabeth were the reasons why first Ford (1923) and General Motors (1924) and then, a short time after the Second World War, the German car company Volkswagen (VW) chose to build production plants close to Port Elizabeth, giving the city is nickname of the "Detroit of South Africa". Just like its US counterpart, the Eastern Cape is currently ex­periencing tough times economically – and at around 50 percent has the highest rate of unemployment in South Africa.
If a heavyweight such as Volkswagen South Africa (VWSA) were to relocate or downsize its operations to any significant extent, it would be a disaster for the region. "When fewer cars roll off the production lines at Volkswagen, the impact is felt very directly by the entire region", says a spokesperson from the local chamber of commerce.
Despite the South African car industry having been hit by a wave of strikes that only ended in the autumn of 2013, VWSA does not appear to be entertaining any such thoughts. Like its rivals BMW and Daimler, VW has been continuously expanding its production in South Africa of late and has modernized its plant in Uitenhage. It has long been the case that the production plant not only served the South African market, but also covered the entire global demand for the right-hand drive Polo. In all, VWSA has invested over 5 billion rand (400 million euros) in its production in the Cape over the past six years, upgrading its South African factory to the point where it has become a significant small-car manufacturer within the VW Group. As part of this process, one of the company's most eco-friendly and energy-efficient plants has also been created there. The new press plant, which went into operation in 2012 and manufactures car bodies with maximum precision, was built according to the very latest environmental standards and consumes 150 megawatt hours less energy and 270 cubic metres less water per year than its predecessor.
By its own account, VWSA produces particu­larly environmentally-friendly car parts, such as a diesel filter which separates out particles of ash from the combusted fuel, meaning that virtually no fumes are emitted any longer from diesel vehicles. What is more, recycled aluminium was used for the new press plant, which was also given an eco-friendly design.
The expansion of production is an even greater vote of confidence in the country given that it took a long time for the South African government to disclose any details of a new programme of export subsidies that had been demanded by the automotive industry for years and that governs how the sector will be supported in the Cape in the future. A few years ago, VWSA director David Powels had already warned explicitly that there could soon be no car industry left in South Africa if uncertainty over the programme were to continue. This would have a devastating impact on the country given that the automotive sector contributes no less than 7.5 percent to South Africa's gross domestic product (GDP) and is its second-largest industrial employer.
The new investment is also crucial for South Africa because VWSA is located in a region that is extremely weak structurally. To 
allow a larger proportion of its vehicles to be built with local parts, the company has also brought international suppliers to the country, thereby generating additional jobs.
Given its considerable distance from the world markets, South Africa isn't necessar­ily the ideal location for the car industry. This was long compounded by the fact that only some suppliers were previously based here, meaning that around 65 percent of components had to be imported and making it hugely more expensive to manufacture each vehicle. VW has also done a great deal to address this situation in recent times. Powels is even convinced that production in South Africa will soon cost no more than in Europe – and that it could even be cheaper in the long term.
The only reason the plants have survived, however, is because the companies have long since integrated their South African subsidiaries into their global production and sales networks. Almost 80 percent of all vehicles manufactured in South Africa nowadays are exported. The car industry is at least profiting from the new – though as yet small – black middle class: while only roughly 10 percent of VW Polos were bought by this group in the year 2000, now around half are. ▪
Wolfgang Drechsler