27.03.2017
Dowels: a contribution to climate protection
Good ideas from Germany: Fischer dowels made of renewable raw materials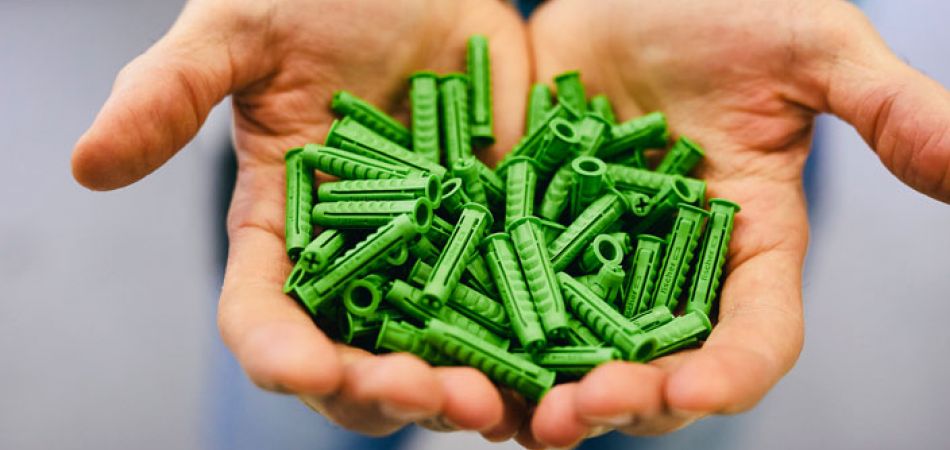 Germany. Small, green and climate-friendly: the southern German company Fischer wants to make a contribution to climate protection with its dowels of renewable raw materials. Five facts about a pioneering invention.
Who is behind the green dowel?
The company Fischer. It is thanks to its founder, the inventor and engineer Artur Fischer and his idea of the expansion dowel, that lamps and shelves don't wobble but are firmly fixed to the wall or ceiling. Artur Fischer's inventive spirit still shapes the company, now led in the second generation by Klaus Fischer: compared with the average German business, Fischer registers 20 times more patents per staff member. More than every third patent is successfully implemented. The company produces 14 million dowels every day. Made of predominantly renewable raw materials, the green dowel is now a contemporary variant of the grey classic.
What is special about it?
Fischer is the first company in the industry worldwide to put a fastening system made of renewable raw materials on the market. Since 2014, Fischer has been expanding its product range and introducing bio-based products for all building materials. As part of its high-tech strategy, the Federal Government has selected Fischer as a future-oriented location and the green dowel as one of ten future-oriented projects for high-tech location Germany.
What products are included in the green series "greenline"?
Six different dowels and an assembling mortar comprise the bio-based product line. The green dowels consist of 50 to 85 per cent renewable raw materials. The raw material castor oil does not compete with food and feedstuff, nor with the corresponding cultivation areas. Researchers at the Technical University of Brunswick played a key role in developing a completely bio-based plastic.
Where have green dowels already been used?
The dowels have been increasingly used in the home improvement sector.
Why should I use green dowels?
The use of green dowels protects resources. The quality remains the same: all green Fischer products satisfy the same performance standards as their "grey sisters", and they enhance awareness for the use of sustainable products.
© www.deutschland.de