The robot man
German researcher Sebastian Thrun has helped shape some of Google's most exciting projects. He is now an entrepreneur in his own right.
22.01.2014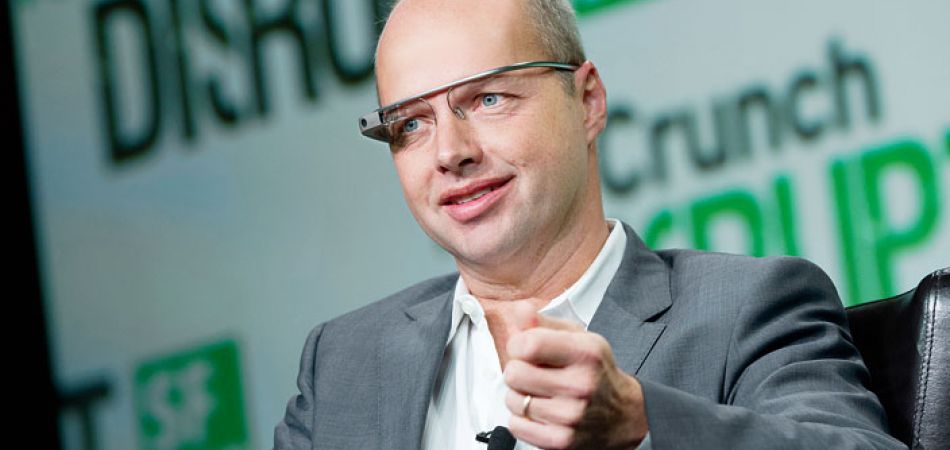 Sebastian Thrun had just turned 18 when it happened. His best friend Harald died in a car accident. This early blow had a profound effect on Thrun's subsequent career. It motivated him to work on Google's self-driving car – one of the projects with which the German-born scientist has gained a reputation as one of the greatest minds in California's Silicon Valley. Thrun has often mentioned his friend's accident when explaining his vision of the robot car. Most car accidents are due to human error, Thrun argues, not to any kind of technical failure. Wouldn't it be best, then, to eliminate this hazard altogether by having cars that are no longer driven by people?
The robot car is a project where Thrun is totally in his element. He is fascinated by anything that sounds adventurous and futuristic. "You have to ask big questions," he says. He has also played a major role in the development of other Google products with a science fiction touch to them – for example, the Google Glass data glasses. Now aged 46, Thrun has largely withdrawn from Google, having founded his own 
company, called Udacity, in Silicon Valley. Thrun is aiming high again: Udacity offers online courses which Thrun hopes will change the way American higher education works. He believes that in 50 years' time there may only be ten major institutions left in the U.S. academic landscape – and he wants Udacity to be one of them.
Long before he began working on the Google car, the native of Solingen had made a name for himself as an expert on artificial intelligence. He was helping build robots while still a student at the University of Bonn. That's where he studied computer science and statistics and gained his PhD. One of the projects he worked on there was Rhino, a tour-guide robot that came to be deployed at the Deutsches Museum Bonn. In 1995, Thrun left Germany for the United States, continuing his work on robots, to begin with at Carnegie Mellon University in Pittsburgh. He developed a successor to Rhino, which conducted tours at the National Museum of American History in Washington, D.C. Then came Nursebot, a personal robotic assistant for the elderly that was programmed to remind elderly people to take their medication or to fetch them food from the fridge.
In 2003, Thrun moved to Stanford University in Silicon Valley, where – as Director of the Stanford Artificial Intelligence Laboratory – he began work on the project that would take him to Google. In 2005, he and his team from Stanford entered the DARPA Grand Challenge, an autonomous-vehicle race. Thrun's team won with a converted VW Touareg named Stanley. It was at this race that Thrun caught the attention of Google co-founder Larry Page, who subsequently hired him. To begin with, the German researcher was responsible for Street View, a Google Maps service that at the time was still in its infancy. He then headed the Google X research unit, a laboratory for future technologies beyond the boundaries of the company's traditional Internet activities – technologies like those used in the self-driving car or the currently much-talked-about Google Glass. The glasses are due to hit the market in 2014 but Google has distributed pairs to a select circle of users months in advance. According to Google, the self-driving car could be generally available by 2017.
The products Thrun has helped develop for Google have not been greeted with enthusiasm in all quarters. The data glasses in particular have their share of sceptics, some of whom believe that the device could lead to a further coarsening of social mores – for example, allowing users to take photos of other people less conspicuously than with a smartphone. Thrun admits that new technologies can have both positive and negative applications. But he also points out that social norms governing what is and isn't acceptable are subject to change, whether we like it or not. And he is convinced the glasses will be a success: "People who've worn the glasses are quite taken with them."
To enable him to focus on his new project Udacity, Thrun now works at Google only one day a week. He has also given up his tenured position as professor at Stanford. Udacity puts Thrun in the company of a group of aspiring providers of so-called massive open online courses (MOOC), i.e. courses and lectures that are made available online – mostly free of charge – to a vast circle of participants. Udacity's courses focus on mathematics, the natural sciences and computer science and are mainly concerned with practice-related questions such as "How do I build an Internet search engine?" or "How do I program a self-driving car?" One way Udacity earns money is by offering tailored courses to business companies.
That Thrun is now an established name in Silicon Valley is evident from the list of Udacity's prominent supporters. Investors in the company include Andreessen Horowitz, one of the best-known venture capital firms. Laurene Powell Jobs, the 
widow of Apple founder Steve Jobs, agreed to accept a seat on Udacity's Advisory Board. Another of the board's members 
is Steve Blank, who has founded several companies of his own and says of Thrun: "Sebastian always strikes me as being the smartest person in the room."
If you talk to Thrun, you don't get the impression that he's likely to return to Germany. He's grown to like the American way of doing things. He says that as a professor he enjoyed having students constantly questioning his ideas – something that wouldn't have happened the same way in Germany. In his current job as entrepreneur, he has come to appreciate America's risk culture: "In Germany, there is a reluctance to risk failure. In America, failure is not considered a bad thing – it shows that you've learned something." ▪
Roland Lindner