Interning in Germany: The Basics
Interning in Germany is a common and encouraged way to gain professional experience. But where should you start looking? How do you land the perfect position? Read on: We have some tips to help you get started.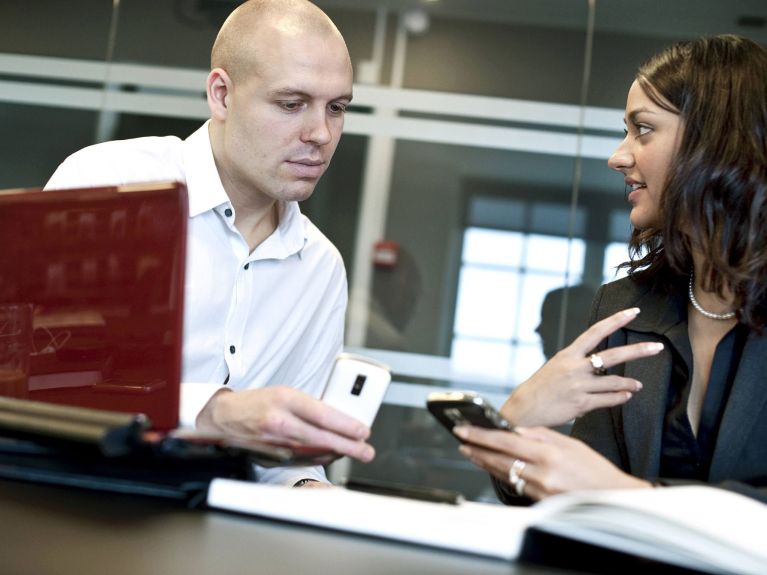 How do I find an internship?
There are a number of ways to find an internship program. The most obvious place to start is online. If you have an idea of the companies you would ideally like to intern with, you can go directly to their websites, and they will often have a careers page outlining what is available. If you aren't sure of where you want to intern and just want to have a look at what's out there, a number of different websites both showcase offers and function as a search engine for internships, where you can start with a wider search and then narrow it down. Check out berufsstart.de, jobguide.de, or derpraktikant.eu.
If you are currently a student, your university should also be able to offer some guidance. Speak with the careers office about what is available to you and how to go about contacting the right places. Most university websites also contain information on internship opportunities.
Don't underestimate the power of networking. If you know someone who is interning, or has interned before, pick their brains. Ask your friends or fellow students about their experiences, and how they came across their internship.
How long do internships typically last?
Typically, most internships in Germany have a minimum duration of eight weeks and a maximum duration of twelve months. Like many factors, how long your internship will last depends on the company. Make sure you and the company are both clear from the beginning about the duration of your internship.
Will I get paid?
This depends on where you are doing your internship and in what field. While it appears to be common for corporate sectors to pay their interns, there are cases where interns are not paid. It is important that your employer is clear with you about any financial compensation – or lack thereof – so you know precisely where you stand. It is similarly important to make sure you have enough money to cover your living expenses in Germany –rent, insurance, food  – for the duration of your internship. If you are a non EU citizen coming to Germany for the purpose of an internship, and therefore in need of a work permit, you will need to prove to the Foreigner's Office that you can financially support yourself during your internship.
Are there many internships available?
The praktikum – that's German for internship  – is considered a significant part of German education and as such, many opportunities exist for those wishing to undertake one. Of course, there are many students in the same boat as you, looking for the right internship to complement their studies and further their education, so be prepared for a level of competition, and the need to put in some hard yards to find your ideal position.
Qualifications are important. You will have greater success landing an internship if the field within which you are seeking matches the field you studied. Also, pay attention to any specific criteria an internship program may require, and make sure you can meet it.
Is an internship likely to lead to full-time employment?
This is a tricky question. An internship cannot necessarily guarantee full-time employment with the company you intern with, but it will absolutely put you in contact with people who know people. An internship doesn't just give you the opportunity to learn more about your prospective professional field; it also gives you the chance to make an impression on 'the right people' and learn more about what they are looking for in an ideal employee.
Do I need to speak German?
Living and working in Germany means that speaking the language is only going to benefit you and your experience. Whether or not you have to speak it for your internship depends on the company you are working for. Is it a German company? Then you'll need to have a basic understanding of German and be prepared to speak it. Is it an international company? Then you'll need to be proficient in English. Some companies are clear on their working language, and some German companies might even have English as their official language. It is safe to say, however, that wherever you end up working, be prepared to speak at the very least, a little German.
Keep in mind some companies may actually require proof language proficiency in the form of a TOEFL or TestDaF.
Can foreigners intern in Germany at all?
Absolutely. Both EU and non-EU citizens can intern in Germany, but bear in mind if you are a non-EU citizen, there are some extra bureaucratic hoops for you to jump through.
Do I need a visa if I am not from Germany?
If you are an EU citizen, you don't need a work permit. If you are a non-EU citizen, you do. If you are studying and living outside Germany and applying for an internship in Germany, you will need to organize a work permit before you are allowed to undertake an internship. You will also need health insurance, which is compulsory for anyone working in Germany, and necessary for getting a work permit. You can read more about getting a visa in Germany here.
If you are a non-EU student already studying in Germany with a student visa, things are a little easier; you are allowed to work 120 full days a year, or 240 half-days. However be sure to check and double check what your student visa allows you if you are planning on doing an internship on a student visa.
Do you have any insider tips on landing an internship?
Make the right impression from the get go. Before hitting send on your application, make sure of the following: you fit any required criteria, both your cover letter and resume are in excellent shape, and you have attached all necessary documents the application requires.