Rethinking after the disaster
What has changed five years after the collapse of the Rana Plaza textile factory in Bangladesh? A GIZ project manager reports.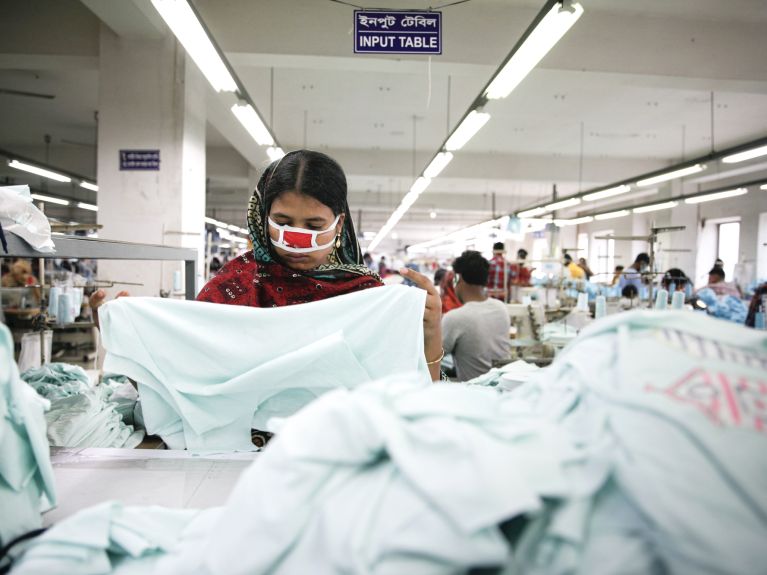 Germany. The collapse of the Rana Plaza factory in Dhaka in April 2013 made the world aware of the dangerous conditions in the global textile industry. More than 1,100 people died in the disaster. People in German development cooperation had been aware of the problems in Bangladesh much earlier. Jochen Weikert is an expert responsible for a project of the German Society for International Cooperation (GIZ) in the country.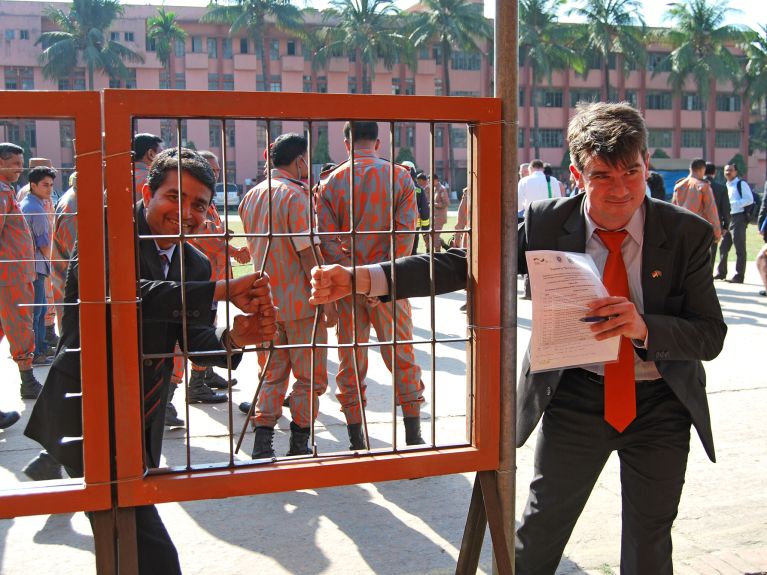 Mr Weikert, the GIZ has been committed to better social standards in the textile industry in Bangladesh since the late 1990s. How have you managed to improve the situation?
By contacting the workers to inform them about their rights. We have reached 200,000 people with our women's cafés far from the factories, where male and female workers can exchange ideas and views and learn more about their rights. We also work with the industry associations; in this way we have achieved improvements in more than 1,000 factories, e.g. escape route signs or safety clothing. We have also trained inspectors to check the plants.
Where are there still deficits?
Apart from the social standards, the environmental problems are the most pressing. Groundwater levels are falling rapidly because the textile industry extracts so much water. This is already adversely affecting the drinking-water supply. Furthermore, the dirty waste water is often inadequately purified or not treated at all. The GIZ therefore supports the industry when they take measures for a healthy environment and a more efficient use of resources. Over 300 factories have already significantly improved their environmental standards.

What do good factories in Bangladesh look like today?
They resemble good factories in Germany: clean, tidy, structurally safe. They are regularly monitored. In addition, the employees have an effective representation, and working hours remain under ten hours a day. The workers earn more than the statutory minimum wage. But social security remains the big problem: there is no accident, health or unemployment insurance.
 
The collapse of the Rana Plaza Factory in 2013 was a watershed. Is anyone taking care of the victims?
The GIZ, working on behalf of the German Federal Ministry for Economic Cooperation and Development, has helped more than 500 affected people find a new life after Rana Plaza, for example through retraining. A particularly effective measure was the establishment of a orthopaedic school just a few minutes away from the collapsed factory. Previously, prostheses had to be procured from abroad at high cost; now there are already three classes of local, qualified orthopaedic technicians. They help not only the Rana Plaza victims, but people all over the country.
Interview: Rolf Obertreis