Assistance following the Rana Plaza accident in Bangladesh
The Gesellschaft für Internationale Zusammenarbeit (GIZ) has expanded its engagement in Bangladesh during the two years since the collapse of the textile factory.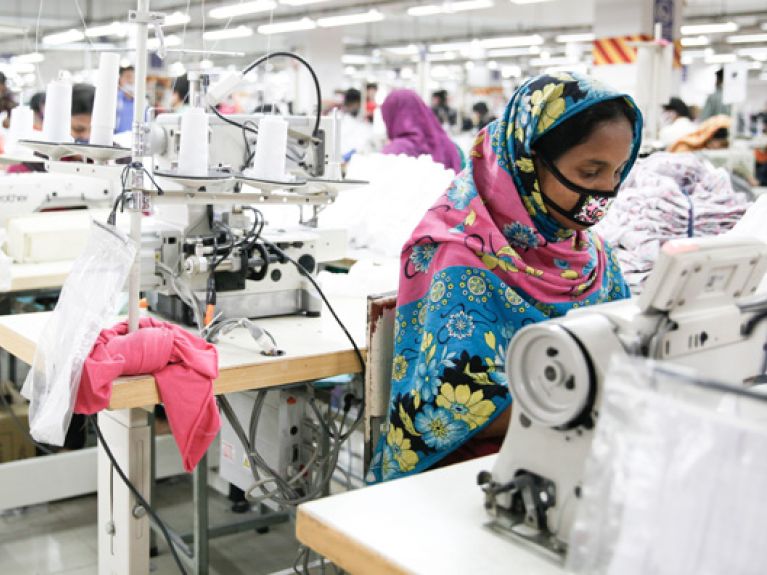 Within a few seconds on 24 April 2013 the Rana Plaza textile factory near Dhaka collapsed, burying hundreds of workers under the rubble. Over 1,127 people died as a result. This disaster triggered a worldwide debate on working conditions in the textile industry. The Federal Ministry for Economic Cooperation and Development (BMZ) made 2.5 million euros of additional funding available for the victims. The Gesellschaft für Internationale Zusammenarbeit (GIZ) immediately helped provide medical care for the almost 2,500 injured during the first days and months after the disaster. An advice centre was created to which the victims could turn when they needed medical support or assistance in returning to work.
Training of safety inspectors
The GIZ has long been active in Bangladesh. During the last ten years, reports the GIZ, it has contributed to skills development measures in over 2,000 textile companies with roughly 1.5 million employees to improve compliance with social and environmental standards. Targeted information has been provided for female workers in 45 women's cafés. There they can also receive help when disputes arise with their bosses and out-of-court arbitration is required. In addition, German activities have focused on training programmes for labour inspectors. Since the Rana Plaza disaster, the country's textile plants have been regularly inspected on the initiative of the Accord for Fire & Building Safety in Bangladesh. According to the GIZ, international teams of experts have so far checked building safety, fire prevention and occupational safety at roughly one thousand businesses. "As a result, unsafe factories have been closed," says GIZ spokesperson Lena Hollender. "Checks and sanctions of this kind did not exist before." This action has contributed to improvements not only in safety within the textile industry, but also in production conditions.