Successful in many sectors
Entrepreneurs with Turkish roots are increasingly shaping the German economy. Five success stories.
Canan Topçu / 08.02.2021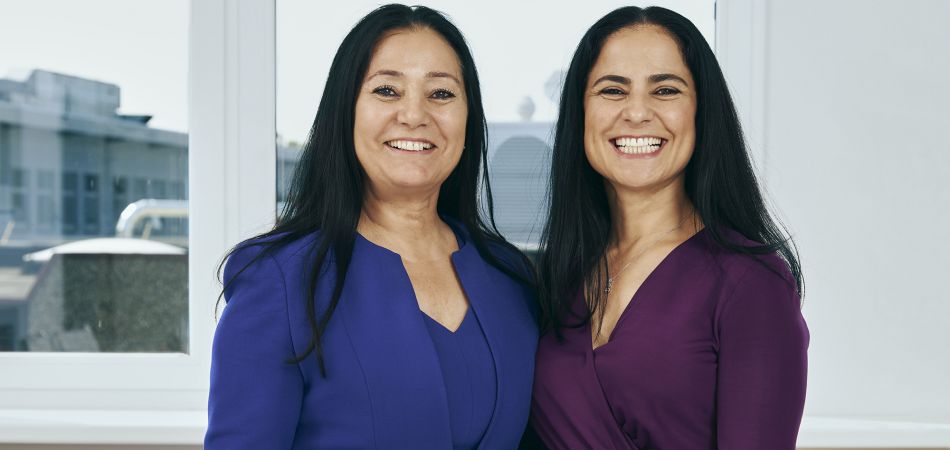 Entrepreneurs of Turkish descent have long been making their mark in Germany. As early as 2016, a study commissioned by the Federal Economics Ministry found that among the self-employed in Germany "with a migration background", those of Turkish origin form the second largest group, accounting for almost 89,000 of the total. Numerous company bosses with roots in Turkey are advancing the German economy with innovative ideas. We look at five success stories.
Aynur Boldaz-Özdemir: Expansion into Turkey
In 1987, at the age of 18, Aynur Boldaz-Özdemir came to Germany when she got married. She first worked for a cleaning company in Berlin as a cleaner; in 2000, with government support, she founded her own company, Forever Clean. The businesswoman was keen to give people a chance who often have a particularly hard time on the labour market: migrant women and people with disabilities. Since 2004, Forever Clean has therefore been what is known as an integrative company - that is, one that combines its economic goals with the integration of people with disabilities. In 2009, Aynur Boldaz-Özdemir expanded into Turkey, where her sister Asme Kal runs the business in Istanbul and Ankara. Forever Clean has about 400 employees. Half of the staff have been with the company for more than ten years. The proportion of disabled and severely disabled employees at Forever Clean in Germany is 40 percent.
Müfit Tarhan: successful with biotech products
"The most important thing for an entrepreneur is to be willing to take risks, to be able to adopt different viewpoints, and to be innovative," says Müfit Tarhan. He knows what he is talking about: with his long-time business partner Aydoğan Cengiz, he switched to a new sector in 1999 and took over the biotech company Wesko. Having previously been a successful travel agent, he became a manufacturer of soil improvers that are in great demand in areas such as horticulture and agriculture. Wesko was renamed Humintech in 2001, and in 2013 the company relocated from Düsseldorf to Grevenbroich. From its base there, the award-winning company supplies humic-based products to more than 70 countries. A chemical engineer, Tarhan came to Germany in 1980. His original plan was to do a doctorate, but he soon abandoned that idea. He worked in a nuclear power plant for a few years, founded the travel company Nazar Holiday with Cengiz in 1986 and then Holiday Express eight years later. In the late 1990s, they sold the companies and successfully entered the biotech sector.
Nare Yesilyurt: New approaches in nursing care
The daughter of Anatolian guest workers, Nare Yesilyurt has lived in Germany since 1971. She is proud to have made it to university and to have had had a long and successful career as an entrepreneur. Early on, she realised that there was considerable demand for culturally sensitive nursing care that is oriented towards the needs of migrants, so she decided to establish her own nursing care company. Yesilyurt's team of carers takes special dietary and hygiene needs into account, as well as religious orientations. "Nobody believed in my idea except me," she says in retrospect. Despite considerable opposition, she founded Deta-Med, a culture-specific home care service, in 1999. Four years later, she opened the first culturally specific day care facility and, in 2019, a hospice of the same kind. As a single mother of two, things were far from easy for her, she reports, partly because of childcare. What she started 22 years ago with just a few female employees, she has built into a family-friendly company with 250 employees and 30 trainees. In 2019, the businesswoman won the Berlin Senate's entrepreneurial competition "Vielfalt unternimmt".
Ismet Koyun: Crisis-proof IT solutions
Kobil: The company name is an acronym composed of the first syllables of Ismet Koyun's surname and "bilgisayar", the Turkish word for computer. Kobil is among those companies that have been successful during the corona pandemic. Although the company already had a high turnover before 2020, the company owner says that orders have increased many times over since the outbreak of the pandemic. This is because Kobil develops and sells security software for identity proofing and encryption, which are particularly in demand during the corona crisis and in the face of increasing digital transactions. As an 18-year-old, Ismet Kobil came to Worms in 1978 "with 20 deutschmarks" to study computer science. He stayed there after graduating and founded his IT company in 1986, which now employs more than 200 people and has made Koyun a millionaire.
Rukiye Tunc: logistics and much more
Rukiye Tunc calls the shots: in the family business Tunc Trans, which she runs together with her parents, in the company Tunc Group, which she founded, and as the first woman in Europe with a licence to train professional truck drivers. The latter is also a business unit of the Tunc Group, as are the distribution of beauty products and the rental of luxury buses. Tunc Trans, a company founded by Rukiye Tunc's parents, offer transport and logistics services. What began in 1989 in Hainburg near Frankfurt am Main with a single Sprinter is now a company with around 120 trucks that transport food, among other things, across Europe. But Rukiye Tunc is not content to spend all of her time in management: the mother of two teenage children also regularly drives tours herself.