A Short History of German Music: From Bach to Die Toten Hosen
Germans have been contributing to and changing music for centuries. While it would take volumes to cover them all, here's a basic primer to some of the bigger names in German music and their musical stylings and innovations.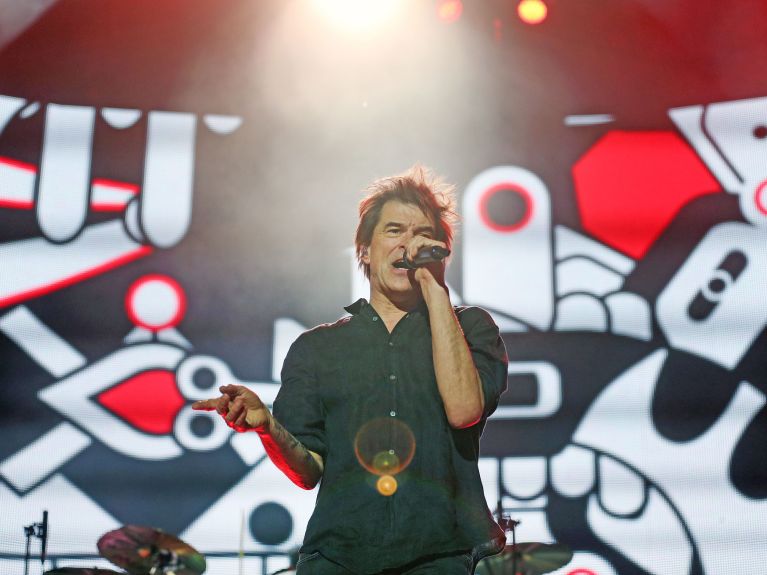 Germany is a country known far and wide for its countless contributions to the world. Martin Luther translated the Bible to a language churchgoers could read and led the Protestant Reformation; individuals such as Kant, Hegel, Heidegger, and Marx helped shape philosophy; Wilhelm Conrad Röntgen, Albert Einstein, Max Planck and Werner Heisenberg all won the Nobel Prize in Physics for their scientific discoveries; Werner Herzog and Rainer Werner Fassbinder made a name for German cinema; and modernist movements like Bauhaus helped shape the way we think about design. German musicians have also made a noticeable mark on world culture.
Classical Music: The Three Bs
German classical music has enjoyed a reign of a several hundred years, beginning in the 16th century and kept alive to the present day. But it was the composers of old – in particular, the "three Bs – who arguably put the country on the musical map.
Considered one of the most important composers of all time, Johann Sebastian Bach is best known for his contributions to Baroque, a style of music that features ornate compositions formed around strong tonal chord progressions. Though his music was mostly written for organ, he also wrote pieces for the harpsichord and clavichord, along with sonatas and suites for orchestral and chamber groups, and even pieces that were meant to be performed by choral groups. Some of his better-known works include the preludes and fugues in "The Well-Tempered Clavier," along with the "Brandenburg Concertos." Other influential German Baroque composers include Johann Pachelbel, Georg Philipp Telemann, and George FridericHandel.
The Romantic era of Classical music also gave birth to handful of famous Germans, most notably Ludwig van Beethoven, whose nine symphonies are considered by many to be his greatest works. The music of Beethoven can be segmented into three periods. His early period, which began with the emulation of other classical composers, consists of a handful of piano pieces and string quartets. Later, he began to discover his own voice and include music that experiments with themes. Beethoven's middle period is when he shifted his focus to large orchestration, along with the inclusion of motifs. During his late period, as Beethoven's deafness became more apparent, his works took on a more fervent, emotional depth. Another important Romantic composer of this time was Richard Wagner, who wrote operas. In fact, Ludwig II of Bavaria built Neuschwanstein as homage to Wagner, a man with whom he had a questionable obsession.
Rounding out the trio of German Bs is pianist Johannes Brahms, a traditionalist and perfectionist who utilized counterpoint heavily in his compositions. Though he endeavored to live up to Beethoven's greatness, Brahms was also fond of the Austrian composers Wolfgang Amadeus Mozart and Joseph Haydn.
Popular Music: Cabaret, Swing, & Theatre
As the cultural and political climate in Germany underwent drastic changes between the first and second world wars, German music also saw itself transform. Eschewing the focus on the tradition of classical music, people wanted music that expressed how they felt, which was often (though not always) political.
In contrast to the Gebrauchsmusik (utility music) of the late 19th and early 20th centuries, cabaret music first appeared in Germany in the club scene of the 1920s, serving as a culturally fun and racy form of music that gave its performers room to experiment. Marlene Dietrich was one of the more popular figures after she rose to fame in the film "The Blue Angel," which featured her as a cabaret singer. She sang in both English and German.
Along with cabaret, many Germans – particularly teenagers – expressed an interest in swing music. Though actual German swing groups were practically unheard of, due to the Nazi party's disapproval of the genre, many young adults revered American musicians, and listening to swing music was seen as a sign of counter-culture.
Around this same time, individuals like Kurt Weill and Bertolt Brecht also made names for themselves. Most famous was the satirical musical play they composed together, "The Threepenny Opera," which was an adaptation of an earlier British ballad opera.
Music of the People: Folk Music and Schlager
The defintion of "German folk music" varies, depending on the time frame and geographical region in question. In general, the older tradition consists of working class and political songs. But over the years, folk music has branched out to include different cultural groups (such as the Swabians and Sorbians) and encompass different styles (such as the brass oom-pah bands associated with beer festivals and Bavarian yodelers).
Meanwhile, just as Americans have easy listening or "soft rock" music, Germans have Schlager. Its roots date back to the early part of the 20th century, but Schlager experienced its real height of popularity in the 1960s and 1970s with musicians like Rex Gildo and Heino. Schlager is a popular style of folk music, with pop rock and ballad sensibilities. The lyrical themes are lighthearted, often dealing with love and emotions, not unlike the present-day French chanson.
German-Language Music: Pop, Neue Deutsche Welle, and Hamburger Schule
Though Schlager music is part of the pop tradition, it occupies a special, somewhat devisive niche; people tend to either love it or hate it. But then there is straightfoward pop music, generally viewed as more palatable and widely loved. A classic example of this is singer Herbert Grönemeyer. Though many outside of Germany know him only from his role in the film "Das Boot," he's also the most successful artist in Germany, with a career that, thus far, spans 44 years.
As New Wave music gained a following in the English-speaking world, German artists emulating the sound helped create Neue Deutsche Welle, the New German Wave. The musical stylings and influences were similar, at least on the surface, but NDW featured German lyrics, which made the genre distinct, thanks to the sound of the German language. While Nena's hit song "99 Luftballons" is perhaps the most famous example, other performers like Trio (anyone remember the VW commercial?), Nina Hagen, and Fehlfarben also gained a following for their pop-infused, heavily synthesized style of music.
Meanwhile, the Hamburg School (Hamburger Schule) music movement was a post-modern musical movement formed in the late 1980s for many of the same kinds of reasons as Neue Deutsche Welle. Though it wasn't as pop-oriented or mainsteam as NDW, the emphasis on German lyrics was a common thread between the two. Many count the group Ostzonensuppenwürfelmachenkrebs as one of the founders of the Hamburg School, but they never achieved much success. It wasn't until the early 90s, when bands like Blumfeld and Tocotronic arrived on the scene, that this style of music started to gain traction. The label L'Age d'Or was home to many Hamburg School bands, and later, in the late 1990s, Grand Hotel van Cleef became known as the label supporting the Hamburg School revival. Tomte, Kettcar, and Olli Schulz are just a few of the musicians who make up the roster of post-Hamburger Schule groups.
Electronic Music: Krautrock and Techno
While some German speakers were reappropriating existing styles via language, others were crafting new genres entirely. In the late 1960s and early 1970s, a minimalistic style of electronic music arrived on the scene: Krautrock. As the name might suggest, the moniker was given to the music by the English-speaking world, and though many krautrock bands had overlapping similarities, there was no single defining feature. Even so, quite a few krautrock bands had psychedelic and prog rock tendencies, and keyboards and synthesizers featured heavily in the sound. Some of the more famous examples that reached international fame include Tangerine Dream, Can, Kraftwerk, NEU!, and Deutsch Amerikanische Freundschaft.
As the 80s arrived, Germany's obsession with electronic music evolved, and techno began to make its way from Detroit and Chicago to Berlin and Frankfurt. In the beginning, techno was very much underground, and when the DJ Dr. Motte founded the Love Parade in 1989, it was a small, grassroots musical movement meant to celebrate music and peace. Over the years, it grew in both size and popularity, as did the spread of techno itself. Musicians like Sven Väth and Paul van Dyk became key players in the trance scene, while brothers Paul and Fritz Kalkbrenner established themselves in the minimal scene.
Germany's techno scene still thrives in Berlin today with a new generation of musicians at the helm. DJs such as Ellen Allien, Modeselektor, Apparat, and Moderat are largely associated with the IDM movement of the past 20 years. Labels like Cologne-based Kompakt and Allien's BPitch Control release much of the popular techno today, though the famous clubs Tresor and Berghain have their own house labels, known as Tresor and Ostgut, respectively.
Beyond the music, techno also served to help reunify East and West Germany in the 90s, and today is a musical bridge between various genres and members of older and younger generations.
Hip Hop
Somewhat related to Germany's techno scene is the rise of hip hop, particulary as techno artists like DJ Koze also collaborated with hip hop and rap groups, such as Fischmob. Though hip hop got its start on the streets of New York in the 1970s, it wasn't until the late 1980s that it made it to Germany. Since then, hip hop has seen itself divided into various "schools." Groups like Advanced Chemistry considered the music inseparable from its politics. Meanwhile, Die Fantastischen Vier, Fettes Brot, and Blumentopf started making music that focused on lighthearted themes, relying on the use of humor and wordplay in a lot of their music.
In addition to hip hop groups, many solo artists have established names for themselves. Rapper Sido is known for his "aggressive" style of music, whereas Samy Deluxe derives inspiration from American-style rap. More recently, "emo rapper" Casper and "Raop" performer Cro have made hip hop music that appeals to a younger generation of German music fans.
Rock Music: Industrial, East German, Neue Deutsche Härte, Punk Rock
Another form of music that grew out of the electronic style was experimental industrial, though it was not exclusive to Germany. Two major players in this scene were Einstürzende Neubauten and KMFDM, both of whom were known for their eclectic performances as much as their music. Einstürzende Neubauten gained a reputation for implementing non-conventional instrumentation into their live shows, and the band's avant-garde experimentation often involved destruction on stage, whereas KMFDM helped industrial music become slightly more mainstream.
At the same time, in East Germany, various rock bands were also making a name for themselves. One of the most famous was The Puhdys, a band that was popular both in and out of the GDR. The Puhdys were signed to the state-run label Amiga, but weren't allowed to have political lyrics. This wasn't much of a problem, however, as many East German bands steered clear of politics entirely. The band Karat also enjoyed success at the time, and both bands are still releasing albums today.
Another East German band, the punk rock Feeling B, was relatively unknown outside of the GDR. However, two members went on to form the band Rammstein, which is arguably one of the most easily identifiable German exports. Though many classify them as Neue Deutsche Härte, Rammstein plays a mixture of heavy metal and rock music.
Finally, on the punk rock front, bands like Die Ärzte and Die Toten Hosen formed in the early 80s and are still making music today. In more recent years, younger punk rock bands like the Beatsteaks, Donots, and Turbostaat started, and all of them have enjoyed moderate success in the German music scene.