Raising the visibility of art in exile
When artists leave their country, they often lose their stage and their audience. Three initiatives in Germany offer them a platform.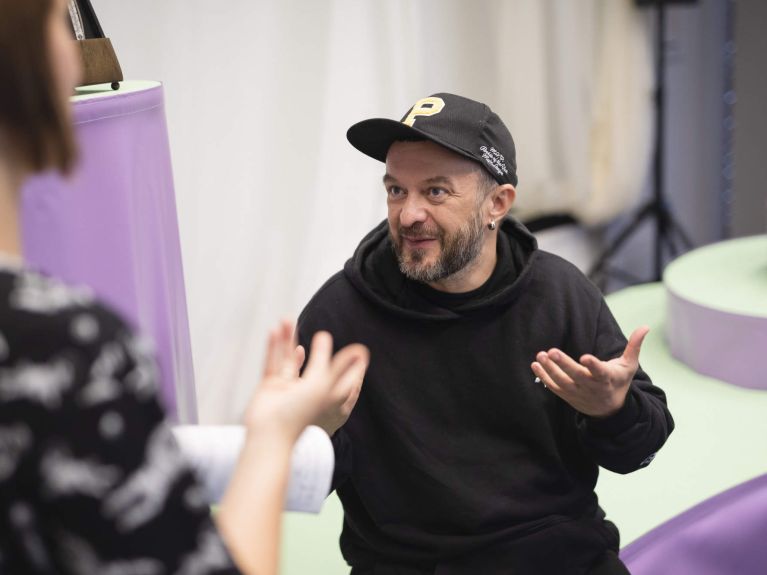 Culture Salon "Stories from Exile" 
"For me, Kyiv was the place I wanted to live forever," says Ukrainian theatre professional Pavlo Arie, chief script editor of the Left Bank Theatre in Kyiv. But then came the Russian war of aggression and Arie fled to Germany. Every weekend he now invites artists and the public to the Culture Salon "Stories from Exile" at the "Gartenhaus" in the courtyard of the Berliner Ensemble – one of the best-known theatres in the capital. There is half an hour of acting, music-making, improvisation, crying and laughter. "I invite people to live a small part of their lives with us."  
The Exile Ensemble 
They come from Saudi Arabia, Syria and the Palestinian Territories: five young actors and actresses currently form the "Exile Ensemble" at the Gorki Theatre in Berlin. Since its founding in 2016, the ensemble has received funding from bodies such as the German Federal Cultural Foundation, the Mercator Foundation and the Berlin Senate. The aim is to provide longer-term working opportunities for artists in exile while giving them and their stories greater visibility. It also gives rise to an exchange between different traditions of theatre.  
Virtual exhibition "Arts in Exile" 
The poet Nelly Sachs was born in Berlin in 1891, the actor Massi Mrowat in Kabul in 1993. What connects the two is: art. And exile. Their lives and those of many others are documented in the virtual exhibition "Arts in Exile". This brings to life the living and working conditions of artists who fled Germany during the period of National Socialism and of those seeking refuge in Germany today. The exhibition was created by the German National Library's German Exile Archive 1933 to 1945, and it is funded by the Federal Government Commissioner for Culture and Media.