Developing our shared ­architectural heritage
German and Israeli students and apprentices help to build the Israeli-German Pavilion.
12.01.2016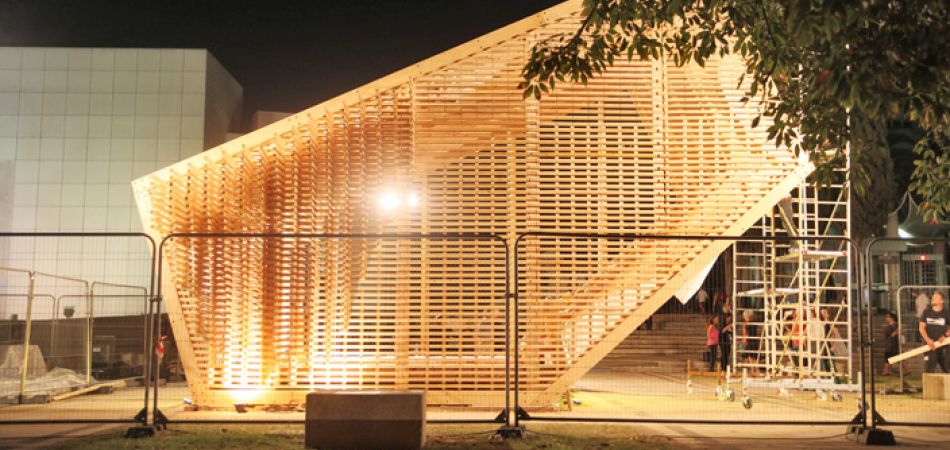 "Architects, sculptors, painters, we must all return to the skilled trades!" declared Walter Gropius in 1919 in his Bauhaus manifesto. Planning and everyday practice had to be closely linked together he insisted. It is in this tradition that the new German-Israeli pavilion on the campus of the University of Tel Aviv is taking shape as part of the German-Israeli jubilee year: it is a joint project by architecture and engineering students, as well as apprentices and young artisans from both countries. "Everybody was involved in the designing, planning and building," comments architect Robert K. Huber from the zukunftsgeräusche project office, which developed the idea and coordinated the project. The University of Tel Aviv, the Tel Hai Rodman Practical College of Technology, the Technical University of Berlin and a Berlin sixth-form college were all involved. The approximately 30 young people planned the building in June at a workshop in Berlin and then headed to Tel Aviv in September and October to work on the building site.
The pavilion, which has been funded by the German Federal Environmental Foundation (DBU) and the Federal Foreign Office, combines slanting walls with wooden lattice work reminiscent of the Levant. The university will use it for exhibitions and seminars in future. The pavilion is made from sustainable materials and was the first building project to be executed by the organisation Israeli German Sustainable Building Education (IGSBE), a vocational training project which also contributes to the White City Network between Israel and Germany. In the next phase, students and apprentices hope to renovate a building in the White City and convert the interior. The IGSBE is initially planned to run for a period of two years. The aim is to continue this ­exchange for sustainable building and for vocational and higher education – including with an eye on the Bauhaus jubilee in 2019. It was therefore only fitting that in early ­November Germany's Federal Minister of Building, Barbara Hendricks, and the ­Mayor of Tel Aviv, Ron Huldai, signed an agreement to continue the German-Israeli collaboration on preserving Tel Aviv's White City district. Long-term Federal ­Ministry of Building funding totalling 2.5 million euros until 2025 means many projects can be launched for the sustainable development of the White City. ▪