Cultural events in Germany
These portals help you find events and give you ideas for spending your free time.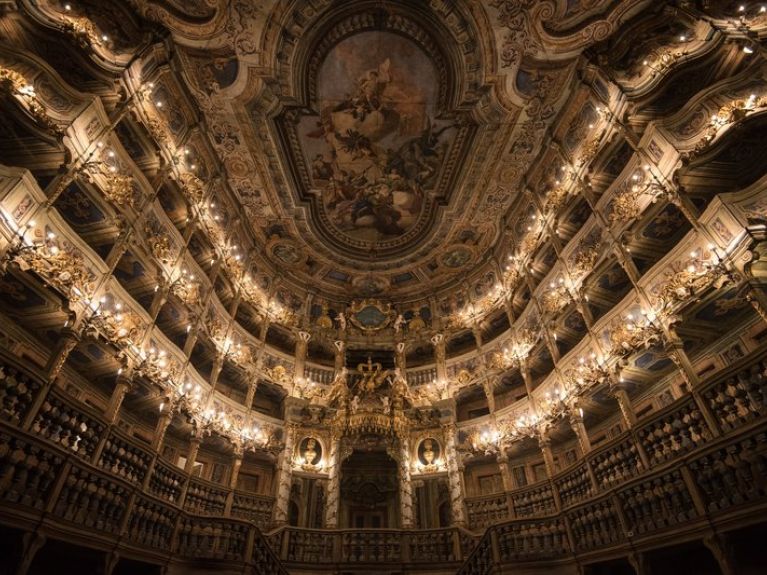 Bayreuth Festival
In 1876, Richard Wagner fulfilled his dream of having a festival venue of his very own. And today the descendents of this famous composer still organize the Bayreuth Festival in his honor with resounding success for five weeks during the summer. The program features the works of Wagner – excursions into German mythology.
Beethoven Festival Bonn
Ludwig van Beethoven's passionate compositions have revolutionized the world of music. Bonn, the city of his birth, reminds us of this heritage each fall during the Beethoven Festival. Stars and talented newcomers present his masterpieces classically as well as playfully in swing or jazz style. The program also includes exhibitions, readings, films and debut performances of commissioned work.
Frankfurt Book Fair
Each year in October writers and publishers, agents and film producers meet up in Frankfurt at the Frankfurt Book Fair. But they are not the only ones there. On Saturday and Sunday of one-week event, the world's most important trading centre for books and media opens its doors to private visitors as well. And each year a different country is invited as guest of honour to present its literature at the city on the River Main.
Munich Opera Festival
The culmination of the Munich opera season: at the Munich Opera Festival, you will have many an opportunity to experience ballet performances, concerts and evenings of song, not to mention any number of different opera productions. On the "Opera for Everyone" weekend, music fans are invited to attend a free, open-air performance per live video broadcast.
www.muenchner-opern-festspiele.de
Rheingau Music Festival
Music fans regularly swarm to the Rhine District on the north shore of the Rhine River from June to September. This sunny region between Frankfurt, Wiesbaden, Rüdesheim and Lorch is transformed into a concert stage of international renown each year. The Rheingau Music Festival is the largest classical music event in Hessen. It presents classical music, as well as jazz and readings at a wide variety of different venues.
www.rheingau-musik-festival.de
Theater of the World
Germany's largest international theater festival: "Theater der Welt" (Theater of the World) presents current trends in the world of theater. Companies of actors, dance, music and puppet theater have been giving guest performances in different host cities every three years since 1981. The organizer is the German Center of the International Theater Institute, which operates under the auspices of the UNESCO.