16.11.2016
Exhibition of the Year: Kader Attia
"Sacrifice and Harmony", an exhibition by Kader Attia at MMK Frankfurt, is the Exhibition of the Year.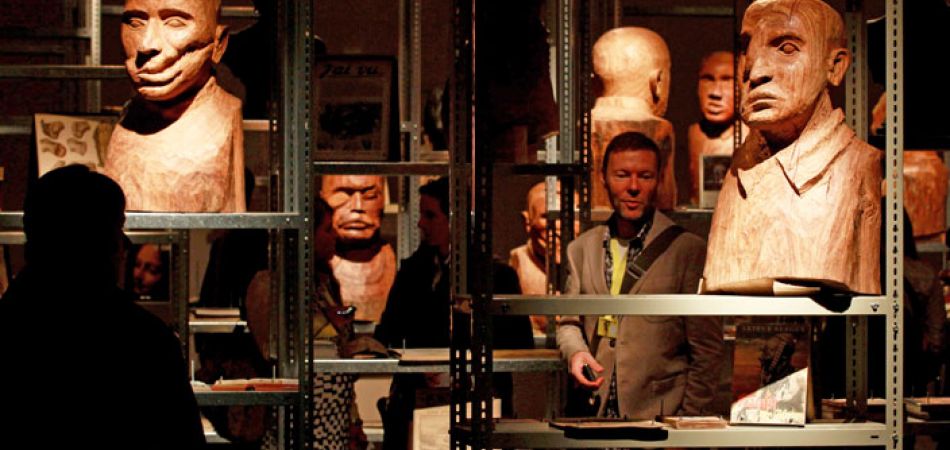 On the one side of the hall a film is showing, in which victims of the First World War rise out of their trenches to protect posterity from further doom. On the other side there are monumental wooden busts, made by woodcarvers from Senegal. They present people with ghastly injuries to their faces such as were suffered during the First World War. This installation, as fascinating as it is shocking, formed part of the Kader Attia exhibition on "Sacrifice and Harmony" that went on show at Frankfurt's Museum für Moderne Kunst in the early summer. The International Association of Art Critics (AICA) has now voted it Exhibition of the Year.
"Repairs", meaning the way different cultures address wounds and injuries, is Kader Attia's theme. He is not interested in reconciling cultural differences but rather in a more acute perception of pluralities. Attia is the son of Algerian immigrants and grew up in Paris' banlieues, studied art in Paris and held his first solo show in Brazzaville in the Republic of Congo. He came to international fame at Documenta 2013 and in 2016 won the major French art prize, the Prix Marcel Duchamp. Attia lives and works in Berlin and Algiers.