He draws on panels using chalk. But he's not a teacher. He sets up music stands. But he is no conductor. And although he is surrounded by a horde of ceramic dogs, he is not a dog owner: We are talking about Kemang Wa Lehulere, one of the most important representatives of young South African art. The 33-year-old from Cape Town is this year's Deutsche Bank "Artist of the Year" and in spring 2017 is presenting his first solo show in Germany at the Deutsche Bank Kunsthalle in Berlin.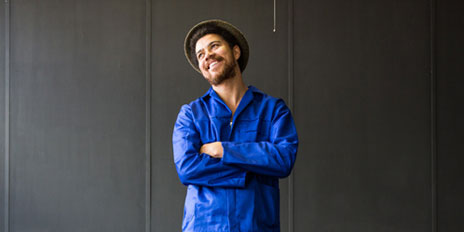 Wa Lehulere, who loves to have his photo taken wearing a trilby, was born into a highly creative family: His mother is a singer, his cousins scriptwriters, directors and actors. Wa Lehulere lives in Cape Town and Johannesburg and with his extensively researched performances, videos, installations and chalk drawings sheds light on the history of Black South Africa. A particular focus of his works is black artists, musicians and authors: How is their story told and archived? And which new forms of remembrance are conceivable?
Ernest Mancoba, who is considered South Africa's first black modern artist, is one of the artists on whom Wa Lehulere focusses in his work. In his exhibition "History Will Break Your Heart", currently touring his home country, Wa Lehulere reveals how the traces of racism and injustice are erased and ignored to this day and in so doing exposes the gulf between individual biography and official historiography.
Chalk as a symbol of transience
It is not without reason that Wa Lehulere uses chalk. In addition to the pedagogical symbolism, its transience interests him: Processes of overwriting and reinterpretation are a common thread running through Wa Lehulere's entire oeuvre. In this way he wishes to say: "We are all connected. My history is your history." He is interested in the responsibility to become aware of this connection and to continually renew memory. The numerous porcelain German shepherds Wa Lehulere employs in his installations also attest to this. In their motionless state they call to mind the ancient Egyptian dogs that had access to the realm of the dead as guides for deceased souls.
Kemang Wa Lehulere is the eighth international artist to be honoured by Deutsche Bank as "Artist of the Year", following in the footsteps of Wangechi Mutu, Yto Barrada, Roman Ondák, Imran Qureshi, Victor Man, Koki Tanaka and Basim Magdy. The distinction is awarded to artists who have produced an artistically and socially relevant oeuvre that encompasses the Deutsche Bank collection's two main focal points, namely works on paper and photography.