"The digital space offers new freedom"
For a long time, contemporary art from Africa had a low profile in Germany. Art historian Yvette Mutumba set out to change that. The platform "C&" that she co-founded is a stage for aspiring artists.
01.10.2015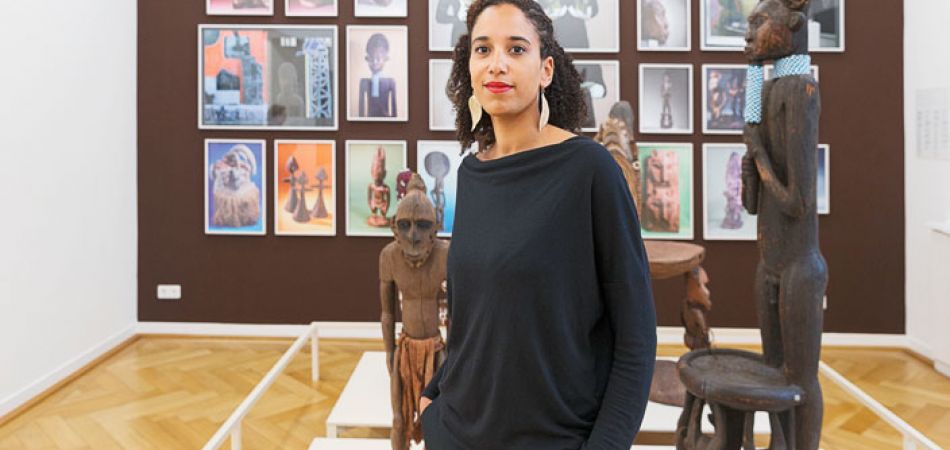 Ms. Mutumba, numerous German museums are currently showing exhibitions focussing on contemporary African artists. Where did this great popularity come from?
Although throughout Europe and also in the USA people are talking of a boom in contemporary art from Africa, I am sceptical. Yes, there are currently a great many exhibitions in Germany showing art from African perspectives. But I take issue with the label "African art". Firstly, because you can't simply define art from Africa as 'African art' – it is far too diverse and too complex in terms of art history for that. Secondly, because the time has come to go a step further. Indeed, it is perfectly logical for also artists with an African background to be represented in shows on particular topics – with their roots not playing a role at all, or at least a subordinate one.
Contemporary artists from Africa had a very low profile in Germany for a long time. Why is that?
Europe and North America wrote a strongly normative art history until well into the 1990s, in which certain aesthetic standards were set. These standards were also applied to art outside this scene, and for a long time people thought that art from Africa didn't live up to them. The thing was, they didn't really even look at it properly.
You sought to counter this and in 2013 founded the platform "Contemporary And" (C&) with Julia Grosse. How did the idea come about?
Young artists in Africa are incredibly active, forming networks and creating new spaces for art, yet internationally this work is barely perceived. That's why we established "C&". From the very start it was clear that it would be an online platform, because we want to reach people all over the world. The Internet simply offers numerous possibilities. We set up a magazine, also published in print form, and inform readers about new shows, art projects, support programmes and artist residencies. In addition, we present new places for art. In our series "Inside the Library", for instance, we present small, unknown libraries containing important books or manifestos and the like. We consciously also raise awareness of young artists not yet represented by a gallery. Some time ago, for example, we presented Samson Kambalu from Malawi. The Stevenson Gallery, one of the most important in Cape Town, came across him on "C&" and included him in its programme. Incidentally, we also have digital exhibitions on our platform in the "Art Space" section. Of course, such digital projects can never replace physical shows, but ultimately all this adds to a decentralization of the sector. Artists can move around freely in the digital space – and don't need a visa either.
How are African artists responding to their new visibility on the international art market?
Some artists take a very pragmatic stance and make use of the new opportunities, by participating in residency programmes or international exhibitions, for example. Others, especially younger artists, strengthen their local art scene in particular with the help of their new international contacts.
The subtitle is "Platform for International Art from African Perspectives". What exactly do you understand by "African perspectives"?
The title of our platform, "C&", alludes to the versatility and internationality of art today. While the "C" clearly stands for "contemporary", the "&" suggests that there is a great deal more involved, namely performance and video artists as well as painters and photographers. They come from Angola, Nigeria or Uganda, grew up in the UK, USA or Germany or emigrated from Russia to Kenya. Their personal life stories are very international, and precisely that is what defines them. Even if they have a certain connection to Africa that may well shape their identity – and that is what the African perspectives in the subtitle refer to – their art is not "African". For there is no such thing as African art, just as there is no German or English art.
Nonetheless, the historical background of a country and its people often has an influence. Why does that also play an important role in the new show at Frankfurt's Weltkulturen Museum, "A Labour of Love", which opens on 2 December 2015 and which you are curating together with South African artist Gabi Ngcobo?
In the hype surrounding art from Africa it is often forgotten that Africa looks back on an art history that does not rest on traditional wooden sculptures, but on contemporary art. And this contemporary art is taking a stance. On political and historical events, for instance. In "A Labour of Love" we present pieces acquired in Africa by German pastor Hans Blum for the Weltkulturen Museum in 1986. At a time, then, when South Africa was in a state of emergency. To make a statement against the Apartheid regime, Blum bought works solely by black artists. Of course it would have been interesting to simply present the works in an exhibition and explain their context.
What exactly is the idea behind the exhibition?
We go a step further by creating a link to the present and showing what relevance the artworks have today. That is why we invited four young students from an art school in Johannesburg to address the pieces. They are young enough not to have lived through Apartheid, or only very briefly. It was fascinating to see how they approached this topic and formed new artistic positions. These "new" and "old" works enter into an exciting dialogue in the exhibition.
Interview: Clara Görtz
"CONTEMPORARY AND"
The online platform "Contemporary And" (C&) has been reporting on contemporary art from African perspectives since the beginning of 2013. Since then the project, initiated by the German Institut für Auslandsbeziehungen (Institute for Foreign Relations) and supported by the Foreign Office from the start, has established itself internationally. The platform was founded by art historians Julia Grosse, Editor-in-Chief of C&, and Yvette Mutumba, who works as a curator at Weltkulturen Museum in Frankfurt/Main.