The poetry of the city
The city is becoming a studio: street art is conquering urban spaces. And the internet is extending its lifespan.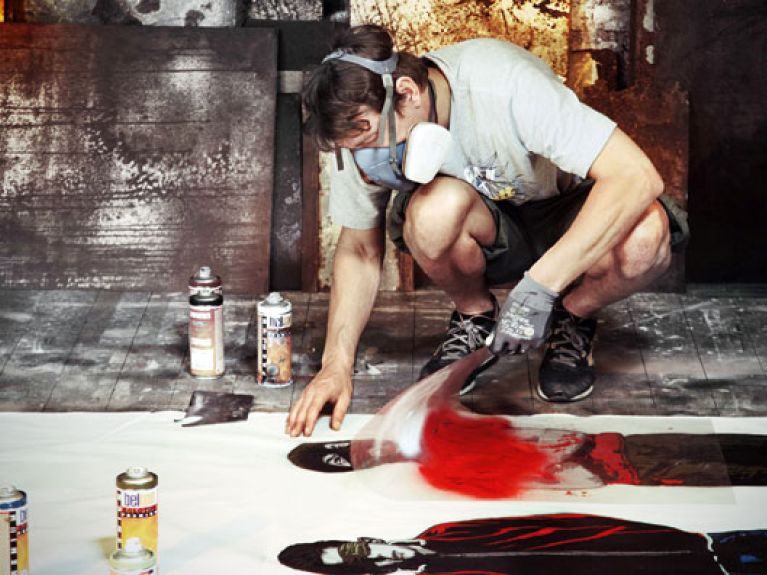 You'll need a lot of luck if you want to find a work of art by "Barbara" offline. The person behind this name sticks new messages onto existing signs, or writes clever and amusing things onto simple sheets of paper which she then hangs up somewhere in the city – in the past mainly in Berlin, but recently in other places, too. The originals usually disappear quickly, but this street poetry lives on in the internet. Barbara has more than 200,000 fans on Facebook, and her art has even made it onto nationwide TV news in the meantime.
Street art: it can be one of many kinds of interventions in the public sphere. The artists position their works in places where people are on the move every day. They spray, paint or glue them where they think an idea fits well into the cityscape. The works are less intrusive than graffiti logotypes, which often primarily just feature the sprayer's name. These works are images full of wit and charm; their aim is to be thought-provoking for the observer.
The messages reach a large audience – both on the streets where the artist leave their traces and in the internet, as mentioned, where their pictures are further disseminated through social networks. The established art scene has also become aware of these works. Exhibitions and festivals are increasingly publicizing street art and generating acceptance for an art form that would like to be the opposite of what it is often regarded as: damage to property. Rather, the credo of the scene is "art for all".
The techniques used by the artists range from paper works stuck onto walls, to small-format images sprayed on using templates, to huge painted murals and installations made of re-arranged everyday objects. They can also include ornate stickers, works made of sticky tape ("tape art") and colourful knitted objects for trees and lamp post ("urban knitting").
The artists often work together, and other people's works are seldom painted over. Nevertheless, it still frequently happens of course that a new piece of street art disappears within a few hours or days – because the city cleaning department comes by, or if there is a heavy rain shower. Street art remains a fleeting, ephemeral art form. Its creators and admirers therefore look for ways to preserve it. Every day artists, bloggers, photographers and street art fans publish images of works on the internet. They reach millions of users through Instagram and other digital channels.
The audience also seems to be growing in the real world. More and more people are evidently prepared to extend their own concept of art and are opening up to street art. The Berlin 
Urban Nation project works with property owners who want to have their walls decorated by German and international artists. Hardly a week passes by without at least one Berlin façade being transformed. Anyone who walks through the city with their eyes open is bound to notice it. ▪