Where art revolutionaries learn
Germany's art universities and academies enjoy an excellent reputation around the world. We present three outstanding examples.
20.06.2017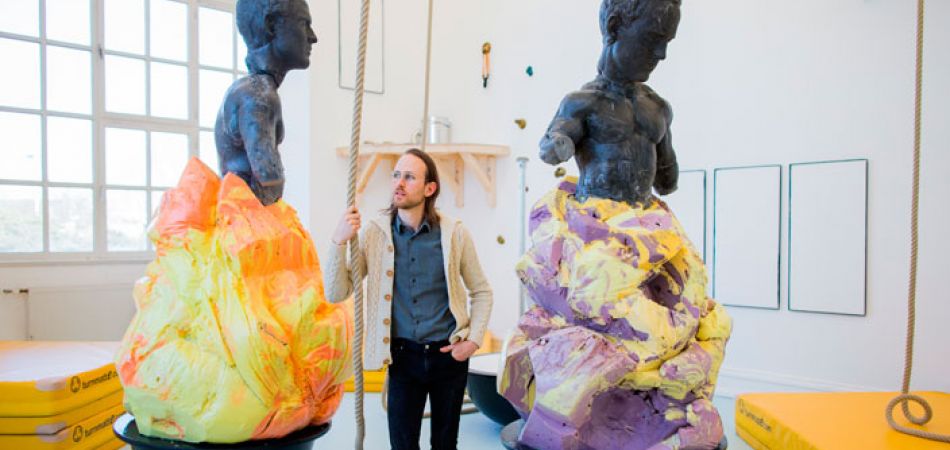 Berlin University of the Arts
Germany. Berlin University of the Arts pulled off quite a coup in 2015 when it succeeded in engaging the internationally renowned Chinese artist Ai Weiwei as a visiting professor, just shortly after he had been released from prison in China. He has therefore joined the ranks of a long list of big names who have worked at one of the world's largest, most diverse and longest-standing art universities. Nearly 4,000 students are enrolled on more than 70 degree courses at the university's four colleges: the College of Fine Arts, the College of Architecture, Media and Design, the College of Music and the College of Performing Arts. It was above all his involvement in the Documenta exhibition that drew attention to Ai Weiwei in Germany. In 2007, he sent 1001 Chinese to Kassel for his "Fairytale" art project. His "Template", a twelve-metre-high tower of doors and windows taken from old Chinese buildings that had been pulled down, collapsed following a storm and was not rebuilt. "Better than before", he said.
Kunstakademie Düsseldorf
Hardly any other artist had such a profound influence on the Kunstakademie Düsseldorf in the post-war period as Joseph Beuys did. A professor at the academy, he campaigned publicly and effectively for an "extended definition of art" in the 1960s. The students loved the idea, but the ministry responsible regarded his actions as an affront – and dismissed him in 1972. In 1973, what was known as his "return home" was more spectacular, Beuys crossing the Rhine river to the Kunstakademie in a dugout canoe. Other big names of the contemporary art world are also closely affiliated with the academy: Gerhard Richter and Jörg Immendorf taught there, Anselm Kiefer and Sigmar Polke studied there, while Bernd and Hilla Becher's photography class produced artists such as Thomas Ruff, Candida Höfer, Thomas Struth and Andreas Gursky. Gursky teaches at the academy today.
Städelschule Frankfurt
Anne Imhof is the rising star at the Städelschule in Frankfurt. She designed the German pavilion at the Venice Art Biennale in 2017, which won her the Golden Lion. Imhof initially studied visual communication under Heiner Blum at the Hochschule für Gestaltung Offenbach before enrolling at the Städelschule, where she won the graduate's prize for her graduation project in 2012. A comparatively small academy with just 200 students, the Städelschule enjoys an excellent reputation around the world, its graduates frequently causing a stir. Recently, Danh Vo, a Danish artist of Vietnamese descent, catapulted himself into the forefront of the international art scene with some spectacular projects and cleverly placed exhibitions. Städel graduate Tobias Rehberger, known for his room-filling installations, has remained loyal to his school and teaches sculpture in Frankfurt to this day.