High-tech for everyone
Above the roofs of Berlin with key figures from the digital world and a discussion among modern inventors in the "Fab Lab" – international start-up founders, bloggers and online journalists guesting in Germany.
29.08.2016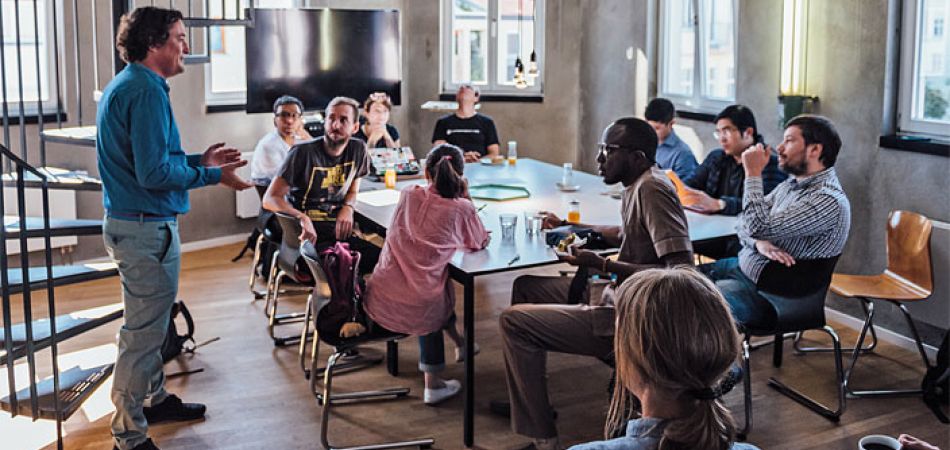 Vincent Frederick Dancel invites everyone to take part in a mind game. "What would parents say about children's books if Apps had been there first and not the other way round?" asks the young man from Manila, shielding his eyes from the Berlin sun. And of course he has the answer: "They'd find them boring, impractical and difficult." Up here on a balcony above the roofs of Prenzlauer Berg, one of the places to be in Berlin, that sounds very persuasive. Those present tend to agree with Dancel – small wonder: Like the Philippine start-up founder who develops playful learning Apps, everyone else here is also professionally involved in the digital media. In the framework of the Federal Republic of Germany's Visitors Programme they travelled to Berlin and Cologne for a week to attend the Gamescom games fair and discuss the latest developments and the digital society with German experts.
International digital conference: re:publica
The balcony is part of a so-called "Coworking Space", a space to work together on (frequently digital) projects such as are to be increasingly found in Germany. Inside, a few key members of the German digital scene have just introduced themselves, including Markus Beckedahl of Blog netzpolitik.org and Andreas Gebhard, managing director and co-founder of the Web conference re:publica. In the context of the annual convention in Berlin there is also a "Global Innovation Gathering" with representatives of technology and innovation centres world-wide. "We want to make sure that the re:publica is an international event," say the organizers. This year there were guests from more than 60 countries. "We hope that we will be able to welcome some of you there in 2017!"
Shradha Sharma wants to make absolutely sure she takes part in the next re:publica. In her native India she organizes a similar meeting as an offshoot of her successful media platform "YourStory.com". More than 20,000 start-ups use it to tell their stories and link up with partners and investors. With her business network, Sharma, a former journalist, is one of the 500 most important "influencers" worldwide according to the LinkedIn career portal. And she's hoping to make key contacts in Germany, too, and has already arranged a meeting with publishers. Whether at some point there is going to be a "YourStory Deutschland"? "We'll see," says Sharma with a smile.
Sharing ideas and programming codes
The one or other who realized their ideas in the "Fab Lab Berlin" has a success story to tell. The modern development lab is the next destination for the visitors, and they hardly stick out: lots of young international people walk back and forth in the open work spaces, look at screens together, or study construction plans. Most of the approx. 800 members of the Fab Lab come here to use the high-end technical support the Lab offers: 3D printers, laser cutting machines etc. But they also come here to join up with others to develop their ideas further. "We believe in Open Source," says Fab Lab's Daniel Heltzel, meaning that programming codes are made public and, using them, products and applications can constantly be advanced and improved. From simple digital toys to elaborate systems for sewage plants – all sorts of things first saw the light of day in the Fab Lab.
Chukwuemeka Fred Agbata is taken with the place. "What can I do to open a Fab Lab in Nigeria?" the blogger, moderator and journalist wants to know. "Look for sponsors, business people are very open to new ideas like this," recommend those at the helm of the Berlin ideas shop. "Or team up with a university." Berlin's Fab Lab itself works closely with Ottobock, a corporation which manufactures prosthetics and other products that augment mobility. A team of engineers and robotics experts from the Fab Lab provide technical advice for Ottobock, and for other corporations, too. The revenue means that user fees can be kept low and the goal: "Free access to technology for everyone."
More about the Visitors Programme of the Federal Republic of Germany